It's that time of year again. An exhilarating year makes way for the next. A journey ends, only for a newer, re-invigorated one to begin.
As the holiday season blossoms and the year comes to an end, both companies and individuals start their customary review of their year and make plans to make an even greater impact in the new year.  As the year draws to a close, we  take a look back at the best case-studies we have published in our Top 10 case-packs this year. 
The best 30 have been collected in a single slide-deck that includes case-studies covering all stages of the Connected Traveler Lifecycle as well as the best Plane Launches, Crisis Management case-studies and Airport initiatives. From KLM's social seating initiative to Schiphol Airport's "Share your Food" campaign to South African Airways' virtual safari to how American Airlines handled a terror threat, find a wealth of social media case-studies published over the last year. We hope this recap inspires and spurs into action not only our regular readers but also those who have been too busy to read all of our Top 10s. We hope you find inspiration in the New Year and plan initiatives even better than the ones covered. 
For the very best initiatives we have also included additional links to the in-depth case studies that are available on our website. Please click the button below to download this special, year-end case-pack.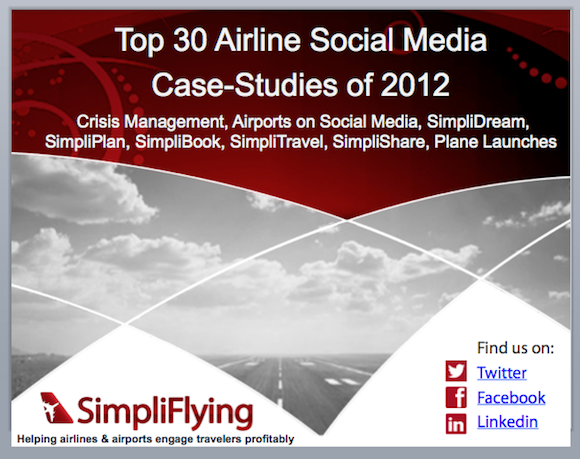 SimpliFlying can help your airline or airport super-charge your social media strategy and get ahead of your competition. Feel free to contact us directly at engage@simpliflying.com. We offer a number of specialized services designed to help Airlines and Airports engage their customers profitably. This year we have also launched a number of new Topical MasterClasses, including one for agencies. We also offer Monthly Airline Marketing Benchmark Reports to help airlines monitor the best initiatives from around the world and stay ahead of competition.