On Tuesday  we published An Analysis of how Airlines are performing on Instagram — the first part of our in-depth look at the world of airlines on Instagram, in which we analysed about 150 airline brands on Instagram to identify the nature of their presence (if any) and the behaviours they exhibited on this social network. Part 2 looks at the content strategies adopted by these airlines.
Looking at the 65 airlines that have an active presence on the social network, we found a wide variety of strategies linked to the overall airline marketing strategies —  hence, this second part of our analysis takes a look at some of the most common types of Instagram use-cases as well as the most effective and interesting ones. 
Here and now: the heart of Instagram
Instagram is often called a mobile-native social network because it was originally developed to function only as a mobile phone app, and has only recently acquired a web-version. To this day, mobile related characteristics such as the "here and now" focus and the "behind the scenes" feel of many of its images dominate the social network. 
Both of these characteristics are deeply connected to the mobile aspect of the network because mobile phones are a constant presence in our lives and this is one of the network's biggest strengths. From a more mundane perspective, this is also the reason why the network is filled with images of people going on holiday and showing elements of their day-to-day lives, such as the clothes they are wearing or the food they are eating. 
The most successful images from airlines that we found in our research were those that contained elements related to both the "here and now" and the "behind the scenes" of the airlines' operations. This is perhaps best exemplified by the image shown below featuring a backstage shot of the airline's new flight attendant uniform immediately after its unveiling. 
Interestingly, this image also features a third important element of Instagram's culture, the focus on aesthetics that is in turn closely linked to one of the social network's most famous and underpinning element: its photo filters.  Of course, it is no coincidence that this was the most liked image we could find in our analysis with over 1800 likes.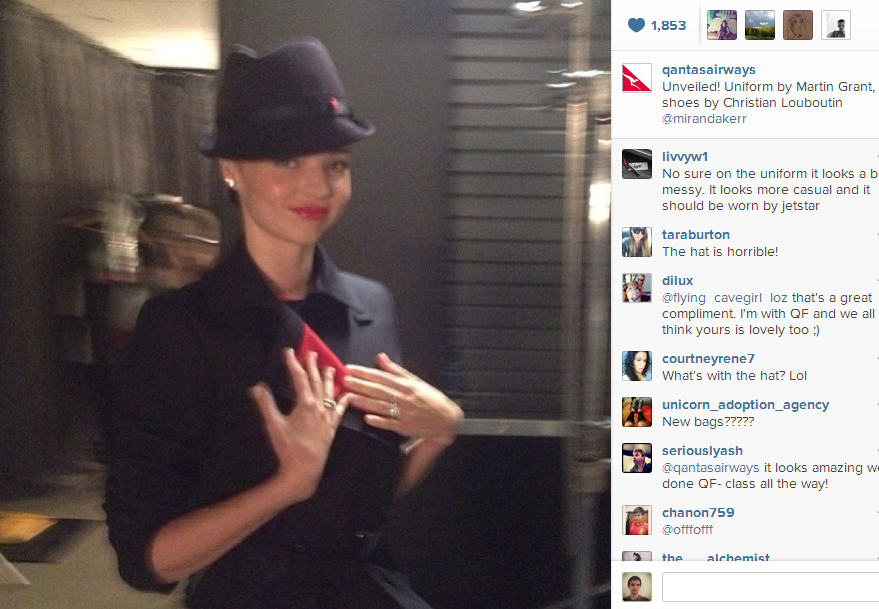 For similar reasons, vintage images like the ones shown below did not achieve the same level of success. However, they were still quite popular with users. While these images lacked the "here and now" element, they did possess the "behind the scenes" and airline operations focus liked by Instagram users as well as the aesthetics / glamour element mentioned earlier. 

The importance of traditions and rituals
The popularity of vintage images, like the ones featured above, has also been aided by their usage as part of some "instagram rituals" or traditions where users post images around a dedicated hashtag on a specified date. Some examples of vintage tags used by airlines are the #ThrowBackThursday and the #FlashBackFriday tags. 
Although hashtag-based rituals have their origin in Twitter culture — such as the usage of tags like Friday Follow (#FF) — we have found that they have become an integral and crucial part of Instagram as they played right into the personal, almost private experience provided by the mobile browsing of images. 
Instagram itself recognized the importance of these rituals to its community and created several projects where they suggest hashtags and promote their usage. In some cases, we have seen airlines attempting to leverage some of the larger initiatives such as the  WHP or Weekend Hashtag Project where users are asked to post photos on a specific topic during a weekend.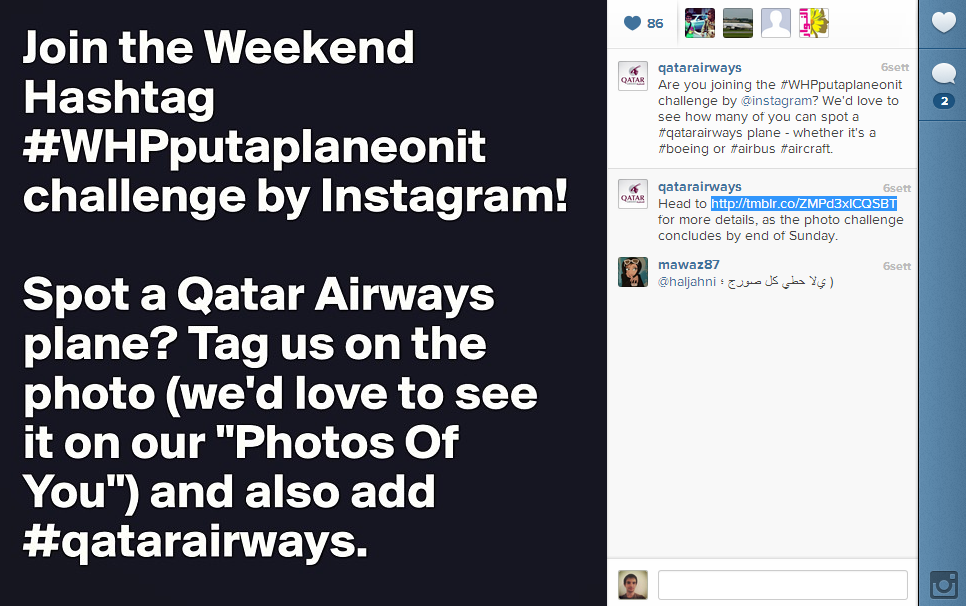 Competitions and calls to action
Another common strategy used by airlines was the creation of competitions or other events around dedicated hashtags. In these cases, airlines often created text-only images to invite their followers to take part. A number of brands have also included their own branded tags in their profile descriptions, inviting users to tag photos to get the chance of seeing them re-published by the airline. 

This behaviour is particularly interesting from a branding perspective, as well as a content generation one, since it has become clear that users love to tag and share content with brands. Official posts reinforcing this behaviour play well into this trend. 
For some airlines, like EasyJet, this has gone so far as to become their main source of content that accounts for over 90% of the images shared by their Instagram account. 
Destination awareness
Since destinations are one of the main focuses of airline marketing, it was no surprise to see that almost all airlines had some content related to their destinations. However, the ways in which this content was obtained and presented, as well as the results obtained, varied greatly. 
Some airlines simply treated Instagram as yet another image sharing website where they could put up their advertisements, failing to understand the unique nature of this social network and hence obtained very poor results.  Others like Brazil's Gol, showed a much deeper understanding of  Instagram and focused on obtaining user generated images, often taken during holidays where users had travelled with the airline.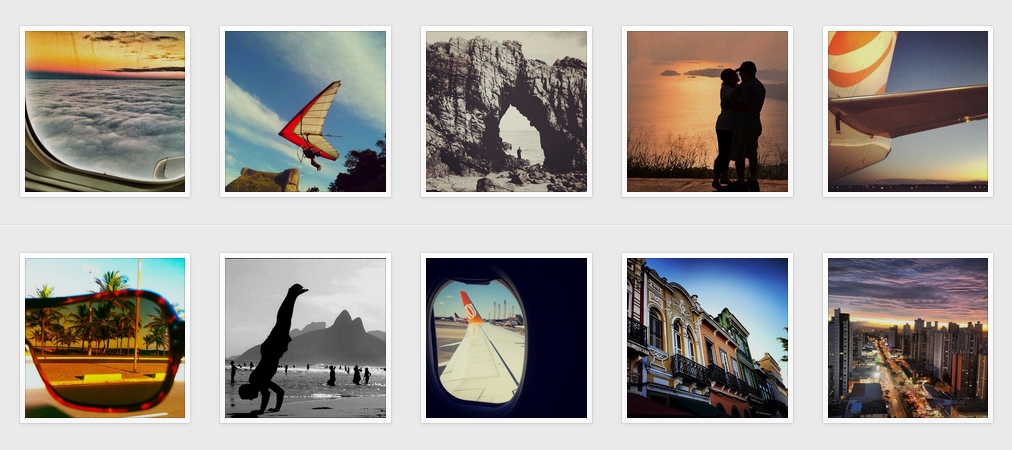 In between, we found a wide range of strategies that obtained varying levels of success overall, though the core Instagram values mentioned earlier held true. As a consequence, we saw that strategies that included either user-generated content or behind the scenes images of airline staff in the destination performed much better. 
Brand ambassadors
Regardless of whether they are staff members, passengers or Facebook fans, brand ambassadors are one of the best ways to humanise a brand and help drive more authentic conversations on any social network. Instagram is no exception. Lufthansa, for example, recently joined Instagram and promoted Berlin by sharing a series of Instagrams of a local brand ambassador at different, little-known spots of the town. 
One of the boldest and most beautiful strategies we have seen has been that of Finnair, which instead of creating a corporate Instagram profile, decided to create two separate ones for one of its pilots and for a flight attendant.  By doing so, it not only played into the behind the scenes aspect of Instagram but also manage to drive human-to-human conversations around the brand, its values and its destinations. 

What's next? Tips and Tricks to get you started
Having said all this, it is only natural that many of you will be wondering how this can be applied to your company or brand. Since there is no one-size-fits-all solution, we would recommend taking a holistic view. First look at how this could fit into your overall social media strategy. 
As we have seen, Instagram is a constantly evolving — but also mature social network — that has obtained new critical mass thanks to its acquisition by Facebook. It is here to stay. If your airline is not on this social network yet, there is a good chance that someone else, hopefully a fan, has already created a page for it. If not, there is surely a large number of images that have your brand name as a tag. 
Whether your brand chooses to be part of this conversation or not, it is up to you. But this visual and intimate conversation will continue to take place regardless. And before you say it, no, company size is not an excuse. We have seen small seaplane companies with lovely Instagram accounts that rival those of their larger colleagues.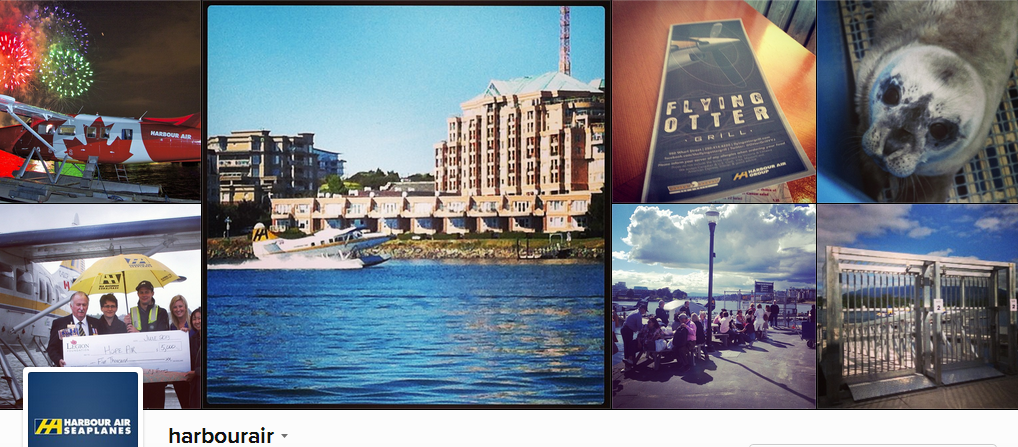 Should you have any questions, or if you would like some guidance on anything related to your Instagram or social media strategy, please contact me at marco@simpliflying.com.