Finnair had a hugely successful Quality Hunters program that ran for two seasons. What's the next big thing?
Finnair, despite being a relatively small national airline as compared to the likes of its Oneworld partners Qantas and Malaysia Airlines, is big online, especially among travelers. Its award-winning marketing initiative, Quality Hunters, was hugely successful, And spanned two seasons. Beyond these feats, how does Finnair plan to continue pushing the boundary to delight its travelers?

Not just another social in-flight experience
An interview with Jarkko Konttinen, Vice President of Global Brand and Marketing Communications at Finnair, reveals that Finnair is planning to deeply integrate social media with the inflight experience. 
We've seen similar moves towards social media from a handful of airlines including Malaysia Airlines and KLM. Finnair seems to be approaching it from a different angle – 'social' collaboration. 
According to Jarkko, passengers will be able to interact with others onboard to collaborate for things such as sharing taxis. A small act, but a thoroughly thoughtful one, I must say. I can't recall how many times I wished I knew who in the taxi queue was heading for the same destination, so that we could share the cost for a cab. Plus, unlike on a flight, I won't mind chatting up new people on the short taxi ride and potentially finding a coffee buddy in the same area. 
In addition to 'social' collaboration, Finnair is also looking into providing a complete 'social' experience with 
Social check-in services
The feature to see the profiles of people sitting next to you.
To up the game, passengers can also look forward to in-flight wi-fi soon with the aircraft that are coming in later this year. 
Hear it from Jarrko himself!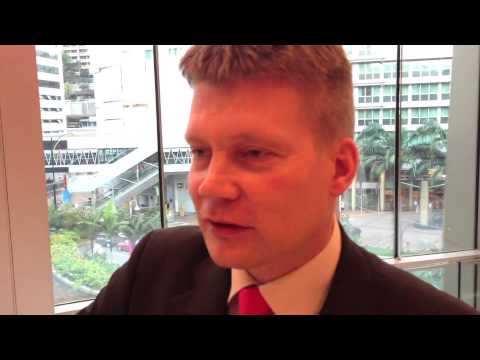 Start –  01:26:  Jarrko shares his thoughts on Quality Hunters 1 and 2; how Finnair received 6000 applications, and achieved 10 million tweets in the program
01:28 – 02:15:  On Finnair's marketing goals, with emphasis on integrating social media into the inflight experience with space for both passenger interaction and collaboration
02:16 – End:  Finnair is currently running tests and expects to roll out aircraft with inflight wifi connectivity later this year
Finnair sure has much up its sleeve to deliver an impeccable customer experience with the upcoming plans, and not to forget, its already popular presence online – more than 181k fans on Facebook and 8k on Twitter.
If your airline is keen to extend your reach to engage the Connected Travelers like Finnair is doing, please feel free to drop us a line at letstalk@simpliflying.com to find out about our consulting expertise and in-house MasterClasses.