Malaysian flag-carrier Malaysia Airlines (MAS) officially joined the Oneworld airline alliance today in a glittering ceremony held in Kuala Lumpur. Along with 11 other highly-reputed airlines such as American Airlines, British Airways, Cathay Pacific among others, MAS becomes the 12th member of the prestigious airline alliance. Later this year, Sri Lankan Airlines and Qatar Airways are expected to join Oneworld as well.
The morning's ceremony held at Kuala Lumpur International Airport (KLIA) saw the unveiling of the first MAS aircraft with the Oneworld livery as well as the Oneworld logo on MAS aircraft. Along with Bruce Ashby, CEO of Oneworld, CEOs of the various member airlines were present at the ceremony as well. The event was a visible moment of pride for the Malaysian nation and the fanfare, trumpets and drums indicated as much. 
In the evening's press-conference, Oneworld CEO Bruce Ashby formally welcomed MAS into the alliance and stated that Oneworld is the first airline alliance to have an airline based in Malaysia. This is an important for a number of reasons, not the least of which is the fact that it not only provides Oneworld greater access into Asia but also grows MAS' network tremendously from 60 destinations in 30 countries to over 850 destinations in 150 countries. He said that the partnership with MAS is a re-statement of Oneworld's commitment to induct carriers committed to offering high-quality service into the alliance. He mentioned that Oneworld's commitment to quality has led it to earn numerous industry awards over the last decade including that for the Best Airline Alliance.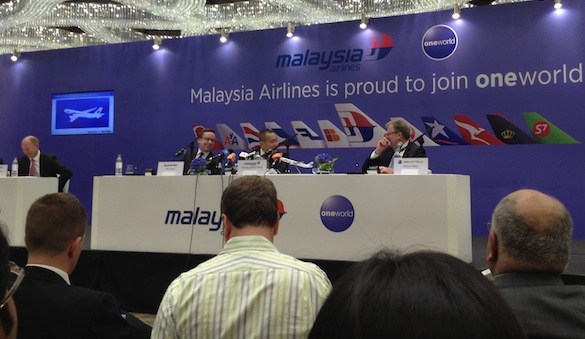 Alan Joyce, CEO of Qantas (which sponsored MAS' entry into Oneworld) said that airline alliances today are essential if airlines are to remain competitive and profitable in a volatile economy. Along with Sri Lankan and Qatar's entry later this year, Mr Joyce mentioned that MAS' induction is a welcome step towards Oneworld focusing much more on the Asian aviation market. 
Malaysia Airlines' entry will increase Oneworld's global network to over 850 destinations in about 150 countries. The alliance operates around 9,000 flights a day operated by a combined fleet of some 2,500 aircraft, carrying nearly 340 million passengers a year, with annual revenues of US$ 110 billion.
MAS eyes significant benefits in the long-run
Malaysia Airlines' Group CEO Ahmad Jauhari Yahya reiterated that MAS' entry into Oneworld will allow it to offer its customers even better services and benefits, more convenient access to hundreds of global destinations and integration with some of the best loyalty programs in the world including access to the 550 airport lounges worldwide offered by Oneworld member airlines. 
It is worth mentioning that the Oneworld membership is a significant part of executing MAS' new business plan that seeks to turnaround the heavy losses of recent years and increase profitability. The Centre for Aviation (CAPA) believes that the immediate benefits from joining the alliance might be muted but it is definitely a step in the right direction.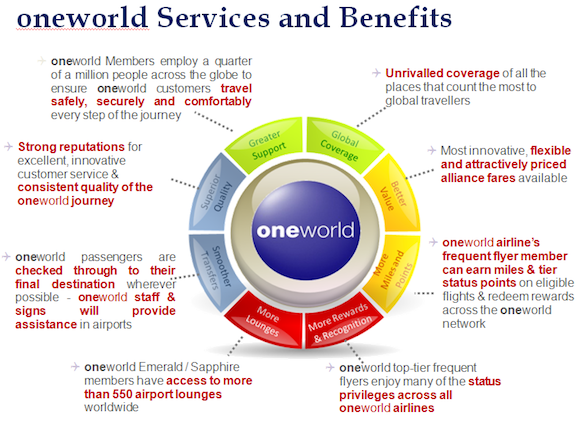 Ultimately, a few things are certain. First, this is the beginning of a new and exciting phase for both Malaysia Airlines and its customers, with a great opportunity for Malaysia Airlines to firmly establish itself as a premium carrier of choice. Second, with the expected induction of two Asian carriers – Qatar and Sri Lankan – in the coming year, Oneworld too will be looking to establish itself deeply in Asia, further stirring the waters in the "Airline Alliance Wars". 
We say – bring it on! 
Photo Gallery
[photomosaic]