The July 2013 Edition of the Airline Marketing Benchmark Report has 15 fresh case-studies from Emirates, Qantas, Thai Airways, American Airlines & more!
Over the last couple of months, we've published two free reports on the State of Airline Marketing and the State of Airport Marketing in 2013, which, together, postulate 15 key trends (along with accompanying case-studies) that define the transformed face of airline and airport marketing today. Trends range from Social Care to Crowdsourcing to Innovative Air Service Development. Both received a humongous response and have been downloaded over 1500 times already! [push h ="14″]
For those who have already read the report, we bring to you, as usual, our premium monthly Airline Marketing Benchmark Report featuring the finest airline marketing campaigns from the month gone by. This month's report has 15 new case-studies that airline marketers will not want to miss, as always. [push h ="14″]

The Monthly Airline Marketing Benchmark Report helps in keeping abreast of the most innovative airline marketing initiatives across the world. Comprising 15 fresh case-studies each month, this report is produced in partnership with our good friends at airlinetrends.com. This July report is the eleventh in the series and if you haven't subscribed yet, you've already missed out on over 165 great airline case-studies! (View past issues here.)
[push h="14″]
What's in the July Report?
The July Issue features 15 great campaigns from airlines such as KLM, Delta, British Airways and more! There are four categories of campaigns in the report, which begins with Experiential initiatives showcasing a number of great initiatives from Delta, KLM and, notably, Emirates' "Aviation Experience", an indoor aviation themed attraction in the UK. Further, we feature a number of great Social campaigns such as British Airways' "Perfect Day Live Twitter Tour Guide" and Delta's unique social magazine on Flipboard that helps passengers sleep better on flights.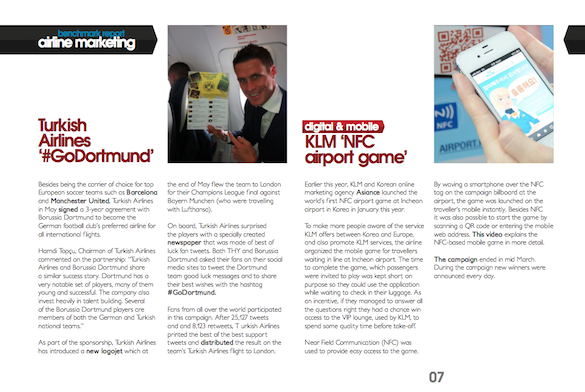 Apart from these campaigns, you'll also learn about a number of cool digital and mobile campaigns such as American Airlines' "interactive TV trial" and KLM's latest mobile strategy game "Aviation Empire". But that's not all. Read the report to find more great campaigns from airlines across the world. If you're already excited, you should go ahead and grab the report right away!
Testimonials
"The Airline Marketing Benchmarking Reports have proven to be an effective resource for monitoring airline advertising and social media campaign trends. Airlines that consistently seek to differentiate, innovate and find new ways to connect with passengers will find these reports to be an invaluable tool for creative inspiration and benchmarking."

– Dan Neville, Regional Director, Airline Marketing, Boeing [push h="14″]

"LAN Airlines has found these benchmarking reports very insightful when it comes to staying abreast of the latest marketing innovations. We have been able to use these case studies in our strategy meetings, to ensure we stay ahead of competition as the leading airline in Latin America"

– Emiliano Homps Borrajo, Director, International Marketing, LATAM Airlines Group [push h="14″]

"SimpliFlying's monthly benchmark reports are a great resource for Turkish Airline's marketing strategy. In today's world, where the flow of information is constant and overwhelming, these reports are designed to serve the most relevant and inspirational case-studies from the global airline sector. They fulfil our needs very well."

– Neşet Dereli, Turkish Airlines Interactive Marketing Manager [push h="14″]
About the Report
Jointly produced by SimpliFlying, and industry and consumer trends research agency, airlinetrends.com, the Airline Marketing Benchmark Report analyses a wide range of airline marketing case studies each month. The monthly report contains a selection of the 15 most innovative marketing and advertising campaigns launched by airlines around the world and assesses their impact. If you are a numbers person, you'd love our report too!
[push h="14″]
How will it help you?
This monthly report is indispensable for airline executives, specifically in marketing and communications, who wish to understand how their organizations are performing with respect to competitors and can perform better. Creative agencies working with airlines (or looking to pitch to airlines) will also find this monthly report useful for staying on top of the latest trends and best practices in airline marketing.
[push h="14″]
Pricing and Sample Report
USD 4950 per year | Annual subscription – 12 issues, starting from the month of order.
USD 495 per month | Monthly subscription – Same as above, but charged monthly.
USD 550 per report | Single monthly issue – For a one-time purchase
You can download a
sample report
here
.
[push h="14″]
Questions?
Click here if you have any questions about the report. You can also contact Shubhodeep Pal directly at shubhodeep@simpliflying.com for queries regarding the reports. [push h="15″]