Which were the best airline marketing campaigns in January 2015? Find out in our Airline Marketing Benchmark Report
Jointly produced by SimpliFlying, and industry and consumer trends research agency, airlinetrends.com, the highly-acclaimed Airline Marketing Benchmark Report analyses a wide range of airline marketing case studies each month. [push h="14″]
Disover 15 new innovative airline marketing campaigns. Every month.
The monthly report contains a selection of the 15 most innovative marketing and advertising campaigns launched by airlines around the world and assesses their impact. If you are a numbers person, you'd love our report too!
What's in this month's report?
A wide range of case studies were chosen across 4 categories — Experiential, Social, Digital and Traditional. Excerpts from the report follow:
Delta x Uber: "Taxi Recharger" (Experiential)
…To promote the fact that Delta now offers in-seat power onboard all its long-haul flights in and out of NewYork (the airline is also in the process of outfitting its narrow-body fleet with in-seat power), Delta has teamed with Uber taxis in New York City to install Delta-branded battery-powered chargers that are attached to the back of the front seat.

Each charger allows for up to two devices to be recharged via USB and the text on the chargers reads "A USB port at every seat, starting with this car – USB ports on all international long-haul flights…
Cathay Pacific: "#lifewelltravelled" (Social)
Cathay Pacific has unveiled one of its biggest social/digital marketing initiatives yet, under a new concept called 'Life Well Travelled'. The campaign aims to introduce a new positioning, focusing on the imperfections of travel, and how Cathay Pacific tries to improve them…

…Working across different platforms, the campaign's microsite is supported by a series of videos, and printed advertising. The three videos delve into different Cathay customer profiles including 'The Family' , 'Road Warrior' and 'Miss Adventure'.
Air France: "Upgrade Challenge" (Digital)
To raise awareness in the Asia Pacific region of the new cabins on its B777s, Air France has developed a mobile game called Cloud Slicer, which allows travellers to compete for an instant upgrade on their flights.

This game was first launched at Singapore Changi and Osaka Kansai airport in late 2014 when passengers were handed tablets and encouraged to play Cloud Slicer, where they had to swipe the screen to cut up clouds and compete for high scores…
Read the complete case studies and many more in the complete report.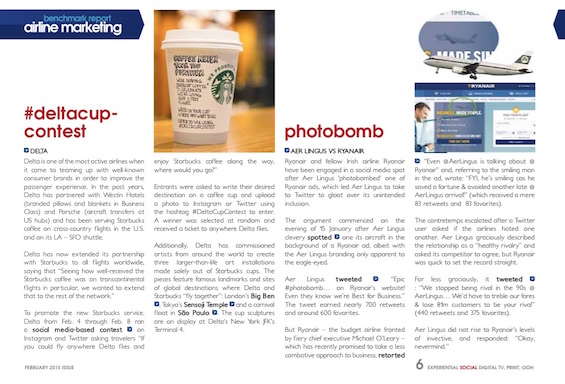 How will it help you?
This monthly report is indispensable for airline executives, specifically in marketing and communications, who wish to understand how their organizations are performing with respect to competitors and can perform better.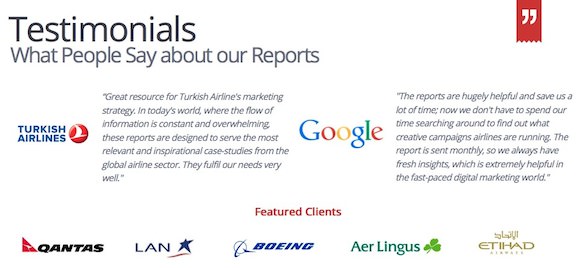 Creative agencies working with airlines (or looking to pitch to airlines) will also find this monthly report useful for staying on top of the latest trends and best practices in airline marketing.
[push h="14″]
Questions and Sample Report

You can download a sample report here.
You can also contact Shubhodeep Pal directly at shubhodeep@simpliflying.com for queries regarding the reports.