Engaging the customer through Web 2.0: lessons from JetBlue Airways
…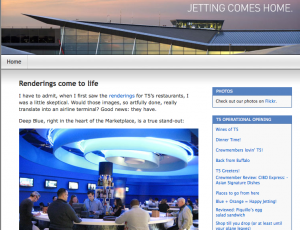 For about 21 hours from Oct 21 to Oct 22, JetBlue Airways did a fantastic job of what Rohit Bhargava calls "short term blogging". They set up a Live blog, to coincide with the opening of their new Terminal 5, at New York's JFK Airport. There were a couple of posts every hour, keeping track of the latest happenings at the new terminal, updating not just customers but also employees. The blog was quite a hit!
Today, the blog still exists as a reminder of how well JetBlue has embraced technology in order to engage its customers – both internal and external. But the airline has a history of tapping on the Web to interact with customers on their own terms.
David Neelman's flight log
JetBlue was one of the pioneers in the airline industry to add a "personality" to the company – when David Neelman started his personal blog on JetBlue's website in September 2006 (way before Web 2.0 became the craze it is today). In his first post, David wrote:
I try to fly JetBlue at least once a week, and it's on these flights that I get to meet so many of our customers, who tell me what they like about our airline and what we can do better….Every week or so, I'll update this log with information and news that I hope you'll find interesting or useful…Your ideas keep JetBlue fresh and inviting, so keep 'em coming. You can send us an email anytime, and we always respond as quickly as possible.
True enough. The blog became an important medium for David to interact directly with the customers and seek their feedback. It probably reached its epitome in February 2007, when he posted an apology on the blog for the massive delays caused due to severe weather in New York. At the end of the day, JetBlue's efforts resonated well with customers, who lauded the personal touches from an airline. The conclusion: leveraging on blogs to add personality to an airline is a time-tested way to increase traction with customers. Other examples of airlines that run successful blogs include Southwest Airlines and Malaysia Airlines.
JetBlue on Flickr, Twitter, eBay…what next?
Blogging is just one of the tools JetBlue has adopted so well. All pictures from the Live blog for T5 were posted on Flickr. Moreover, JetBlue regularly posts pictures from its events, including BBQs and Thanksgiving parties, for all to see. It's like sharing experiences with your family over holidays! Both customers and employees who were or were not part of the event feel part of the family through such spontaneous sharing.
Already famous for "following" passengers on Twitter and having an exclusive eBay store, JetBlue has been setting standards for interacting with the customer without interrupting them, and in a way they are comfortable with. In tough times like these, it's important that airlines make the best use of technology available to them to get closer to the customers to retain them. Customer loyalty in tough times pays off many times over in good times.
In my opinion, JetBlue has led the way among domestic US carriers in using technology to improve customer service. Do you think there are other examples of airlines in the US and globally doing a job as good as Jetblue, if not better? Do you think venturing online is too risky? Let's discuss, in the comments…
Related articles