Travel+Leisure ranks Singapore Airlines, Emirates and Thai Airways as the best in the world
Another ranking, another familiar (and not so familiar) story. This time, Travel+Leisure ranking of World's Best international airlines ranks Singapore Airlines at the top, followed by Emirates – which climbed a notch, and Thai Airways as the third, which climbed two notches. The surprise entries in the top few airlines here are SilkAir – Singapore Airline's regional wing – and Air Tahiti Nui. It's surely a proud moment for those at Singapore Airlines and SilkAir to have both the airlines among the world's best. Air Tahiti Nui is in the Top 10 for the first time, so quite an achievement for them as well.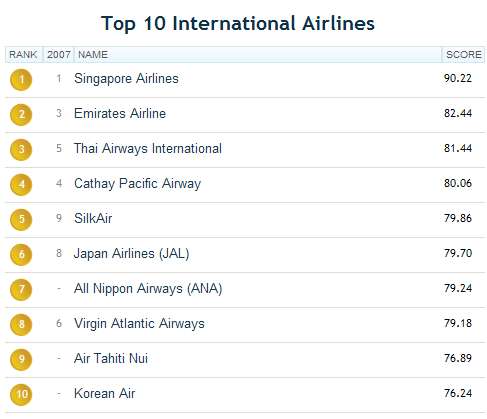 All rankings like these tend to bring out certain unique nuances about the airline industry. Here are some interesting observations.
These rankings are attained by surveying readers of the Travel+Leisure magazine, who're serious holiday-makers. Hence, the inclusion of "holiday-destination-heavy" airlines like SilkAir and Air Tahiti Nui should be taken with a pinch of salt. Moreover, the fact that other established holiday airlines like Thomas Cook and Condor are not included in this ranking should send some signals back to their headquarters.

The fact that there is hardly any overlap between these rankings and airlines that won the Freddies – ranking of the best frequent flier programs – reflects that most of the fliers who've participated in this survey are not frequent fliers. So does that mean that this ranking should carry less importance than others? Probably not. It just reflects the preferences of a different segment of travelers.
An often overlooked factor is the regularity with which some airlines come out tops, regardless of the ranking type and year after year, like Singapore Airlines and Emirates. It says tons about their management not finching in times of crises (like now!) and keeping their promises with their customers.
If you enjoyed this article, feel free to share this article with your friends. You can also get free updates by email or RSS. To learn more about airline branding, please download the free whitepaper, or join the airline branding Facebook group.