AirAsia X: a brand with a huge potential, but remember, "you're only buying the flying"
.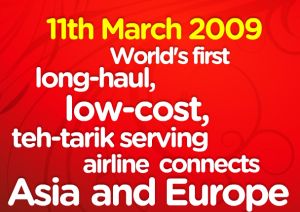 On Wednesday another bid to make a success of long-haul, low-cost flying takes off from Kuala Lumpur, destination – London Stansted.
AirAsia X has been selling seats for as little as £99 each way, though after making a series of test bookings it seems a more likely one-way fare is £200. In true low-cost fashion, "you're only buying the flying". Checked luggage costs £12 each way for a 20kg bag, with meals a further £7 per flight (and you get a discount if you book before-hand).
But…AirAsia X is different
Did you know that to optimize aircraft utilization, AirAsia X planes will land in London at different times on different days? And though that's out of the norm, as a passenger, I only care about my flight timings, not the next day's flight timings. Hence, I personally quite admire this move.
Did you know that AirAsia X CEO, Azran Osman-Rani, regularly writes on the AirAsia blog, Just Plane Thoughts. And he does so in a very candid way too. Moreover, he's not the only one, but part of a much larger team of bloggers (many first-timers) formed of people from all over the airline.
In my interactions with Azran, he mentioned that AirAsia X is not taking the existing low-cost model long haul, rather it's unbundling the current full-service long haul model and trying to figure out where costs can be cut and money made. Increasing aircraft utilization, a great example of this thinking. And it's this willingness to question everything, to not take anything for granted, that makes AirAsia X different, and poised for success.
Why it's unlikely to go the way of Oasis HongKong
Very simply, because low cost long-haul carrier has the support of AirAsia and the blessings of Sir Richard Branson. Moreover, Oasis HongKong and most other airlines that went bankrupt last year did so amidst record-high fuel prices and a shortage of talented staff. AirAsia X has the advantage of low oil prices, and is probably spoilt for choice when it comes to hiring people in this current economic climate.
And AirAsia X knows how to make money!
The airline is not leaving any stone unturned when it comes to ancillary revenues. It's charging people for baggage, for food (you can't bring your own on-board) and has even got an XL-class, which promises to offer Business Class seat comfort at a price just a bit higher than Economy class on full service carriers. In the future, you can expect many more in-the-cabin innovations from AirAsia X, which would charge the customer for value addition. I don't see them going down the Ryanair-way, but certainly be a Southwest, when it comes to building a LCC brand.
Hear it from the horse's mouth
Here's Azran himself, speaking about the importance of branding for low cost carriers, and revealing some exciting developments at AirAsia X.
The most important reason why I think AisAsia X will be a success – the team is having fun while running the business!
What do you think? Is AirAsia X poised for success? Will the long haul low-cost model work? Or will it fail, yet again? Let's hear it in the comments section.