Is Qatar Airways really the five star experience in the sky? A brand analysis
From the moment I was handed the boarding passes for my journey, there was something special about it all…I just didn't know what, at that time. It was the first time I was flying with Qatar Airways – which claims to be the Five Star airline. And I was prepared to put it through the test, on what makes a Five Star brand, and whether Qatar Airways is indeed what it claims it is. For a start, the photos below will give you an idea about my experience.
Five star culinary experience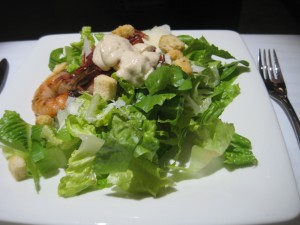 As you can tell from the number of photos in the slide show with a gastronomic feel to them, I had a LOT to eat on board my flight from Singapore to Abu Dhabi (for this conference), via Doha. Not only did I have a multi-course breakfast and dinner on board the Business Class, it was the style in which it was served that impressed me even more. Fresh napkins were spread on my lap by the steward and table covers for the table. I was asked for my choice of food before take-off (just like in a restaurant), and also asked for which meals I wanted to be woken up for (Great job, Luke!).
The food itself was very good too – unlike what airline food is generally about. If you click on some of the photos above, you'll know what I mean. So from the culinary aspect, Qatar Airways sure is a Five Star airline.
The X-Factor – a premium terminal!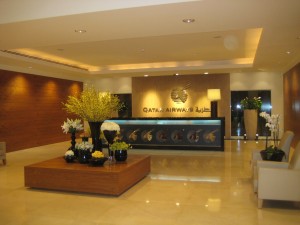 All things one would expect of a quality airline were present on Qatar Airways – a comfortable seat, good in-flight entertainment (I finally watched Notting Hill!), and amazing food. But here's what totally caught me by surprise – the Premium Terminal in Doha Qatar Airways has for its Business and First Class passengers. Yes, I mean a full terminal, not just a lounge. Though that may not sound significant from the outset, my experience was memorable.
As a transit passenger, I was for once taken care of by the airline staff, not the airport staff. The difference? Well, just imagine that you're in transit at Singapore Changi, and the SIA Girls look after you, not the SATS or the lounge staff. Wouldn't you like that? I loved it!
I was whisked away in a luxury bus (it had sofas, not seats) to the Premium Terminal, only to be welcomed by two Qatar Airways staff and then led to the Business Class lounge. The terminal was quiet, spacious and certainly exclusive. Almost serene, I'd say. Not only did the terminal have a dedicated duty-free shopping area, but the lounges were equipped with free wifi, a restaurant, a conference room, massage chairs, private bedrooms and even a sauna and jaccuzzi! Talk about feeling pampered. For once, I wouldn't mind having my connecting flight delayed.
The little things that made a big difference
Very often, a customer's interaction with a brand is taken to another level due to the small things. And in my encounter with Qatar Airways, I certainly had a number of such moments. Here are some of them.
The lady in the Business Class terminal remembered my name from my prior visit earlier in the week. That was a pleasant surprise!
In the short flight from Abu Dhabi – Doha, each and every passenger up-front was personally thanked for flying with Qatar Airways for the first time, or for being a frequent flier.
In the Doha-Singapore flight, the Chief Steward came up and chatted with each passenger on his/her experience and actively sought feedback.
Room for improvement?
Something business travelers crave on an over-night flight is a good sleep. And I wouldn't say I had a perfect sleep on my flight, because the seat wasn't fully flat – I kept sliding down. It's not the most comfortable feeling when you're trying to sleep well. Even though it was wider than the Cathay Pacific's new Business Class bed, I'd prefer the latter, since it was fully flat.
Even though I had a journey where nothing major went wrong, I've heard from a number of close associates and on the internet (read a true account) that Qatar Airways doesn't do a very good job of dealing with unforeseen circumstances. Even things like flight delays, lost baggage and weather related events sometimes cause much strife for the passenger. How to solve this? For a start, having a set of standard operating procedures and giving employees some autonomy to act can help ease things a bit.
Qatar Airways brand analysis
Let's do a quick brand evaluation of Qatar Airways, based my flight experience, using relevant levers from the 6X airline branding model (TM).
Brand eXpectation: The advertisement Qatar Airways run claims that it provides "hospitality at the highest level". Though that is certainly putting them in the "premium carriers" basket, think they could have done a better job of creating a distinct image versus their regional competitors like Emirates and Ethihad – both of which have similar messaging. Score: 8/10
Brand eXperience: The in-flight experience was true to what was promised, which is often a rarity these days. Product quality was far better than most out there and service was professional and courteous. And the food tasted much better than the average airline fare. They'd have gotten a perfect ten if I had seen more of the attendants during the flight, proactively anticipating needs, rather than addressing them. Score: 9/10
Brand eXpression: This relates to how well the company interacts with the customers pre and post-flight. Qatar Airways staff was actively seeking feedback during the flight, have interacted with me a couple of times after that and are even on Twitter! They're on the right track. Score: 9/10
Brand eXternalities: This is what happens when things go wrong. Apparantely, Qatar Airways doesn't have a very good track record here. Score: 7/10
Brand X-Factor: This is something that puts an airline in a class of its own – something difficult to duplicate for competition. The Premium Terminal and the little things they did certainly is a shiniing example of the emphasis Qatar Airways puts on its customers. 10/10
A total score of 43/50 is very respectable and I'd recommend Qatar Airways to all readers. It's a refreshingly pampering experience.
I've given my verdict. What do you think? Have you had a different experience on Qatar Airways? Where is the room for improvement? What can others learn from the airline? Let's discuss…
P.S: Special thanks to Edward Cameron from Qatar Airways for assistance in this trip.