Turkish Airlines – The atypical Middle Eastern airline brand. CEO Dr Temel Kotil outlines global dreams in interview
Last week, I was in Sydney at the Aviation Outlook Summit and on the first day of the conference, I sent out this Tweet: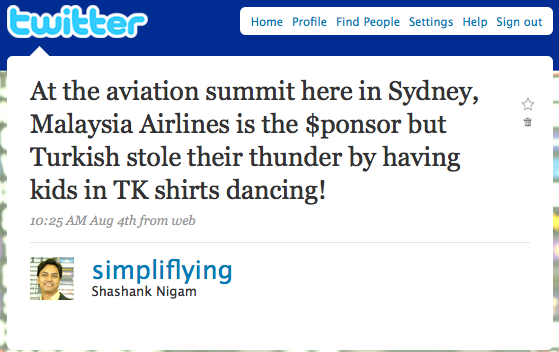 Right in the lobby of the Four Seasons Hotel in Sydney, Turkish Airlines had this flagrant display of teenagers in red, visible not just to all the conference attendees but also to those passing by the hotel (see pic below). And they had totally stolen the thunder from Malaysia Airlines, which had paid thousands of dollars for being the official sponsor of the conference.
Turkish Airlines had announced its presence, and in quite some style. After spending some time with Dr Temel Kotil, the airlines' humble CEO, I feel other competitors should be vary of the rising star from Turkey.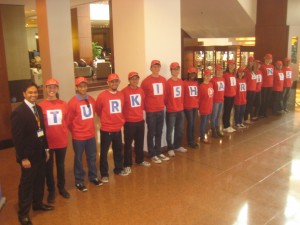 Why's Turkish the atypical Middle Eastern airline?
Dr Kotil mentions a number of points in the video interview below which prove that Turkish Airlines in not yet another Middle Eastern airline with global ambitions. Rather, it's doing things differently, connecting with customers differently and is not just going after explosive growth. Here's why I believe they pack a punch.
Turkish Airlines was one of the Top 4 most profitable airlines in the world in 2008 (according to AviationWeek TPC)
The current cash reserves of $1.5 billion are certainly adequate for surviving the recession and measured growth
It leverages its membership of the Star Alliance when entering new markets – something most other carriers in Middle East lack
Turkish hires locals when it enters new markets – key to reaching out to the local customers and cater to local tastes
Turkish is working hard on delivering a consistently great product, with special focus on the in-flight cuisine – certainly a brand differentiator
In Dr Kotil's words, "Potential is high, and ambition is big for Turkish Airlines…and quality doesn't need a passport." Hope you enjoy his interview in which he talks about what makes Turkish hard to ignore.
Isn't it a good feeling to hear some positivity in these gloomy times in the industry? What do you think about Turkish Airlines' prospects viz-a-viz other Middle Eastern carriers? Let's discuss in the comments or over on Twitter (@simpliflying)