Passenger Experience, Satisfaction & Concessions @ PTExpo11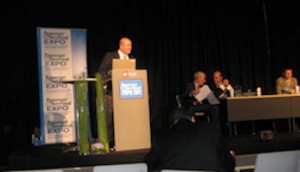 We attended the Passenger Terminal Expo and Conference in Copenhagen March 29-31, where 3500+ industry attendees gathered to listen and debate topics across the full range of airport issues. We focused especially on presentations that dealt with and impacted the Passenger's Travel Experience.
Our expectation was that we'd learn how the airports were implementing strategies centered on the passenger (customer). In many cases, the presentations and subsequent discussions dealt with the airport's discrete strategy rather than a customer engagement strategy. In essence, many presenters left us with the impression it was about the airports versus their passengers – suggesting that airports need to consider their strategic direction.
By this we mean that the passenger is obligated to engage with each separate part of their travel journey, usually on terms defined by the airline or airport. That means the customer must master each of the airline, airport, hotel, car rental, ground transportation, etc. websites or interfaces in deference to their own unique needs.
All that said, we were particularly impressed with the presentation from John Holland-Kaye, Commercial Director, BAA Airports and his view of transforming the passenger experience at Heathrow. He said "it's all about the passenger's journey with the airport's job is to improve or make things better for the passenger. He ended with their tagline "making every journey better".
Allen Lainez, Director of Service Excellence with Copa Airlines highlighted our view when he said that in the industry "had better listen to voice of the customer". The clear implication was that customers are the consumers who are now in control of the purchasing decisions. Ignore this fact at your own peril.
One topic that received a significant focus during the conference was that of customer service. Unfortunately, many airports measure customer satisfaction only within their own departmental operations. An example is the airport ASQ surveys that attempt to measure customer satisfaction (CSAT). Unfortunately, a passenger's view of their airport experience may be a function of many variables, including flight delays.
We view this perspective on customer satisfaction in a different way, creating tools based on a Passenger Experience Index (PEI) aimed at measuring customer satisfaction across their entire travel journey. The recent announcement of SimpliFlying's analysis tool with Eezeer.com is an example of the growing focus on the passenger's view that encompasses many of the elements we espouse.
What was clear from the conference is that some airports are implementing customer service improvement programs. They are also trying to define a customer engagement strategy by putting the passenger/customer at the heart of their operations. If implemented correctly, we feel that the Passenger's Travel Experience will improve over time.