Redefining the journey – behind the scenes in the re-branding of Royal Brunei Airlines
Editor's note: Recently, Royal Brunei Airlines unveiled a new livery on their aircraft, which received a passionate reaction from aviation enthusiasts and travelers the world over. But the new livery is just one aspect of a well-thought re-branding strategy for the airline.
Global brand consultancy, Interbrand, was hired to lead this process and in this guest article, Anne Donohoe, a Director at the company and the strategy lead for Royal Brunei, takes us behind the scenes of this re-branding process.
With the launch of their new brand this month, Royal Brunei Airlines is redefining the way they think about flying.
The last two years have been a time of restructuring for RBA – building a solid foundation with the right people, routes, fleet, and technology. In April 2012 RBA hired Interbrand, a global brand consultancy, to create a brand identity that would help position them in a highly competitive industry.
Reflecting Brunei's culture
Upon meeting the people at Royal Brunei we quickly realized this is a special brand. You can't help but be charmed (and a little envious), by how Bruneians view life. In a fast moving world, one with conspicuous materialism, they truly believe the most special moments in life are the simplest. They believe in the magic of a genuine smile, the delight in unexpected acts of kindness, faith and the importance of spending time with family. These timeless values are at the heart of who RBA is as an airline.
The airline industry is filled with airlines positioning themselves based on rock bottom prices, quality service, or the latest technology – jostling for leadership in the "LCC" or "Premium" race. What has been forgotten is that travel is ultimately about real people, not load factors or hash tags, who want a great experience. Happiness is just as much about the journey, as the destination. It is with this philosophy in mind that Royal Brunei embarked on its journey of redefining the flying experience.
The Unveiling
Non-branded teaser campaigns began mid October in Brunei, with advertising supported by friendly RBA staff going undercover as the "Smile Squad". They handed out chocolates, balloons and smiles while reminding curious bystanders to stay true to their values and enjoy the small pleasures in life.  Great buzz was created on Facebook and Instagram leading up to the big reveal.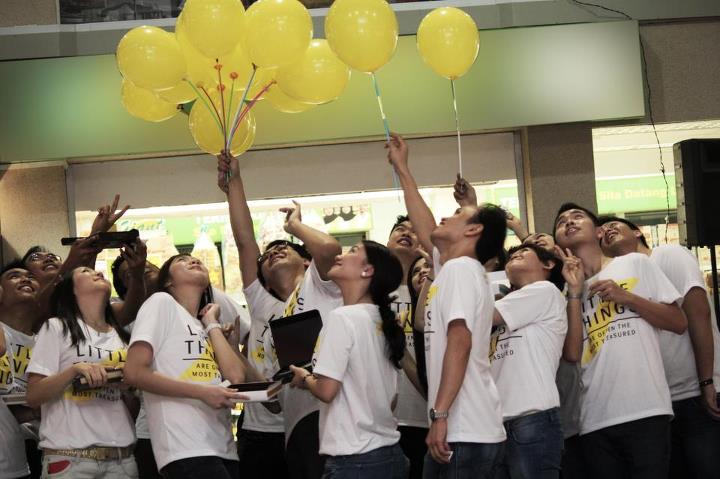 On October 30th Royal Brunei revealed the new brand proposition of "Simple Pleasures". A promise to truly delight everyone they meet, through genuine welcomes, thoughtful yet unexpected gestures and unique Bruneian touches. A promise to help people from around the world rediscover timeless values. 
With over 700 staff and VIPs watching, a freshly painted Airbus A319 pulled into the airport hangar, showing off the new livery and logo. The classic design, including the new RB monogram, expresses the simplicity and timelessness of the brand promise. Staff were truly delighted with the livery, with emotions running high in the audience.
As part of this journey, Royal Brunei is now working on creating a distinctive experience at the most important touch-points such as in-flight entertainment, ground service and online interactions, including social media. Staff are engaged at all levels, creating a sense of excitement and optimism. New experiences will be rolled out over the next year, with the launch of the first 787 Boeing Dreamliner in South East Asia as the key highlight.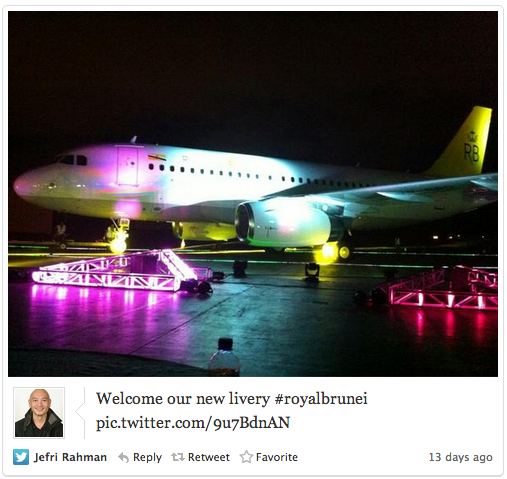 Great brands evoke emotion. They have the power to touch us. I am excited to see Royal Brunei share its magic with the world. An airline that stays true to its values and creates simple yet special moments is truly delightful.
Full Disclosure: Royal Brunei is a valued SimpliFlying client (see Press Release).