For being the driving force behind Air New Zealand's quirky brand, Jo Brothers is the SimpliFlying Hero for March 2013
Note: Air New Zealand is an old-hand at driving buzz on social media. It has gained much love and popularity for its quirky safety videos, its mascot (remember Rico?), and innovative customer engagement campaigns. Everyone agrees that one of the major reasons behind Air New Zealand's tremendous brand appeal is its highly-engaging online presence. Hence, despite stiff competition from the likes of KLM and Kulula – no pushovers in their own right – Air New Zealand won the title of this year's first SimpliFlying Hero by a comfortable margin. Jo Brothers, who leads Air New Zealand's social media marketing was also kind enough to respond to our request for an interview. An edited transcript of the SimpliExclusive interview follows: [push h="16″]
1. What kicked off ANZ's social media presence and what was the first really big step taken towards building the online community?
We launched our You Tube, Twitter and Facebook pages over four years ago as we realised the value and importance of taking our community into the digital social ecosystem. From the beginning we created fun images, competitions and videos which could be shared and talked about. [push h="15″]
2. What business goals (e.g. ancillary revenues, corporate reputation etc) are ANZ's social media efforts mapped to? How do you measure the success (ROI) of your social media efforts?
We have the three Social Media pillars of customer, brand and commerce which are the foundation of all that we do in the social media / digital environment. ROI is measured via a range of success points depending on what we are doing. For example it could be commerce related, acquisition of fans, number of times content is shared, mentions online, number of tweets we have had and so on. [push h="15″]
3. How large is the social media team at ANZ? How do you work with one another to ensure success?
The social media team is led by me, with a full-time team of three in community specialist and content-producer roles. As part of the global brand team for Air New Zealand, we also work collaboratively with our regional offices around the globe to ensure they are fully supported and then help amplify their campaigns across our social communities. [push h="15″]
4. How did you decide which platforms to tackle more aggressively than others and why?
We try things, we anticipate trends and we embrace change. We understand the value of learning as you go along, as social media is still in its infancy and is rapidly evolving so we need to have the ability to be agile and try new platforms, and be ready to take a chance – which we do. We are ready to walk with our customers on the new multi-screen journey where they might start off engaging with us on their smart phone, or on a device or a desktop.
We realise that we need to be creative, edgy and first to market with social media. Social Media has helped us reach new heights in terms of local and global reach and also in injecting "a lot of personality" into the Air New Zealand brand online. There is no doubt that it helps differentiate Air New Zealand from competitors. [push h="15″]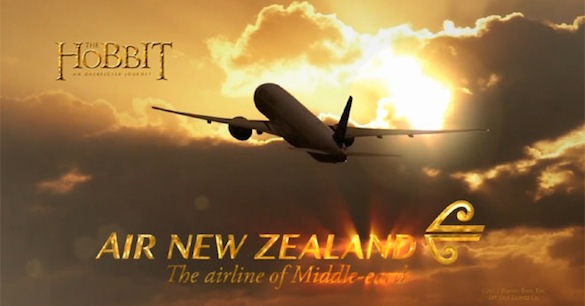 5. What sort of tools do you use to manage your social presence?
We use a range of tools, and at this stage most of them are custom built for us. We are currently exploring other solutions as well. However, we are yet to find a tool that can keep up with the speed of real time social media conversations and engagement. [push h="15″]
6. Tell us about ANZ's partnership with New Zealand's Department of Conservation (DOC). What spurred the idea for The Great Walker and why was social media chosen as the main platform?
Like most New Zealanders, we're really proud of our natural environment. For that reason, Air New Zealand joined forces with DOC to preserve and protect some of our country's most inspiring natural spots.
Right now the partnership is focused on New Zealand's nine Great Walks. Initial conservation activity is around escalating pest control on each track, increasing existing native wildlife and re-introducing iconic species like the Takahe into the Clinton Valley on the Milford Track, The Whio into the Routeburn Valley and the Kokako into the Lake Waikaremoana region. Air New Zealand also works with DOC on species transfers for some of New Zealand's most endangered animals, about 200 movements each year. [push h="15″]
The Great Walker idea came about as we were keen to encourage both Kiwis and international visitors to get out and walk these stunning tracks. We wanted to promote all 9 of the Great Walks and what better way than to run a global competition to find a group from all over the world to walk all 9 in 9 weeks! Social media was the natural choice as the best channels could reach and inspire a global audience quickly in the most cost-effective way. [push h="15″]
7. What is in store for 2013 with respect to ANZ and social media? What are ANZ's plans for inflight wifi?
Lots of great content, conversations, competitions, tweets, likes, Social Media Breakfasts, Movie partnerships, The Hobbit movie 2, a new Safety video, Air New Zealand Fairy magic and lots more. We are in the very early stages of exploring options for WIFI. [push h="15″]
8. What tips would you give to other airlines building their social media presence?
Try, trial, test, create, evolve, be authentic, take risks, calculated risks and have fun. [push h="14″]

Know someone who's worthy of being a SimpliFlying Hero?
Simpliflying Heroes are individuals recognized for outstanding social media use in the world of aviation. Do you know of somebody who uses social media effectively in their airline or airport to achieve specific business results? Or do you think you fit the bill?
Then go ahead and fill up the SimpliFlying Heroes nomination form. By filling out the nomination form, you bring them a step closer to being recognized by SimpliFlying for their efforts.