Airline Marketing during World Cup: KLM's Twitter gaffe, AeroMexico's response and Belgian chocolates
In the age when there are over 200 airlines on Twitter, and numerous more on Facebook and other social mediums, an airline's brand persona is often determined by its latest Tweet. What might pass off as a whim on a personal Twitter account often gets closely associated to the brand, when tweeted by an airline. And marketers looking to build strong airline brands need to keep this in mind.
KLM makes a rare Twitter gaffe
During the soccer World Cup in Brazil, as Mexico was knocked by the Netherlands in the final minutes of the match last weekend, somebody at KLM's social media team had an idea. Why not send out a cheeky tweet, celebrating the Dutch win? Being an airline that is always quick to respond online, here is what they tweeted out: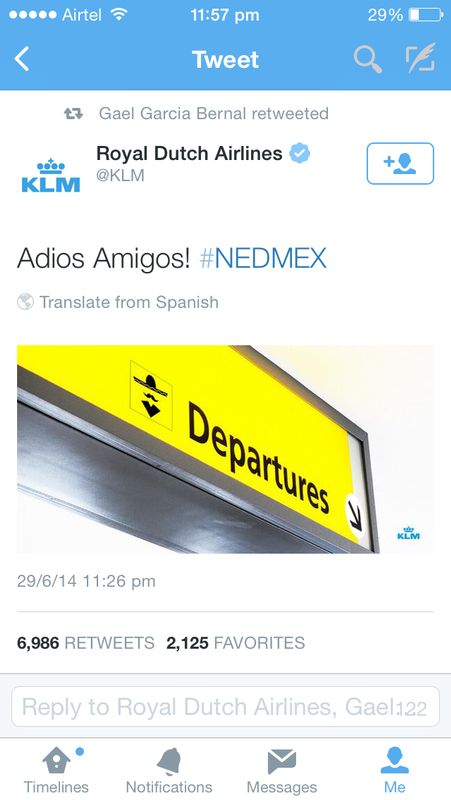 While on the surface, the tweet might seem cheeky, many Twitter users were not amused. Within minutes, it was retweeted many times over. Mexicans around the world, still reeling from the last minute turn of events that saw the team lose, took offense at the tweet by the airline. Many, including famous celebrities, called the airline racist (due to the icon of a man wearing a hat), and there were multiple calls to boycott KLM as well. Perhaps not the ideal response KLM had hoped for.
While the airline promptly deleted the tweet following the reaction, being a mature airline on social media, the tweet shouldn't have been sent out in the first place. It is important to be sensitive to all key target markets on social media, and perhaps KLM missed a trick here.
AeroMexico's brilliant response
Within hours of KLM's tweet, SkyTeam partner, AeroMexico posted a response on Twitter that was not only creative, but also very appropriate for the situation. Their tweet showed the Arrivals board, in response to KLM's Departure sign, and roughly translated to, "Thanks for the great World Cup. We are waiting at home."
Gracias por este gran campeonato, estamos orgullosos y los esperamos en casa #VivaMéxico pic.twitter.com/GCE5u5Cj6r

— Aeroméxico (@AeroMexico_com) June 29, 2014
Brussels Airlines gives out chocolates on US flights
A few days later, Belgium beat United States to qualify for the quarter finals, which meant that the Americans were out of the tournament. Instead of mocking the US team or travelers, like KLM did, Brussels Airlines decided to placate the American public by distributing Belgian chocolates on their flights to the US. They even posted photos of it on Instagram and Facebook, receiving a great reception.
While airline marketing teams should certainly leverage current events, like the World Cup, to drive home messages, they need to ensure that they do so in a mature manner. It's fine to have fun on social media, but at the same time, airlines shouldn't be hurting the feelings of fans too! Because the impact on the brand is immediate, and long lasting. KLM might be perceived to be racist, when in reality they are not. Brussels Airlines might be perceived to deliver great service, and Belgian chocolates on-board. All thanks to a single Tweet!
What do you think? How would you have reacted to the actions by KLM, AeroMexico and Brussels Airlines? Let's discuss on Twitter (@simpliflying) or in the Comments below.