[Interview] The Present and Future of VR — Alexandra Zaddach, Head of Product Marketing, Samsung Germany
Recently, we were invited by Lufthansa to its first FlyingLab, held onboard the inaugural Frankfurt to San Jose flight. It was a one-of-a-kind experience, with a full-fledged in-flight conference streamed directly to passengers' mobile devices via a specially created in-flight network. Apart from illuminating presentations by marketing honchos at Lufthansa, Mercedes-Benz, and Instagram, passengers also got the opportunity to try out Samsung Gear VR devices loaded with Lufthansa content, provided onboard  by the kind folks at Samsung Germany.
I tested the device onboard and the experience was rather what I'd expected it to be. Lufthansa had created content in four categories — short breaks. stories, cabins, and planes. Putting on the complimentary headphones, I was transported into a realistic world where I could sit back and enjoy a glimpse into what cabin service actually is like in Lufthansa Business Class; or, for instance, walk on the streets of a Lufthansa destination.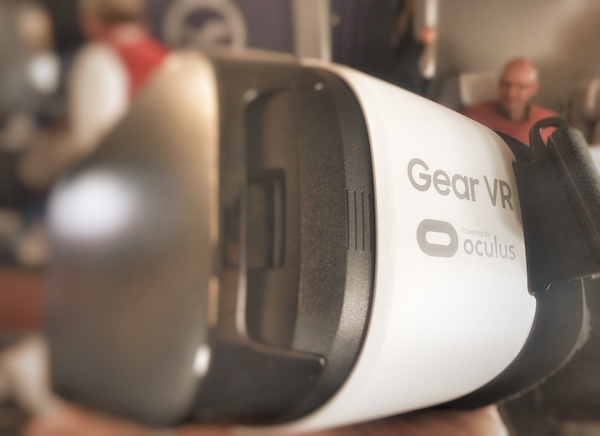 The technology — understandably — is in its infancy, and loses its novelty after a while. (I was reminded a little of headache-inducing 3D movies that I avoid as a rule.) But there's hope. The experience can be truly immersive and you might even forget that you're wearing an unwieldy headset. As content becomes more creative, we will certainly see more use cases as well.
I caught up later for a brief chat with Alexandra Zaddach, Head of Product Marketing, IT & Mobile Communication, Samsung Germany.
Q: What's been the consumer response to Samsung Gear VR been like since it launched last year?
Alex: In Germany, we have sold so far more than 185K Units. Sales are constantly increasing with more content choice. Actually, VR runs very well in Nordics, UK and France as well. And in other countries, it's good because there were several campaigns along the Galaxy S7.
Q: Do you have partnerships with other airlines? 
Alex: Apart from Lufthansa, we are also working with Qantas.
Q:Can VR make a real difference in people's lives?
Alex: Apart from the wow factor, VR can also lead to an increased Entertainment experience at home, or while travelling. e.g. joining live events from home as if you're there. And people can create their own 360 content with a 360 camera. As for B2B, a huge variety of businesses can leverage VR — entertainment parks, education, engineering, live events, sports coaching, museums, travel, shopping, etc.
Q: What is the most amazing application of VR that you have seen (not necessarily in aviation)?
Alex: See this video — VR helped people overcome the fear of heights!
Q: What improvements are being planned for Samsung Gear VR?  
Alex: We are working on a smaller, lighter device with better resolution and higher wearing comfort.