How Lufthansa is using YouTubers to review shopping products
This article comes from the September issue of Airline Marketing Monthly, which this month has Lufthansa on the front cover.  We featured Lufthansa both for its Upcycling Collection (where an A340 is being recycled into lifestyle products), and for the way it is working with YouTubers to review pre-flight shopping products.  
A large number of airlines now work with so-called 'influencers', including Lufthansa. The airline has recruited a group of YouTube experts to review products from the airline's pre-flight shopping range (which as the name says,  you reserve before you fly).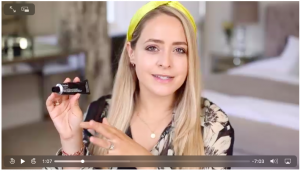 These include beauty vlogger Fleur de Force, tech YouTuber Mrwhosetheboss, watch expert Teddy Baldassarre, and the YouTube couple which produces the 'Endless Adventure' travel channel.
Each of the four have recorded a video about some of the products on offer, related to their individual area of expertise.  For example 'Mrwhoseteboss' looks at a pair of wireless earphones, a pair of over ear noise cancelling headphones (from Bose), a global portable WiFi hotspot unit, and a portable data storage device – all items a global traveller will obviously be interested in.
Lufthansa picked some really major YouTubers to work on this project.  Mrwhosetheboss is the UK's biggest technology YouTuber, while Fleur de Force has over a million channel subscribers.
Watch expert Teddy Baldassarre's following of just over 100k subscribers would be impressive in any other circumstances, but here it looks relatively modest by comparison (watch videos are of course fairly niche).
As a result, we can only assume that Lufthansa put quite a sizeable budget into commissioning all four to produce these shopping reviews.
This is a good piece of activity to bring Lufthansa's shopping products to life, even though these are more like advertorials rather than reviews in the standard sense, as the YouTubers aren't going to criticise a product in the Lufthansa range.
Looking at Mrwhosetheboss's video, the closest he gets to saying anything remotely negative is to call the Bose headphones 'not cheap', which isn't a surprise given the brand, and is something any knowledgeable Bose customer would already have factored in.
Focus on credibility and content, not vanity metrics
We mentioned the fact that all four have large followings, but for us that's not the biggest reason why this tactic works.
Vanity metrics (follower numbers) and even engagement levels are easy to fake. See our July editorial on the subject.
Yes, numbers matter to some extent, but for us the main focus should always be on credibility and content.  So, beyond the numbers, are the people you are working with credible?
The answer here is quite obviously yes, they have a long track record of producing videos, they are experts in their field, and they have a fan community which values their recommendations.
And related to that, are they producing quality content where they tell your story in a new and different way?
Again, when watching the videos the answer here is that they do an effective job in taking items from Lufthansa's shopping range and adding some colour to them – as well as giving consumers reasons to buy.
In addition to currently being on the Lufthansa shopping website, these video reviews will be appearing on the airline's IFE system from November 1st.
You will find more airline marketing news, analysis and campaigns in Airline Marketing Monthly.