Future of airline customer experience: SimpliFlying Launchpad finalists revealed #PaxEx
By now, we know that airline customer experience will change in ways not imaginable before COVID-19. Which are the technologies powering the future? The next SimpliFlying Launchpad Demo Day aims to find out.
In April 2020, SimpliFlying issued a widely circulated report called "The Rise of Sanitised Travel". The report highlighted over 70 areas that were bound to change because of COVID-19 from online check-in until baggage pick up. We are now taking a similar approach, by going through the various touchpoints along the customer journey, but this time, with a SimpliFlying Launchpad company and their innovative solutions connected to each of them. Hence, we are proud to announce our "Airline Customer Experience Cohort" for the upcoming demo day this Thursday, 19 Nov 2020. Let's take a closer look at the companies crafting the future of airline customer experience.
Travizory — a digital COVID certificate for entry into countries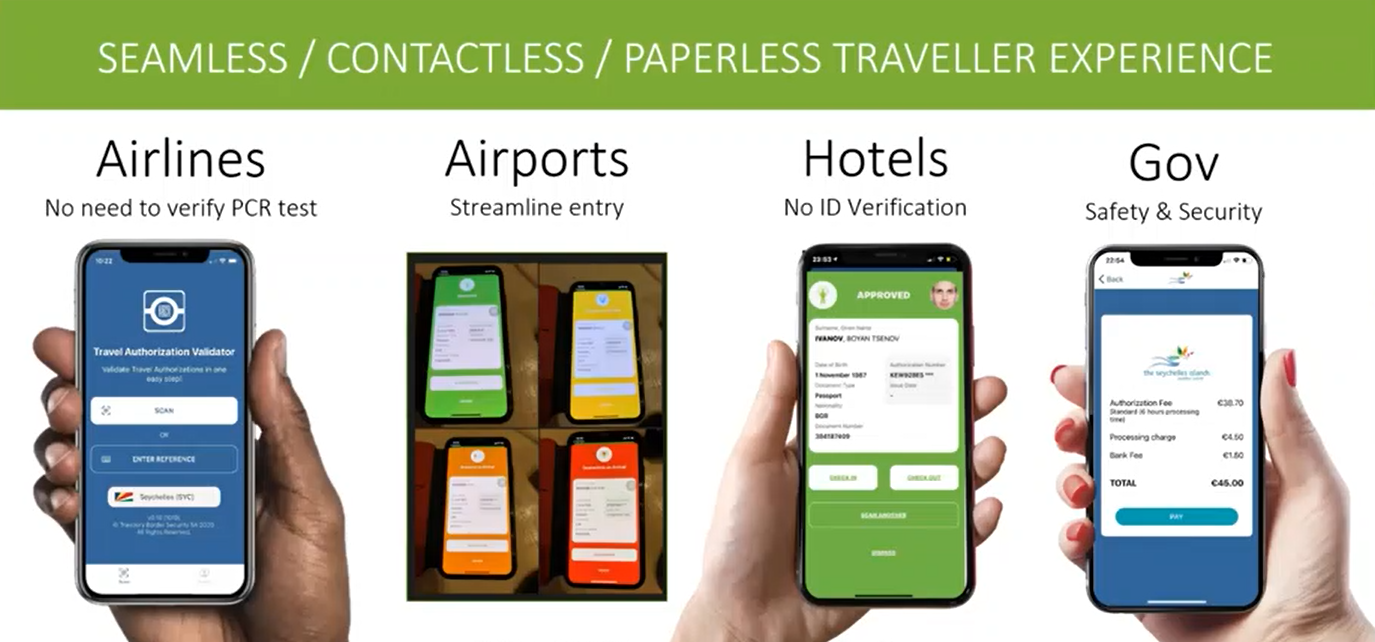 Travizory is based in Geneva, Switzerland, and proud themselves on their high quality and secure solution. A good "brand/location" match indeed. Travizory provides travellers with an opportunity to do all essential pre-flight paperwork (health declaration, COVID test certificates) quickly and digitally. Their main value proposition to the passengers is quick processing of documents required to travel around, whereas airport authorities benefit from knowing each passenger's information before he/she arrives at the final destination. We believe that the airline customer experience upon landing will never be the same.
PACER — A digital moving carpet reducing boarding time by up to 60%
PACER, together with Azul, have developed what they call "Tapete Azul" or the " Blue Carpet". Not only is this a disruptive innovation for gate queue management, and bringing down boarding time by as much as 60%, but it can also assist with social distancing, and even become a powerful revenue driver for airports and airlines alike! The moving carpet is "lead" by the speed of the passengers and not the other way around. It will guide you swiftly and smoothly from your seat at the gate to your seat on board. Did we mention it reduces the "standing-up" time by 90%, improves OTP ( On-time performance), and reduces turnaround and leaves passengers happy and stressfree? And we haven't even talked about the revenue part yet. It's an all-around game-changer for airline customer experience!
StripSensor — Fast and smart temperature check sensor
This technology was specifically developed for spaces with a heavy people flow being funnelled through bottleneck areas, such as the sliding or carousel doors to enter the airport, the check-in queue, security line, people waiting to board etc. With the StripSensor, you can say goodbye to long lines of people, all waiting to have their temperature taken, and potentially exposing themselves to unnecessary contagion, and welcome people without stopping their flow or pace. The StripSensor is a plug and play device, meaning you just need a standard power outlet and can be set up and easily moved anywhere it is needed. It can scan 300 people per minute, and is a safer and cheaper alternative to thermal cameras and handheld temperature guns which require staff to handle them. Ask Marriott or Hilton, they use them to improve customer experience.
TrekSecure — Track & Trace solution for travel

TrekSecure is an automated and intelligent contagion response solution, which automates existing processes and guidelines from ICAO and other regulatory bodies. It also optimises internal processes, and in return, reduces the workload for airlines by 90%. It basically automates the end-to-end contact investigation process and provides instant notifications for affected passengers, crews and global health agencies. TrekSecure was designed over a two year period, by Dr Kris Belland, the former Chief Medical Officer at American Airlines who now works with the FAA. It doesn't get much better than that. The technology is fully GDPR-compliant and exceeds all international data privacy standards.
Testfrwd — Mail-in PCR test
This Austrian startup offers simple and non-invasive saliva-based PCR test kit, that can be easily done at home, and thereafter swiftly and securely sent to a lab. With TestFWRD you don't have to waste your time waiting for an appointment in the lab, and there is a need to expose yourself to a potentially contagious environment ie. where everyone getting testing are waiting. Done at home, controlled by following simple instructions, showcasing proof of identity, recording yourself with your mobile, and mailed straight to the lab via the app— this is easy and effortless. The results are sent straight to the app to showcase at the airport.
TEN-3 — Exposure notification app
The idea behind TEN-3's solution is simple. When you enter a flight, and restaurant or a concert venue you simple "check-in" to the event, by indicating where on the flight you are seated that sanitisation and testing alone won't stop the virus from spreading all around the world. TEN-3 adds another layer of control over COVID-19 by following the traces of the virus. The company offers timely exposure notifications to application users. A person logs in to the place he enters and logs off when he leaves. The information about the visited places is stored anonymously in the app for 14 days, and in unlucky case of infection, other people who visited the place at the same time and were close to an infected person will be notified.
Rebound Travel — Personalised cash-alternative refund offers
This technology is straight from Silicon Valley. It allows airlines to limit cash refunds to passengers. The company's system provides travellers, who are entitled to a cash refund, with non-cash alternatives such as vouchers, miles and upgrades. The artificial intelligence behind the platform forms a personalized offer straight away. It maximizes the benefits of passengers at the lowest cost possible for airlines.