Air Canada's Robert Milton builds brand value through divide and conquer
Image via Wikipedia
In his autobiography, "Straight from the top – The truth about Air Canada", Robert Milton – the former CEO of the airline – concludes, "There is no reward in life without risk, and there are times in our lives when we must all balance risk against reward and make a decision accordingly, whether we want or not." He has taken his own advice to heart.
Divide and conquer – the best way to win
Milton was making a risky bet in 2005 as he floated as an independent unit, Air Canada's Aeroplan – their frequent flier program. It was the first time a major airline was separating from itself probably the most valuable part of the business. But his instincts have been proven right. Today,  Milton has been successful in monetizing the once troubled airline and its subsidiaries and turning them into profitable entities through a holding company – ACE Aviation Holdings. As Airline Business describes it in an article about Milton, "The evolution of ACE from a struggling flag carrier into money-making holding company is the story of turning side dishes into main courses."
In fact, not only have most of the individual entities pleased investors with their financial performance over the past few years, they have actually improved performance as independent companies. Essentially, working as independent divisions, these businesses sell services to a variety of customers, not just the parent airline, hence tapping on greater revenue sources than before.
The whole is greater than the sum of parts
The "componentization" of Air Canada's business model is evident even on their website, as you buy a ticket. Almost every service and product available is broken down and one can choose them ala-carte style. For example, you can pay an additional amount up front if you want to use their lounge before the flight, or want a better seat or a meal on short-haul flights or want to earn 150% status miles. This caters well to the full spectrum of Air Canada's passengers – the budget travelers, as well as the "travel-in-style" types. It allows the customer to pay for what he or she values the most.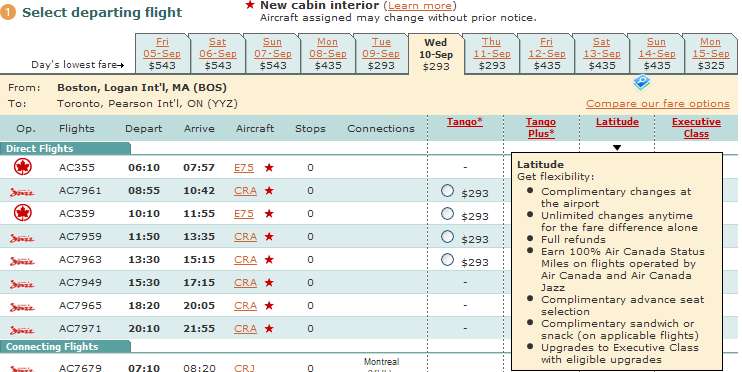 Similarly, having separate business units for Aeroplan, the maintanence business and the airline allows investors to focus on what component of the company they value the most, and derive greater value out of it.
The brand value of the some of these parts increases too,  since it's broken down by the divisions as well. This break down into smaller, more tangible chunks allows each business to quantify its own brand value, rather than a large, intangible airline brand.
A model for other airlines to follow?
A number of airlines around the world, like Qantas, are considering floating or selling parts of their businesses to investors. But is it realistic to emulate Air Canada's business model in different markets with different regulations and operating conditions? It may very well work for some, but how far can an airline move away from a "holistic" business model as its traditionally been, to an Air Canada-styled holding company? Would the brand strengthen or be more diluted because of this?
Let's discuss…
If you enjoyed this article, feel free to share it with your friends. You can also get free updates by email or RSS. To learn more about airline branding, please download the free white paper, or join the airline branding Facebook group
Related articles by Zemanta