Randy Petersen of Flyertalk on airline branding – Part 1 of 2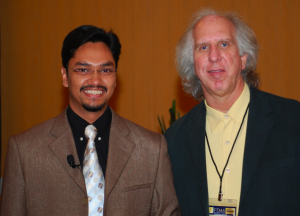 "True brand loyalists should ideally fly due to a deep emotional connection, not just miles."
"Your most valuable customer is like your best friend. He's there with you even in the tough times."
These are just a couple of gems Randy Petersen shares in his interview with SimpliFlying, Live from Fort Lauderdale, Florida. For those who're not aware, Randy is the man behind InsideFlyer and Flyertalk.com. He is the champion of frequent fliers around the world, and the organizer of the Freddies.
Randy and I met on the sidelines of the 21st annual Freddies and the FTMA Conference. At the conference itself, Randy led the panel discussion with me, after my keynote on airline branding and Web 2.0. It was an honor to be on the stage with the aviation industry stalwart and interview him for SimpliFlying afterwards.
Is a frequent flier a loyal customer? Nope.
Randy feels that the current miles as an incentive system only shows you frequency of travel, but doesn't show you recommendation, it doesn't show you passion. And hence it doesn't even prove loyalty.
Lessons from Apple and Nike about branding?
If there were no frequent flier miles, which airline would people fly? That's the true test of brand loyalty. Randy only  wears Nike shoes and buys Apple Macs (he has 50 of them!!). And he does this without Apple or Nike giving him any rewards for his loyalty. Randy explains one of the reasons he likes Apple because it is the beacon of simplicity. His advice for airlines? Why not make frequent flier reward programs very-very simple to understand?
The "most valuable customer"?
At the FTMA conference, there was a healthy debate about who's the most valuable customer for an airline. Randy feels that the most valuable customer is not just one who flies you when it's most convenient for them, but also when it isn't as convenient for them. A customer becomes more valuable when he goes out of their way to fly you.
Without revealing much more of the wisdom Randy shares, I'd like to invite you to hear it from the man himself. Just click play on the video below. Part 2 of this interview will be published tomorrow, where Randy speaks about social media for airline branding, and the future of Flyertalk.com