Shashank Nigam awarded the Global Brand Leadership Award at World Brand Congress for airline branding
Dear SimpliFliers,
It gives me great pleasure to share with you that I've been awarded the coveted Global Brand Leadership Award (Individual) by the World Brand Congress. The award ceremony was held at the Taj in Mumbai on November 4, 2009. Thanks to all of you who came down to support, in person or on Twitter/Facebook/LinkedIn! It was truly an evening to remember.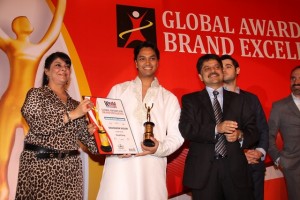 The award is given to individuals who're doing things differently in branding in a given industry and a distinguished jury decided on those who'd receive the award this year. I received it for SimpliFlying's work in airline branding.
I was honored to be among some very esteemed recipients of the award, including Prof. David Rogers of Columbia University, Jody Turner of CultureofFuture.com, Sandy Carter of IBM and Eric Weaver of DDB Tribal Vancouver. Each one of these people have inspired me at some point in the last few months with their thought leadership in branding and it was such an honor to have made the cut with these stalwarts. It was a very humbling experience as well, not just because of who was receiving the awards, but also because I was by far the youngest recipient of the award (don't think I saw anyone on the stage below 30).
It wouldn't have been possible without You!
Lastly, I must mention that this award is true testimony for the importance of connecting with the customer authentically, often through social media, for airlines, airports and hotels – all of whom SimpliFlying works actively with globally. And there have been a number of individuals who have been instrumental in bringing SimpliFlying where it is today.
Firstly, Don Schenk, the CEO of Airline Capital Associates, who's held my hand for over a year, when SimpliFlying was all but a sprouting idea. Don believed in me, my ideas and pushed me to strive on a new path. I'm also indebted to Beth Mastre, who's been selflessly mentoring me on everything from Sales pitches to legal documents. Patrick Murphy and Chris Brogan, who've always been open to hearing my new ideas and bring me back to earth. These Board of Advisors is a blessing to me.
Zahid Ahmad, whom we also know as Z_SimpliFlying has been working full time with SimpliFlying and been my backbone since early this year. He's one person who's as passionate about airlines as I am and has traveled more than me! He build on my ideas like magic, and pushes me further, always! Thanks Zahid! Special thanks also to Guen, who started as an intern, but she was so good that I never let her go. Her hardworking and never-say-no attitude makes me wonder why she needs to study another two years before she graduates!
I've sought inspiration from a LOT of folks in the past year. Thank you very much for being there, Joe Crump of Razorfish, Allen Adamson of Landor, Lisa Markovic and Manish Dureja of Jet Airways, Sunderaj of Singapore Airlines,  Sanjay Aggarwal of SpiceJet, Don Garvett, Steve Frischling of Flying with Fish, Viswa Sadasiwan (who's now in the Singapore Parliament!), Azran Osman-Rani of AirAsia X (I wanna be like him!), Michael Tan of Etihad Airways and Edwin Hodge of WinAir (one of the most gracious people I know). The whole team at Intercontinental Hotels Group has helped push the envelop further than ever before at SimpliFlying.
Special thanks also to my Twitter followers, LinkedIn group members and Facebook friends, who're always making me think, with their 140chars comments, "likes" and thoughts on my discussion threads. I can't imagine the journey that has been without these individuals.
Lastly and probably most importantly, I wouldn't be where I am without my family and close friends. My dad's been a constant inspiration, instigator and inherently visionary, always helping me push the limits. My mom and my brother have always been of tremendous emotional support – which is often under-rated. But for an entrepreneur, it's often what makes or breaks him. Lastly, my friends and confidants – Puneet, Balpreet, Prajakta, Aditee, Arifin, Shu Ting, Dee, Karina. Thank you!
I bet I've missed some folks out, but drop me a Tweet or an email, and I'll make up for it. Promise. Thanks again everyone.
Keep flying, SimpliFlying,
Shashank
Taj Lands End, Mumbai, India
5 November 2009