[LIVE!] How airlines and EuroControl are conquering Icelandinc volcanic ash through social media #ashtag
In times of crises these days in the airline industry, the website is no longer the place to go to – it gets updated far too slowly and the information is generic. Call centers too, are flooded with requests, and you don't want to be placed on a long hold when you're anxious about your next flight!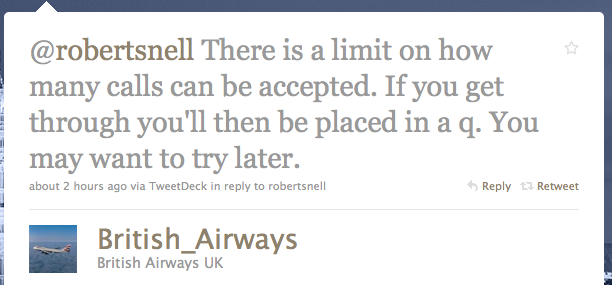 Real-time social media to the rescue!
The place to look for answers and support are no longer the Web 1.0 websites of airlines, or call centers – rather it's real-time tools like Twitter. Most European airlines that have a social media presence have been updating their followers about their respective flight delays etc. Some are doing a better job at others.
While Lufthansa's German Twitter feed is announcing cancellation of all flights till noon on Saturday (and probably beyond), Virgin Atlantic is posting updates on their Facebook fanpage. On another hand, airBaltic [Disclosure: SimpliFlying client] is tactfully handling customer service issues through Twitter.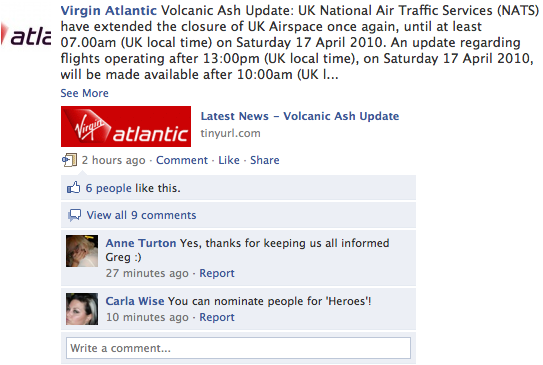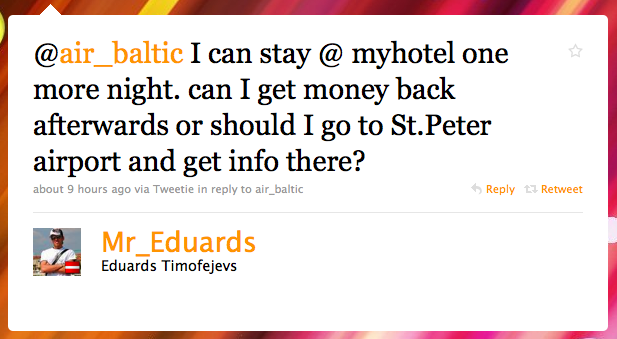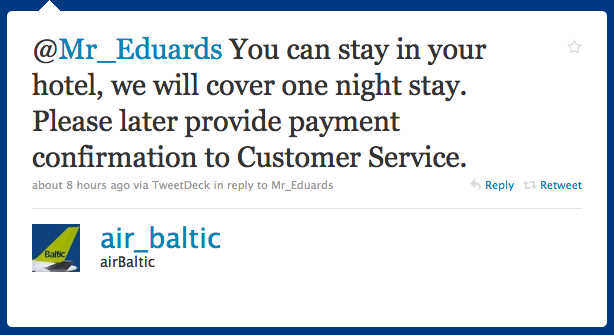 EuroControl on social media and #ashtag
The most impressive efforts, surprisingly, are coming from the authorities! The folks at EuroControl are doing a phenomenal job at crises management – probably the best effort I've seen till date in aviation crises management through social media. EuroControl describes itself as "The European Organisation for the Safety of Air Navigation. We ensure that your European flight will be safe, punctual, sustainable and won't cost too much." And they're certainly living up to their word! (Frankly, I had not heard about EuroControl till this morning!)
On their homepage, they have got recently-updated maps of where the ash is coming from, where it's going to and implications. That's normal – regular website updates. Where they've amazed me is they have updated their Facebook fanpage, Twitter account and even relevant LinkedIn groups with very useful information for travelers! Moreover, they have been liberally using the Twitter hashtags #euva and #ashtag to inform customers. Now, the customers themselves have started sharing stories and tips using these hashtags.
Now, that's what I call a solid performance. Take a look here at screenshots from EuroControl's multiple online efforts. I think airlines' communication teams can take a lesson out of EuroControl's efforts.
Maps from the EuroControl homepage

(source: FlyingWithFish)
EuroControl's Twitter feed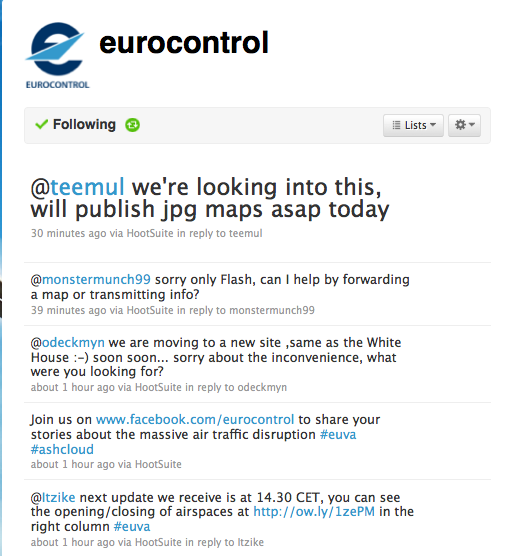 EuroControl's Facebook Fanpage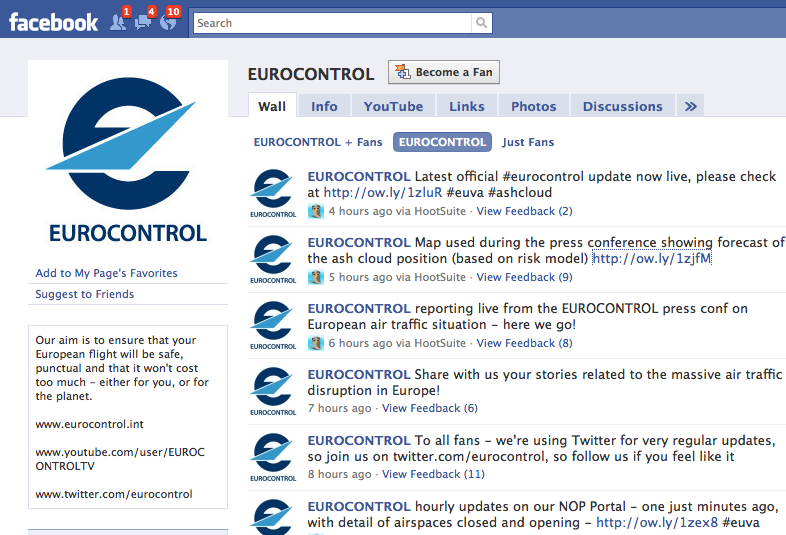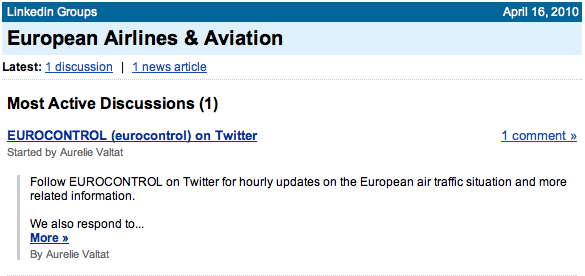 Frankly, I would have loved to see other crises being handled this way. Imagine if LAN had done this after the Chile Earthquake. Or British Airways during the strike. Don't you think so? Let's here it in the comments and on Twitter (@simpliflying)
P.S: Special thanks to Miyuru (@airlineindustry) for the inspiration for this article.