Angry Birds to fly Finnair from Helsinki to Singapore – innovative route launch marketing!
Imagine flight attendants using a sling-shot to get your snacks to you. And a plane-full of Angry Birds pros who are not just passionate about the game, but really good at it too – so good that they will play it for 15 hours, non-stop!  That's exactly what you are going to get on Finnair's first flight to Singapore, starting later this month.
Route launch marketing, with Angry Birds
We have previously featured a number of innovative route launch marketing campaigns in our Top 10 Case Study packs. And this new effort by Finnair would have surely made the cut among one of the most creative launches.
Rovio – the creator of Angry Birds – is a Finnish company. And Finnair has tapped on the popularity of the game to drive awareness of its new route to Singapore (one I'm personally likely to travel sometime too, given our HQ is in Singapore).  During this longest Finnair flight, fans of the video game will have bragging rights to being the first to compete in the Angry Birds Asian Challenge played at an altitude of 10,000 metres.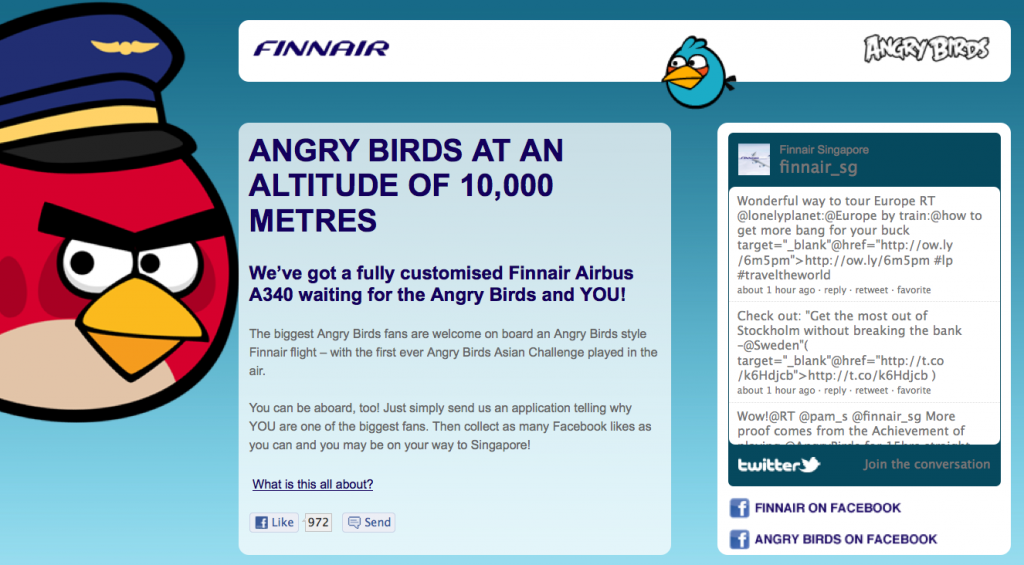 To get a place on the plane, Angry Birds fans need to describe why they are the most avid of the fans. The five most popular answers (like below) will get a place on the flight, in addition to a couple of answers chosen by the jury.
Partnering for marketing success
This is a prime example of how an airline can partner with the latest "craze" or "fad" to catalyze its own marketing efforts. KLM recently hosted the longest and highest dance party in the air on their first flight to Miami from Amsterdam. Cathay Pacific invited artists for their first flights to Chicago.
It will be interesting to see if some YouTube videos shot inside this Finnair flight go viral. Or Rovio incorporates a new level in Angry Birds, played on-board Finnair perhaps 🙂
What do you think of Finnair's efforts? Good fun, or too much of a gimmick? Let's hear your thoughts in the comments  and over on Twitter (@simpliflying)