KLM Meet and Seat – social seating for airlines: Live and Exclusive from Amsterdam #meetseat
First, a bit of history. Social seating goes back a long time at SimpliFlying. We were actually the first to point out that choosing potential seating partners via an intelligent social seating system in an airplane would ultimately go mainstream – that was a product powered by our good friends at Satisfly. This was way back in 2009 – almost three years ago! Then in 2010, we discussed incorporating social media in the flying experience – and showcased Twitter seating charts.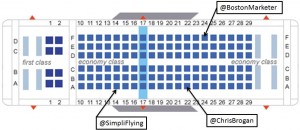 Then, last year, there were significant indications of things to come with Malaysia Airlines allowing customers to sit next to their Facebook friends. However, a couple of months ago KLM announced that they would launch the first "truly" social seating system for airlines matching customer's social profiles with those having similar profiles or interests.
So far, given the lack of details about how the system would exactly work, the announcement was both welcomed as well as met with trepidation by the online community. Some claimed they'd love to try this new system, saying that it would spare them long hours of boredom on their flights, to  the outraged reactions of people who thought it would be an unjustifiable invasion of privacy and could lead to in-flight harassment to unwilling seat-mates.
Today's the real deal!  At KLM`s headquarters in Amsterdam, the world will witness the announcement of something different, radically innovative but also, controversial: allowing passengers to choose seat mates based on information about their shared interest taken from their Facebook profiles!
Let's move on now to what's really happening at Amsterdam.
KLM's Meet and Seat – Live!
Follow the live-blog below to get blow-by-blow updates as the new product is unveiled (the blog will be updated as soon as the press conference starts)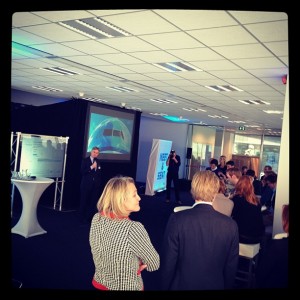 Photo credit: @polledemaagt
[1.30pm] Social Seating will be launched on flights between Amsterdam and San Francisco, Sao Paolo and New York City. [1.40 pm] We've learnt that passengers will be able to share information from their Facebook or LinkedIn account and will be to see who else is traveling on a particular flight and has shared relevant data. Everyone can decide which data they want to link with their flight. This information can be used by passengers to choose a seat-mate. [1.45 pm] KLM President & CEO Erik Varwijk said that KLM has always strived to be cutting edge in social media and it's latest revolutionary initiative will be fun and useful for people with similar interests to connect. [1.50 pm] Meet & Seat will be can be reserved 90 days to 48 hours before departure on all intercontinental KLM flights via 'Manage My Booking'. [2.00 pm] We've managed to secure the very first look of what Meet and Seat will be like.
[2.15 pm] Essentially, after booking your KLM flight, choose what Facebook or LinkedIn profile details you want to share. Subsequently, view the profile details of fellow-passengers to find like-minded people or business partners. After evaluating such details you can choose to sit beside a person whose profile you find interesting. Of course, once you're tuned into the social seating game, the potential is limitless as you could later choose to have a coffee at the airport or even share a taxi with the person you sit next to.
Here's the Live video of the unveiling…