Editor's Note: Here's another guest post by Peter Claridge of Unmetric, an exclusive aviation partner of SimpliFlying. Unmetric is a social media benchmarking company that helps brands analyse how well they're doing on social media by including in-depth insights into numerous metrics as well as information on what kind of content "works" and how competitors are faring. Among Unmetric's list of illustrious clients are Citibank, Nestlé and AirTel. 
On January 17th, American Airlines unveiled its new branding to the world: A more modern logo and branding that is designed to "reflect the spirit of modern America: innovative, progressive and open".
The impact on basic social media metrics such as Facebook fans was immediate; the airline went from a slow and steady growth to explosive growth overnight. The percentage of engaged fans also shot up, reaching as high as 11%, well above the aviation sector average of 4.5%.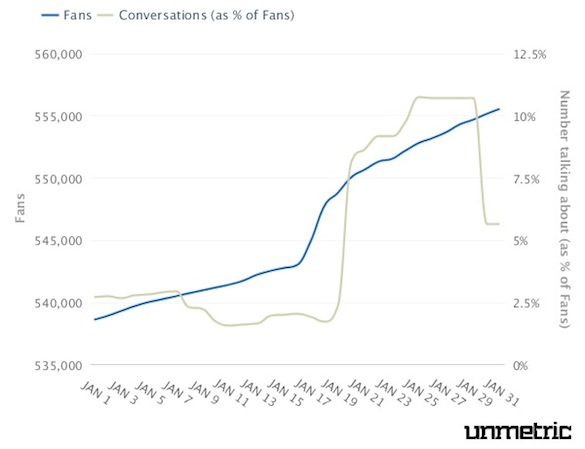 However, the huge fan growth increase wasn't quite as high as the sector average for airlines in North America, which saw an average of 4.3% growth. American Airlines achieved 3.15% fan growth in January. Virgin America saw higher fan growth although they do have significantly fewer fans than American Airlines.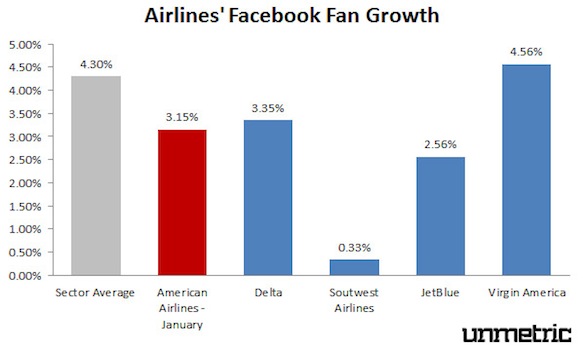 Throughout January,
American Airlines
posted more updates about the new branding than all the other posts put together. The content resonated well with fans as it was more engaging than other types of posts, including contests and questions. While not all the talk was positive, American Airlines had a higher positive fan sentiment than negative sentiment on its Facebook page.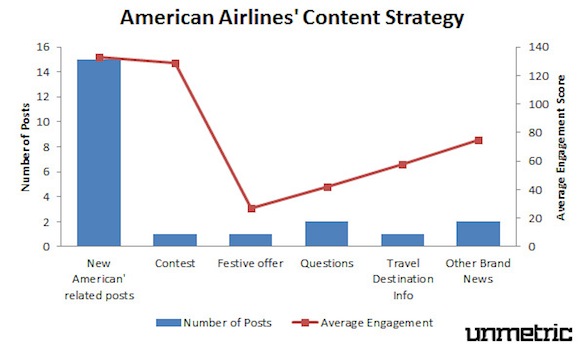 The highly engaging updates about the new branding helped American Airlines have one of the highest fan engagement scores in January out of all the airlines. On average, the airline sector had an engagement score of 86, whereas American Airlines scored 111. This was almost double what they scored in December. The engagement score is an important metric for brands because no matter how many fans you've got, you need to create the right kind of content that resonates with them and gets them interacting with the brand. The most engaging post of the month for American Airlines was a
photo introducing the new look planes
. This got an engagement score of 391 and was the most shared and commented post of the month.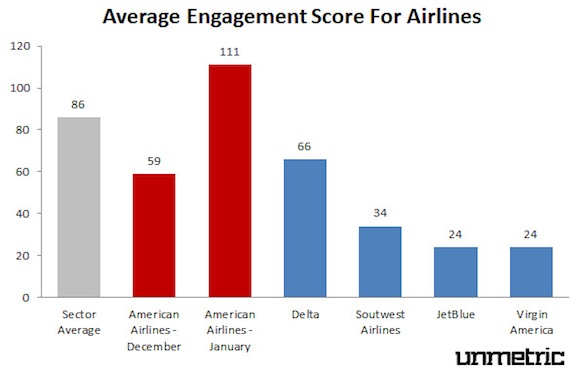 It's on
YouTube
, however, that American Airlines' rebranding exercise really stood out. Brands tend to have a hard time capturing subscribers to their channel (mostly because people take a view and leave approach to the network), but if a video is popular enough, the growth in subscribers can be quite noticeable.  The chart below shows the dramatic increase in subscribers on the day they released their videos about the new look and a behind-the-scenes peek at the whole rebranding process.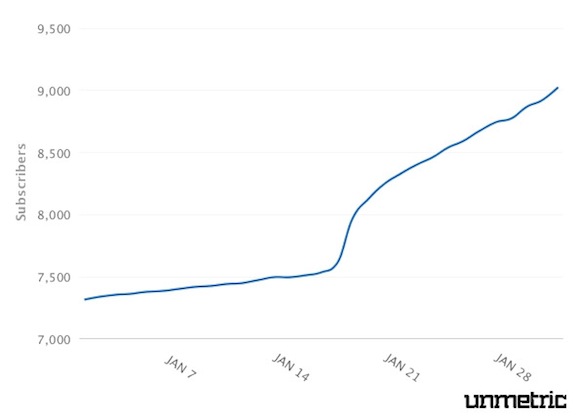 In this case, American Airlines already had a huge number of subscribers compared to other airlines (Delta Airlines has about 1,000 more subscribers) so to achieve a growth rate of 21.2%, nearly three times the sector average, shows how much impact the rebrand has had on the public.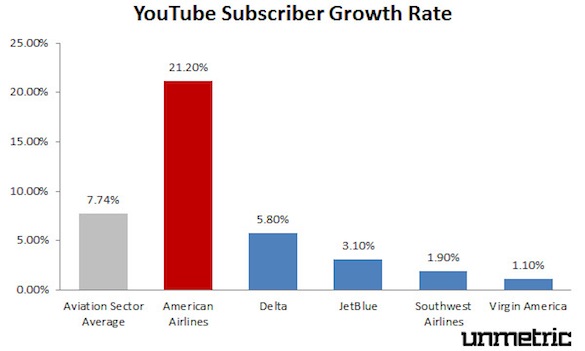 American Airlines released four new videos on the 17
th
January (and 14 in January alone – 5 times more than the sector average) to mark the launch of their new logo and new look. This helped give them a huge increase in video views growth, more than seven times the sector average, almost all thanks to the four new rebranding videos. One of the videos, which takes a b
ehind the scenes look at the rebranding process
, got over 173,000 views, making it the third most popular video American Airlines has ever uploaded!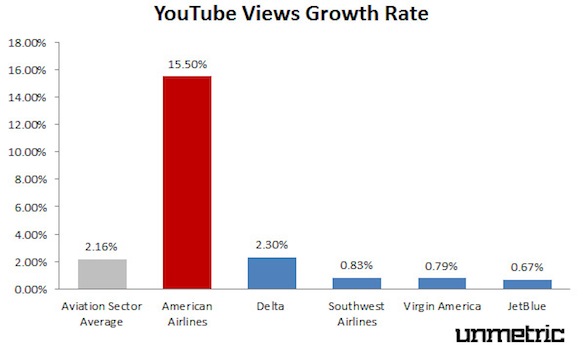 Response to the videos has been largely favourable too, receiving hundreds of 'Likes' and relatively few 'Dislikes'. It also encouraged interaction between viewers, generating hundreds of comments. 
From a social media standpoint, the rebranding of American Airlines seems to have been very successful. The airline has managed to leverage the event to increase fan and subscriber growth, reach more fans on Facebook, found that overall sentiment towards the brand has been positive and outperformed the aviation sector on every metric on YouTube. 
Find out more about how Unmetric can help your airline benchmark its social media prowess here. Or drop us a line directly at unmetric@simpliflying.com.
You can see previous posts by Unmetric here. 

Featured Image via American Airlines.