The December 2013 Airline Marketing Benchmark Report features case studies from Westjet, Turkish Airlines, Etihad, Jetstar & more!
Jointly produced by SimpliFlying, and industry and consumer trends research agency, airlinetrends.com, the highly-acclaimed Airline Marketing Benchmark Report analyses a wide range of airline marketing case studies each month. [push h="14″]
The monthly report contains a selection of the 15 most innovative marketing and advertising campaigns launched by airlines around the world and assesses their impact. If you are a numbers person, you'd love our report too!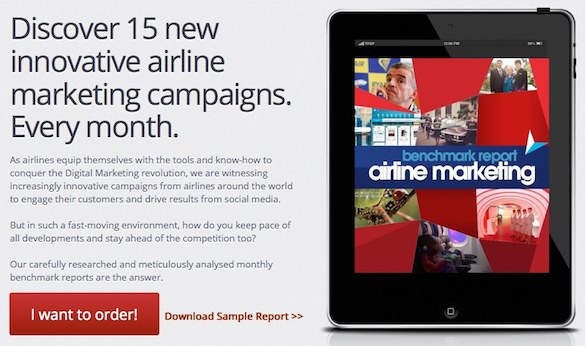 What's in this month's report?
As always, a wide range of case studies chosen across 4 categories — Experiential, Social, Digital and Traditional — are on offer this month too. Excerpts from the report follow:
Jetstar "Dream Terminal" (Experiential)
…In a bid to promote its new 787 Dreamliner experience, Jetstar – the only carrier 'downunder' to currently fly the new aircraft – has created a pop-up experience that will travel around Australia's shopping centres in order to showcase the aircraft's new features…
Delta '#below10kfeet' (Social)
…To promote the new FAA clearance, Delta launched a clever marketing initiative which encourages passengers to take photos from their mobile devices at low altitude and then (ideally) use the airline's in-flight wi-fi to share it with their friends using the #below10kfeet hashtag…
Turkish Airlines 'Invest On-Board' (Digital)
…Istanbul's startup sector, known as the 'Digital Bosphorus', is thriving. So when Turkish Airlines wanted to promote the city's technology and Internet start-ups, it decided to do something different. The airline's new 'Invest On Board ' program streams pitch videos from startups to the in-seat screens of passengers in Business Class, providing participating startups with a captive audience for their pitches…
WestJet '#WestJetChannel' (Traditional)
…With an international first, Canadian low-cost carrier WestJet has purchased an entire TV channel as part of a marketing drive in Canada. In a partnership with media agency Media Experts, the airline has launched a 24-hour TV channel, available to Rogers Cable customers in Ontario, New Brunswick and Newfoundland…
Read the complete case studies and many more in the complete report.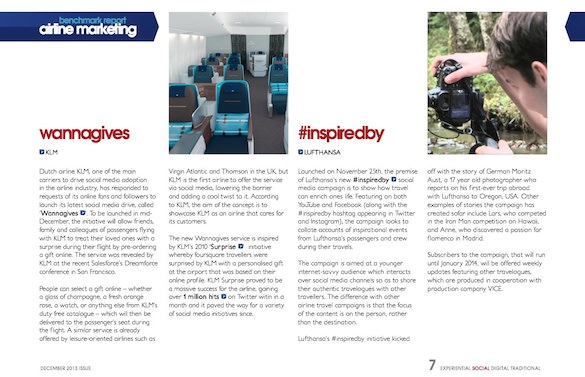 How will it help you?
This monthly report is indispensable for airline executives, specifically in marketing and communications, who wish to understand how their organizations are performing with respect to competitors and can perform better.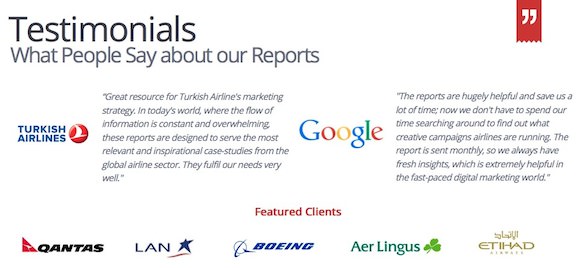 Creative agencies working with airlines (or looking to pitch to airlines) will also find this monthly report useful for staying on top of the latest trends and best practices in airline marketing.
[push h="14″]
Questions and Sample Report

You can download a sample report here.
You can also contact Shubhodeep Pal directly at shubhodeep@simpliflying.com for queries regarding the reports.