Influencer marketing comes of age in aviation – American Airlines Klout and Eindhoven Airport Facebook VIP in focus
The power of key influencers is well documented in marketing. And in the age of the connected traveller, it's not uncommon to see airlines bringing influential bloggers on fully-paid FAM trips, or even engaging them as official brand ambassadors. Of late, such influencers have been getting real-world benefits too! Take Estonian Air's much-feted social loyalty program, the first in the world for airlines – it leverages the power of influencer marketing. Social advocates get real-world rewards for online actions. Now, major airlines and airports have put good thought into targeting influencers.
Have Klout? Enter Admirals Club!
American Airlines has partnered with Klout to allow anyone with a score above 55 to access its Admirals Club, usually open only for ultra-frequent fliers and Business travellers. Those with a score lower than 55 get a $50 voucher to be redeemed. The effort has received over 21 million impressions on Twitter  in just the first few days, and it valid till the end of May. This is a little tougher to qualify than Cathay Pacific's Klout promotion last year where anyone with a score above 40 could access their San Francisco lounge.
American Airlines has been smart in keeping the process very, very simple. Once on the site, you can authenticate your Klout account, and right away download your lounge voucher if you qualify. It's valid for use till the end of July too, across AA's 40 international Admirals Club.
They have pointed out multiple times on the site, that people can share their lounge experience on Twitter and Instagram with the #AdmiralsClub tag. That should drive some good advocacy when these "influencers" arrive at a lounge to enjoy their Bourbon. And I can say from experience, that they are very likely to Instagram it!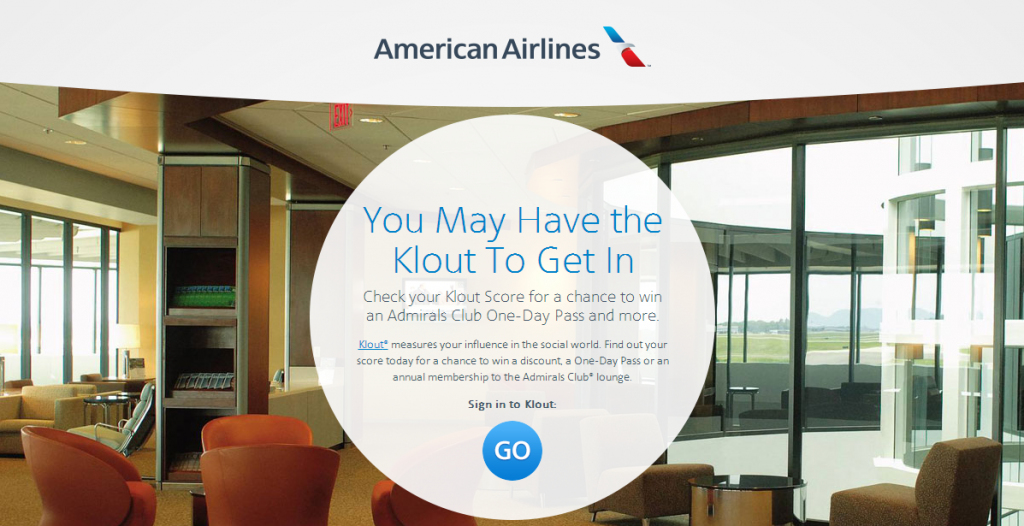 I'd be curious to find out how many fliers switch to American Airlines due to this promotion…already there are telling signs on Twitter.
[blackbirdpie url="https://twitter.com/JessaNaomi/status/331853682381570048″]
Be a Facebook VIP at Eindhoven Airport
Across the pond, at Eindhoven Airport, travelers can sign up for their new Facebook VIP program where they'd get privileges like free parking at the Terminal entrance, personal escort and  even a free meal! Every month they plan to select new VIPs. Within the first day, the airport had already received over 80 VIP applications!
While Eindhoven may not be the biggest airport in Europe, this Facebook VIP program is a first of its kind for an airport. No spend required, but just a "Like" on Eindhoven's Facebook page, to start getting real-world benefits.
How to make real-world influencers work?
Through Facebook, people normally get price offs or they are able to win tickets. But these influencer programs launched by American Airlines and Eindhoven Airport actually plug into the actual customer journey. They enhance the actual travel experience, and that's unique. Many of the selected participants will be experiencing such a service for the first time. And they are highly-likely to share, spreading the word further.
While the buzz being driven seems very strong online, it is the real-world metrics both American Airlines and Eindhoven should seek to measure. Here are some questions they should be asking and metrics to be measured.
What's the click-to-use ratio?

Do you have the contact details of all those who are participating, tweeting etc?

How many people who used the service spoke about it online?

Once they used the service for the first time, what was the follow up – a tweet, an email or a personal meeting?
So you gave them a service for free – is there anything you can offer that they'd pay for?
Now that you've got them to use the service for the first time, how do you get them again?
As the power of influence moves from online to real-world it will be critical that airlines and airports determine metrics that go beyond buzz, and drive real-world business goals. American Airlines and Eindhoven Airport have made a good start. Time to see how their competition responds!