Disgruntled Passenger 2.0: Buys a promoted tweet against British Airways for losing bags. Airline customer service has changed.
Today, the connected traveller has the same tools as the airline. And is probably better at using them too! Just last month, British Airways warmed our hearts with their Youtube campaign, Visit Mum, which went viral. But one-way marketing can only go so far. Social media has now come back to bite them. [push h="14″]
It's not uncommon for airlines to lose bags. But it's unheard of, for an angry passenger, to buy a promoted tweet to vent his/her frustrations when baggage is lost. And that just happened! [push h="14″]
The implications are tremendous for the future of airline customer service, especially on social media: A man whose father's bag British Airways lost just spent money to buy a promoted tweet against British Airways in the New York City and UK markets! In the first six hours since the tweet was promoted, it had garnered over 25,000 impressions only on Twitter. This excludes coverage on wildly popular blogs like Mashable. (At our last count, that Mashable article alone had over 5000 shares on Twitter and Facebook combined just a few hours after being published.) [push h="14″]
Don't fly @BritishAirways. Their customer service is horrendous.

—  (@HVSVN) September 2, 2013
What is taking @British_Airways customer service so long? They've had over a day to figure this out.

—  (@HVSVN) September 3, 2013
@E_J_E_LHR I was about to send them a telegram but then I realized Twitter was faster LOL

—  (@HVSVN) September 3, 2013
I refuse to stop running Twitter Ads until @British_Airways finds the lost luggage

—  (@HVSVN) September 3, 2013
The backstory
When Hasan Syed's parents, who flew Business Class on British Airways from Chicago to Paris on Saturday, realised that one of their bags had not made it to the belt in Paris, they were understandably distraught. While the flight was operated by OpenSkies, via Newark, the British Airways staff wasn't of much help. In a Twitter interview with SimpliFlying, Mr Hasan clarified, [push h="14″]
"My father lost his luggage en-route to Paris. BA was giving him the run-around so he asked me to assist."
When there was no response from British Airways after two days, to help his dad, Mr Hasan resorted to Twitter to get the airline (and the world's) attention. He bought a promoted tweet against British Airways (of course written by himself), highlighting the airline's lack of customer service. It seems that the world has taken note, but British Airways hasn't responded as of the writing of this article. [push h="14″]
British Airways' lack of response
Meanwhile, British Airways' two key Twitter accounts – one for the US and another global account, seemed oblivious to the situation for the first seven hours. While the US account doesn't seem to reply to any tweets, the global account clearly states that they only reply after 9am GMT each day. That's still two hours away at the time of this article being published, and possibly the reason why there's been no response. [push h="14″]
To be fair to British Airways, none of the legs were flown on the airline itself. The Chicago-Newark leg was flown by American Eagle, and the Newark-Paris leg on OpenSkies. But the tickets were likely bought on BA.com. To make matters worse, we learnt from our initial emails to British Airways' social media team that one of the key members of the team is out of office till next week. This possibly delayed things further.
While British Airways may be getting better with one-way marketing, they seem to be missing a trick here by not addressing Mr Hasan's customer service requests promptly. [push h="14″]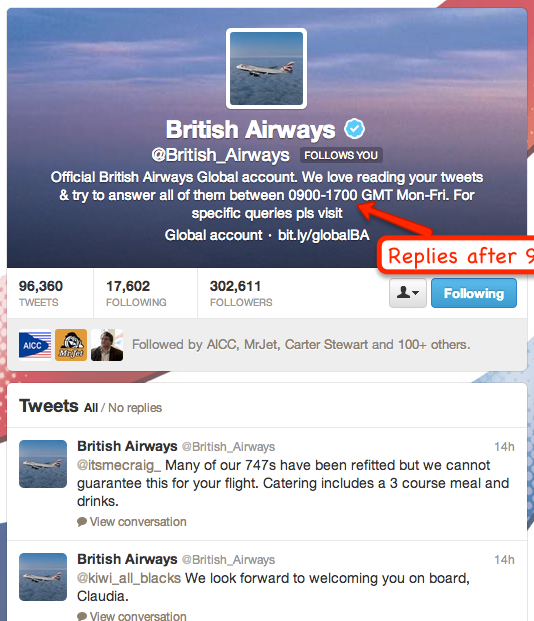 What would you do?
While we continue to observe how British Airways resolves this situation, here are five things your airline should think about doing, to avoid such a situation in the future. [push h="14″]
Have a standard operating procedure (SOP) for such incidences.

Customers venting their frustrations online is a common occurrence. So why not just have a process for handling such instances? If you start digging the well when you're thirsty, it's already too late.

Even if you don't have an SOP, the customer service department needs to work with the social media team to create a proper escalation method for customer complaints online, especially those that have gone viral, like Hasan's. Just like there are escalation procedures for "offline" matters. A VP-level executive should be alerted immediately, so that the typical hierarchy doesn't interfere and swift decisions can be taken.
Create a digital customer service, and crisis communications plan. This plan should help in all situations. See our [Infographic] for more details.
Have an FAQ training for front-staff — a hands-on workshop that reviews solutions to frequent scenarios, like bag loss or flight delays, will help everyone be prepared better.
Finally, take a look at our Customer Service 2.0 in-house MasterClass — over two days, we discuss over 50 case studies, deep dive into free social media tools and help you come up with strategies for these types of situations.
Meanwhile, airlines today need to recognise that their detractors also have the same tools, and are more agile too! We hope Mr Hasan's promoted tweet results in British Airways going beyond saying "please DM us with details" on Twitter, and helps his dad get his bag back in Paris soon. [push h="14″]
Also, the future of customer service online might be poised to become rather more tricky is this becomes a trend. Airlines need to get their crisis communication plans in place at the earliest!  [push h="14″]
Update
British Airways responded to Mr Hasan about 7hours after the tweet was sent out, exactly at 9am London time. Hope this resolves the issue soon enough.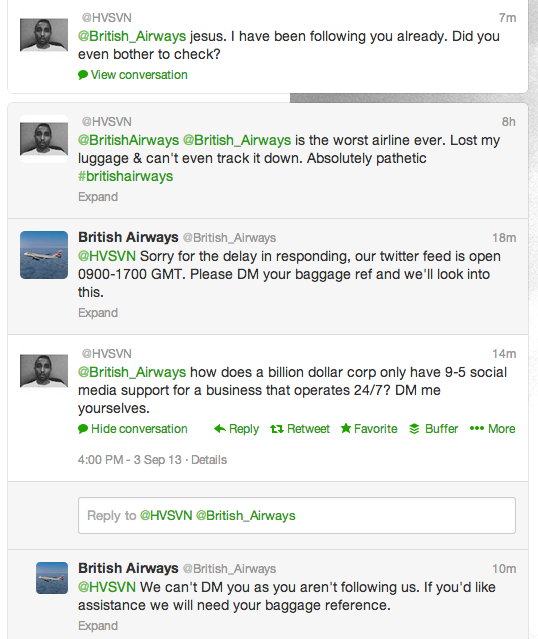 [push h="14″]
[push h="14″]