Which were the best airline marketing campaigns in November 2014? Find out in our Airline Marketing Benchmark Report
Jointly produced by SimpliFlying, and industry and consumer trends research agency, airlinetrends.com, the highly-acclaimed Airline Marketing Benchmark Report analyses a wide range of airline marketing case studies each month. [push h="14″]
Disover 15 new innovative airline marketing campaigns. Every month.
The monthly report contains a selection of the 15 most innovative marketing and advertising campaigns launched by airlines around the world and assesses their impact. If you are a numbers person, you'd love our report too!
What's in this month's report?
A wide range of case studies were chosen across 4 categories — Experiential, Social, Digital and Traditional. Excerpts from the report follow:
KLM: "Cover Greetings" (Experiential)
…In an effort to highlight the sheer diversity of stories of passengers travelling with KLM on a given day, KLM's latest initiative is called 'Cover Greetings' and involved placing a personal message from loved ones who are staying at home to their boyfriend, girlfriend or relative on the headrest of their KLM aircraft seat.

The airline spotted people saying goodbye to their families at the departure gate, then whisked their relatives away to a place where they could decorate a seat cover with their own message. KLM and Amsterdam Schiphol Airport worked together to ensure that the personal message was placed on the right seat in the aircraft…
Air Canada: "Altitude Community" (Social)
Following focus groups that found customers were looking for greater connections with fellow flyers and recognition for their many trips, Air Canada has introduced the Air Canada Altitude Community where frequent flyers can create or read lists outlining the top activities in a destination and they receive points and awards for earning "Likes" on their content…
Turkish Airlines: "Epic Food" (Digital)
In the airline's latest spot, called 'Epic Food' – the final spot in the series – we see Messi getting the better of Chelsea legend Didier Drogba. The commercial shows Drogba going to various locations on the planet and trying out the local cuisine. But wherever he goes, he realises that Messi has been there before him when he notices various pictures of the Argentinian with the chef framed on the wall…
Read the complete case studies and many more in the complete report.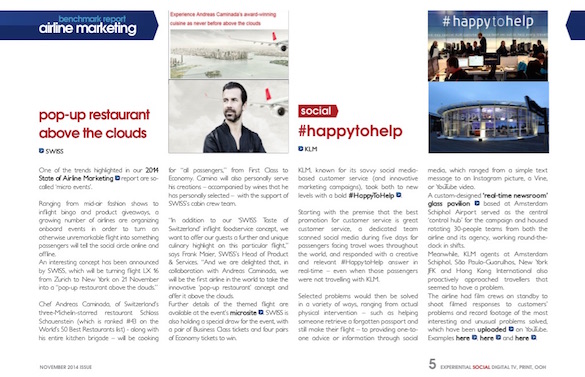 How will it help you?
This monthly report is indispensable for airline executives, specifically in marketing and communications, who wish to understand how their organizations are performing with respect to competitors and can perform better.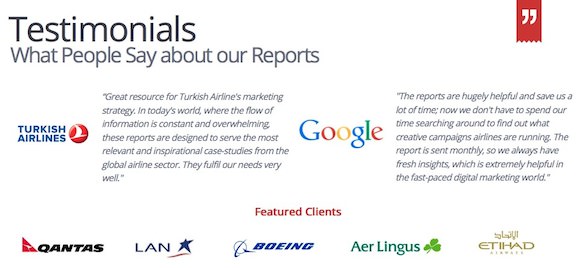 Creative agencies working with airlines (or looking to pitch to airlines) will also find this monthly report useful for staying on top of the latest trends and best practices in airline marketing.
[push h="14″]
Questions and Sample Report

You can download a sample report here.
You can also contact Shubhodeep Pal directly at shubhodeep@simpliflying.com for queries regarding the reports.