Airline Social Media Outlook 2015: Budget, Challenges and Metrics
Social Media for Airlines: Now and Tomorrow
Social media has secured a firm position in the marketing strategies of most airlines. Yet, many executives see a chasm between where airlines are and where they should be in leveraging social media to achieve business goals.
Conducted since 2010, SimpliFlying Airlines Social Media Outlook Survey has been providing insights into airlines' use of social media to achieve business goals.
This year's survey asked ten questions to 148 executives representing 87 airlines across five regions including APAC, Middle East, Europe, Americas and Africa.
We found that:
59 percent of airline executives agree there are insufficient resources allocated to social media.
63 percent of airline executives say social media budget will increase in 2015. Majority would like a budget increase of up to 25%.
84 percent of airline executives want to have more staff working on social media. 66 percent would like to double the staff number for social media.
The most important goal airline executives think social media should drive is customer service, rather than the current emphasis on brand awareness.
87 percent of airline executives want to use social media data to develop customer insights. Only half the number is currently doing that.
To help airline executives plan their social media budget and activities better for the coming year, we have put together a 15-page report, a video and an infographic – all sharing key findings from this survey research.
Upcoming Feb 03: Free Webinar for Airline Executives
Come Feb 03, the SimpliFlying team will conducting a free webinar to go through the key findings from Airline Social Media Outlook 2015 and discuss relevant insights from other research.
This webinar will be useful as airlines start planning social media resources and key directions for 2015. If you're working for an airline and are keen on this, do sign up and invite your colleagues as well.
Click on the button below or here to register for the free webinar.

---
Download the Free Report
Click on button below or here to download report.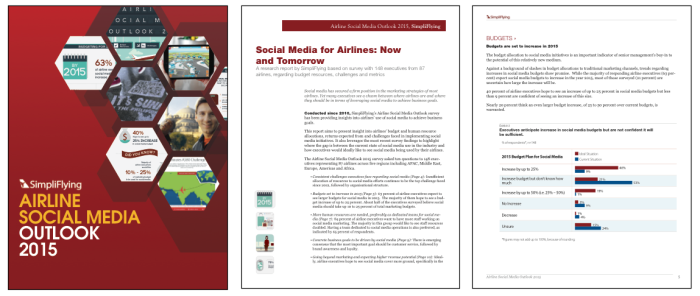 ---
Download the Free Infographic
If the image below doesn't show, please click on this link

For enquiries about Airline Social Media Outlook 2015, please contact Li Guen at guen@simpliflying.com