Airline Social Media Outlook 2016: Focus on business goals
Social Media for Airlines: Increasing focus on business goals
Social media has secured a firm position in the marketing strategies of most airlines. Yet, no more is it just a marketing tool but is being used to drive core organisational functions like customer service, loyalty, crisis management and customer segmenting.
Conducted since 2010, SimpliFlying Airlines Social Media Outlook Survey has been providing insights into airlines' use of social media to achieve business goals.
This we received responses from 166 executives from 78 airlines across the globe, including from APAC, Middle East, Europe, Americas and Africa.
We found that:
There is a greater focus on driving core business goals from social media, and customer service has emerged as the top priority for 88.5% of airline executives (edging past Brand Awareness).
Dedicated teams received a 100% satisfaction score. However, the most used team structure—distributed—reported a 59% satisfaction score, despite being used by 63% of the respondents.
There appears to be a gap between the priorities, preferred team structure and optimism of the senior level and middle level management.
Regional differences in terms of priorities and challenges are quite stark. 75% of Middle Eastern airlines recognise inflexibility of team structures as the top challenge whereas only 43% of airline executives in Asia Pacific (APAC) felt the same. Similarly, driving loyalty using social media was a priority for 88.5% of Middle Eastern airlines but only for 55% of European ones.
71% of airlines expect an increase or staying same of social budgets in 2015-16. Of these, 50% expect budgets to be increased for advertising. 25% expect it to go towards acquisition of new tools and 25% towards team expansion.
To help airline executives plan their social media budget and activities better for the coming year, we have put together a 23-page report, a video and an infographic – all sharing key findings from this survey research.
---
Download the Free Report
Click on button below or here to download report.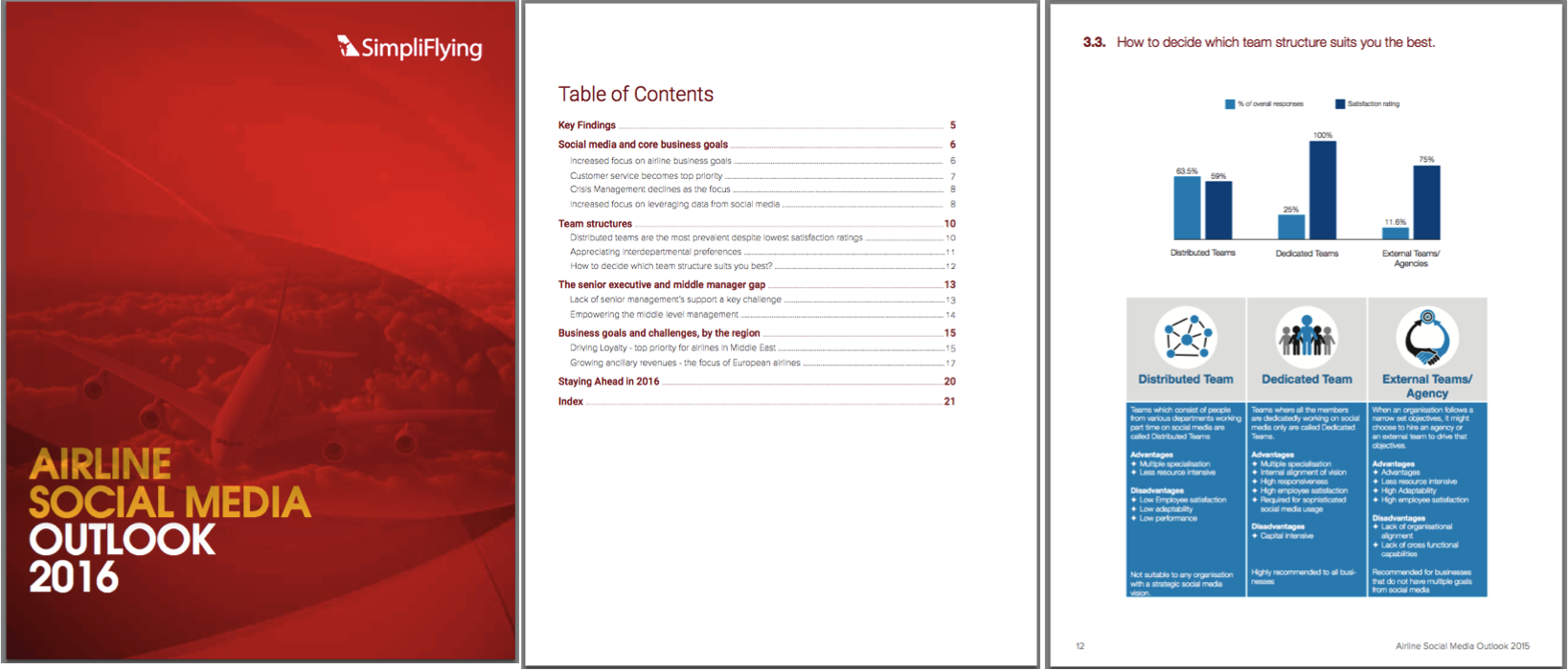 ---
Download the Free Infographic
If the image below doesn't show, please click on this link


For enquiries about Airline Social Media Outlook 2016, please contact Li Guen at guen@simpliflying.com