Flying Air Italy Business Class with kids from Milan to Toronto
If you Google "Air Italy", you will find over 80,000 recent news articles. Wouldn't it be a dream come true if you were part of a new startup that was the subject of meetings at the Oval Office in the White House? Or if top newspapers and magazines published articles about your startup in your key markets? And all this publicity not for your new marketing campaign or product, but merely for existing. Welcome to the world of Air Italy.
Air Italy: the most controversial European airline in the US
For an airline that did not fly to North America a couple of years ago, it has received a tremendous amount of publicity. But there is a caveat – most of the news articles are about the controversial nature of its operations – flying to the US with Qatar Airways holding a minority stake in the airline. While that is not unique – Qatar Airways also holds a minority stake in British Airways – the aggressive opposition of the three major US airlines has put Air Italy into the limelight. It has become possibly the most controversial European airline in the US.
While most of the articles are focused on determining the legitimacy of Air Italy's operations to the US, few focus on what it is like to fly the airline. I had the chance to experience its new Business Class cabin and service while flying with my family from Milan to Toronto. We were mighty impressed.
Flying Air Italy Business Class – or flying a fine dining restaurant?
The Air Italy Business Class features flatbed reclining seats on the Airbus A330 aircraft. I won't deep dive into that since it is the same product as Qatar Airways' – from whom the aircraft are leased. Instead, it is the little things that impressed us that I would like to dwell into.
Onboard the Air Italy Business Class, you can eat everything from pizza to gelato. Though, when the meal was served, it was the presentation that truly caught my eye. Italian marble bowls. Slate serving plates. Monogrammed cutlery. All designed exclusively for Air Italy by Kaelis. It is hard to find such items on-board most flights, sometimes due to their weight but mostly due to lack of vision.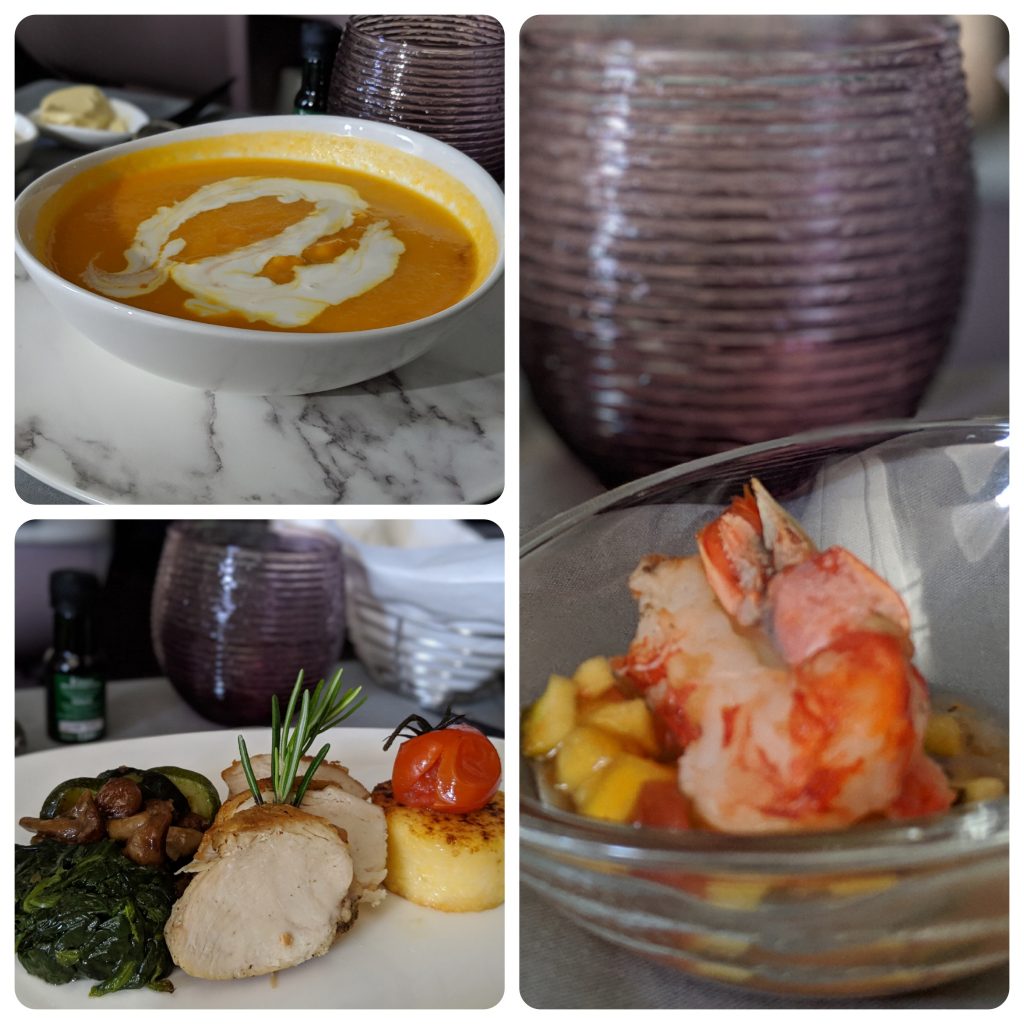 I remember interviewing former Turkish Airlines CEO Dr Temel Kotil for my book, SOAR. He shared with me his focus on food – it is the primary memory he wanted his customers to have of the flight. So much so that he removed in-flight shopping from all aircraft, since it was a distraction from the food. I found a similar focus on the food and its presentation on board the Air Italy Business Class.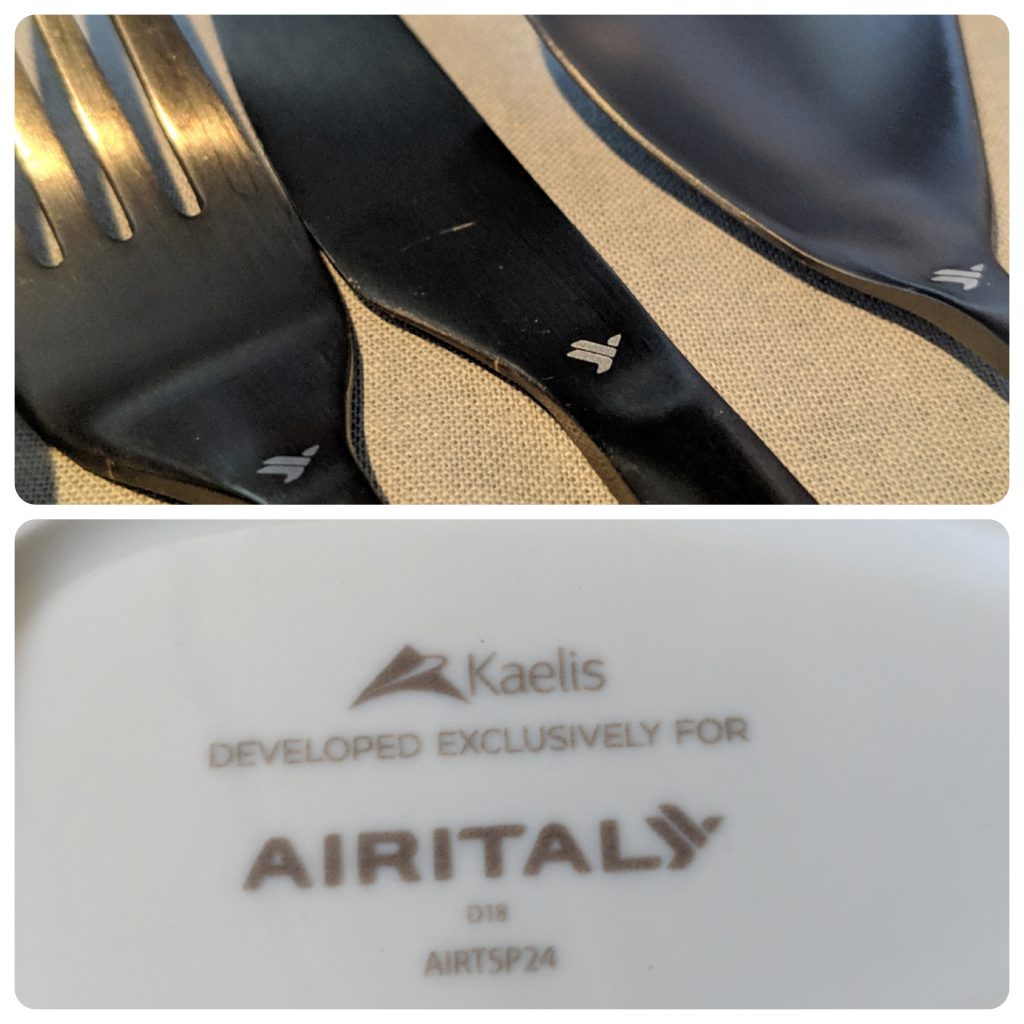 It's no surprise that a deft hand at product design has been involved intimately in the revamp of the product and service in the Air Italy Business Class – that of COO Rossen Dimitrov. He once famously laid down on a table in his office to see if the blankets were long enough to cover his feet! Dimitrov has previously designed possibly the world's best business class product – the QSuite at Qatar Airways. He also had his hand in launching WestJet's new 787 Dreamliner product. I spent a few minutes discussing with him the ethos behind Air Italy's product and service design, including gender neutral lavatories, which Rossen starts with.
Air Italy Business Class also takes on-demand dining to the next level. When flying with kids, things can become very unpredictable. It's often difficult to follow a structured meal plan – what if the kids are asleep during mealtime, as mine were? Will they be served again? Simple things like on-demand dining are important for us as parents for peace of mind.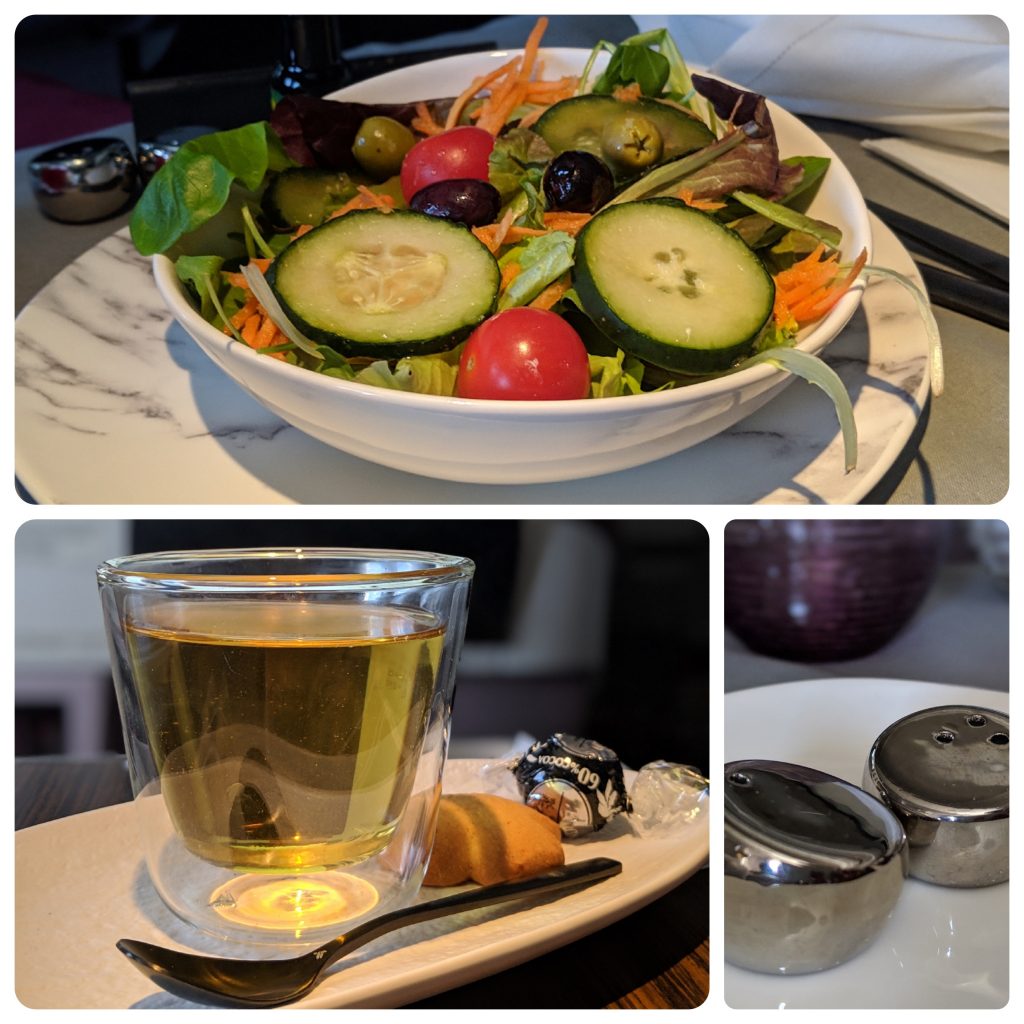 My little one woke up about 30 minutes before landing and was starving. We asked if the crew had any fruits. A little while later, a flight attendant came over with unevenly cut slices of apple and pear. She explained that since the galley was closed for landing, she used a butter knife to cut the fruit that was meant for her personal consumption. My wife and I appreciated that gesture.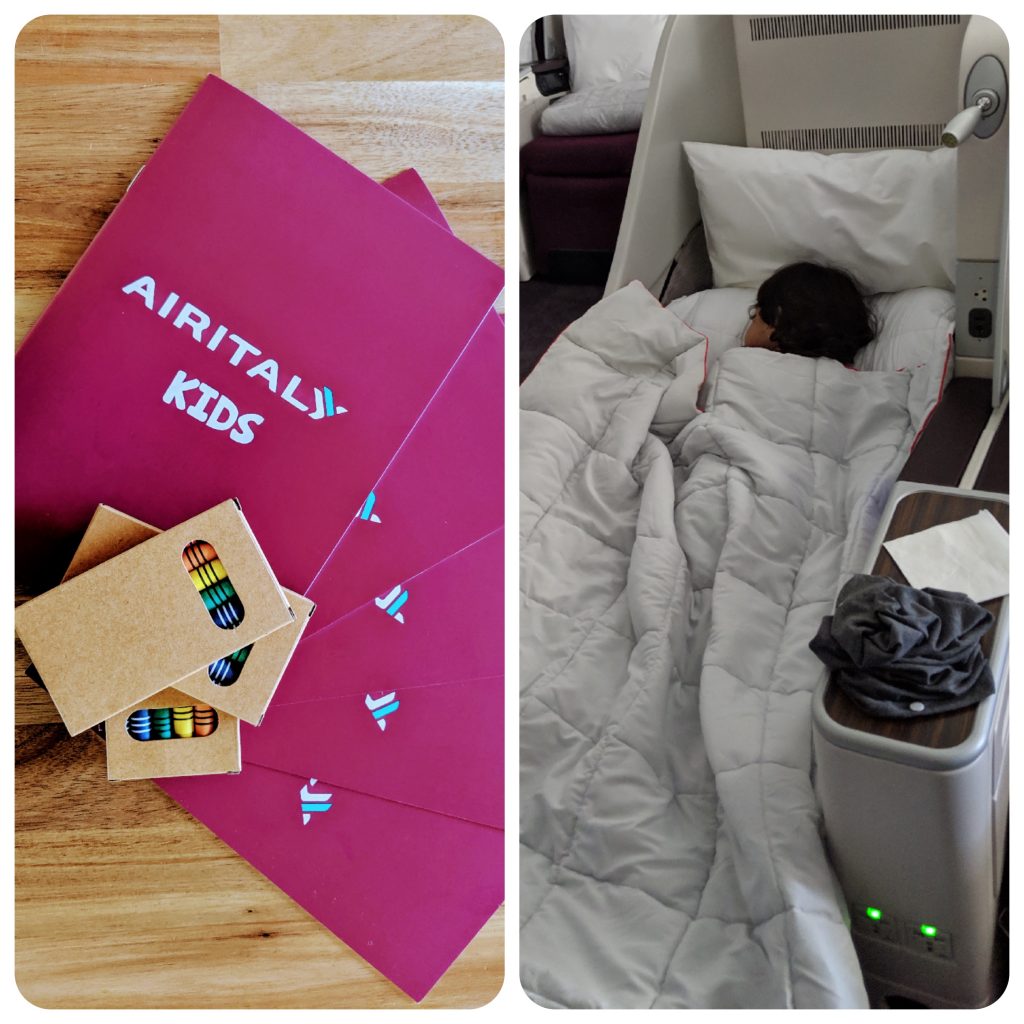 Exceptional with kids
Sebastian, our Air Italy flight purser advised us that to bring down our little one's temperature we should wipe her down with cold towels – he promptly got us those. That was nice of him.
"I'm a dad too," said Sebastian as he kneeled next to my wife and I.
Earlier in the day, we raced through the never-ending shops at what's also known as Milan Malpensa Terminal 1. When we boarded the flight, our youngest was running a high fever. We were worried, but the sensitive Air Italy crew took very good care of us. Sebastian even went to the first aid kit to hand us a thermometer and asked to be informed if we wanted him to page for a doctor on board.
While it was just the first week of flying to Toronto for Air Italy, Sebastian had been flying for over thirty years with the airline's previous incarnation, MerdianaFly. He told us passionately about his home town in Sardinia and the amazing food there. Sebastian wasn't alone – the whole crew on our flight was very warm and hospitable, without going overboard. When dessert was served, another senior flight attendant shared his childhood memories how the Sicilian dessert was one of his favourite growing up. That's an important point to note.
The service standards at Air Italy are nothing like what they used to be at Meridiana. That's because all the staff have received additional training by the same independent instructors who train some of the world's best cabin crew at Qatar Airways. Now, that's a tangible benefit of having a minority investor that is focused on quality.
So how did we do our part to thank Sebastian? We got extra copies of the Air Italy colouring book to gift to each of our daughter's school friends. They loved the books (and hopefully so did their parents).
Will I fly Air Italy again with kids?
I'd be lying if I said that I had a perfect experience end-to-end from Milan to Toronto. That wasn't the case. Milan Malpensa airport was a disappointment. With kids, it is hard to traverse airports as it is. To catch our flight out of Malpensa, we walked…and walked…and walked some more. We probably walked for over thirty minutes through a maze of shops to reach the immigration counters. But that was only half the battle.
We then walked another twenty minutes to reach our gate, only to realize we had missed the lounge that was located near the immigration counters. We finally boarded a bus to the aircraft which took another twenty minutes as we waited for all passengers to board the bus before it departed. The kids were running out of patience by the time we boarded the aircraft. While the airport situation is mostly out of their control, I hope Air Italy gets gates closer to the immigration counters in the future and skips bussing passengers to the aircraft.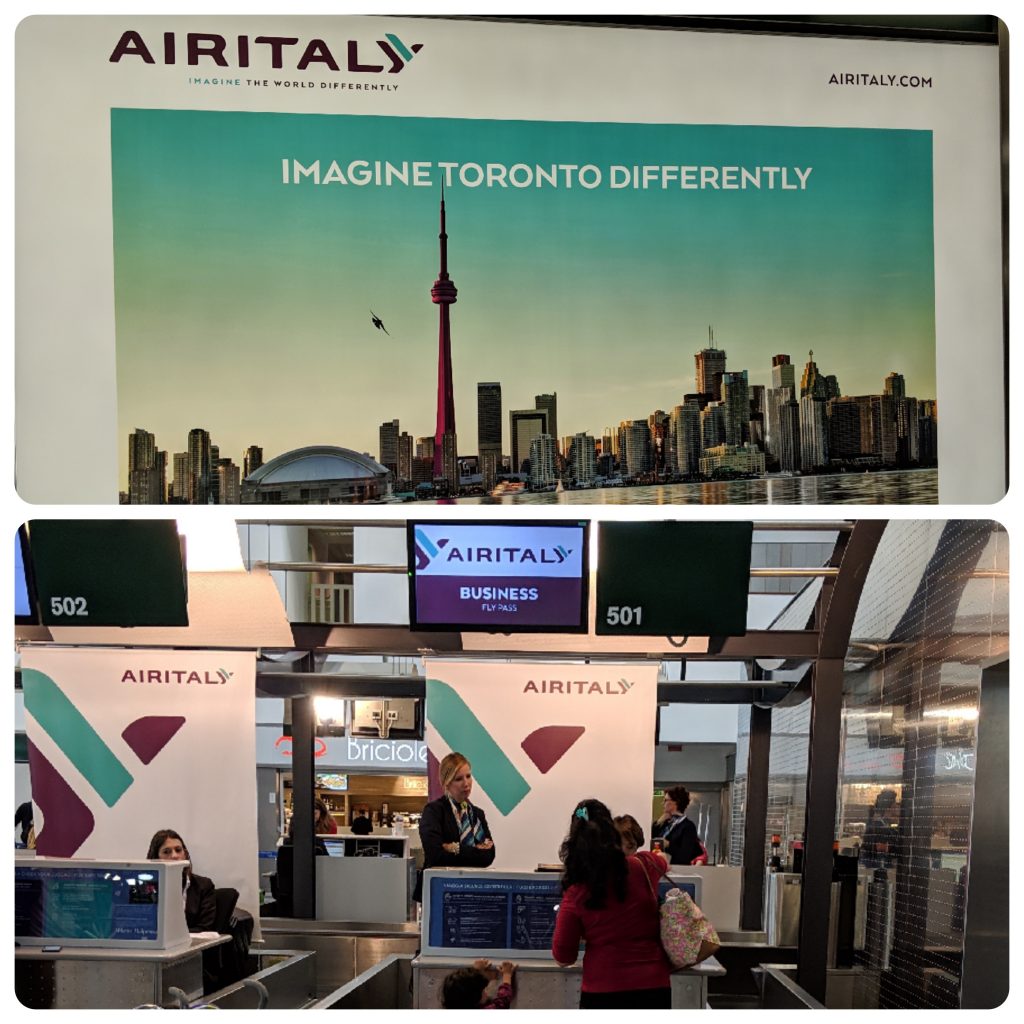 Moreover, Air Italy has been in the news for controversies rather than its product or service. From Qatar Airways' minority stake to its ever-changing network plan. But the airline has released its full schedule for winter 2019 and summer 2020. So that should calm any nerves and allow people to plan their travels well ahead of time. In fact, the airline has gotten quite creative with its loyalty program too – you can now buy top tier status for just €500. So if you're flying them often, it might be worth considering.
But will I fly them again with my kids? Hell, yeah!
Overall, I felt the standard of the onboard product and service was very good. The crew that has been flying for decades has been retrained by the best in the world to up their service levels. It shows in the way they interact with the youngest fliers, like my kids who were two and four years old when we flew. I don't mind the unevenly cut apple slices or an analogue thermometer – I could see that the crew genuinely cared. That's what matters. That's what struck an emotional chord. That's what I will remember about flying the Air Italy Business Class (other than the marble bowls!). Given their attractive fares between North America and Europe, you should give Air Italy a try.
Disclosure: Air Italy is the 100th airline I have flown. As a courtesy, they upgraded us to Business Class for this flight, which resulted in this review.