Multi leg flights on budget airlines, great idea
The airline industry is so dynamic that airlines need to keep coming up with innovative ways to make money to stay in business. This is especially true in the case of budget carriers or Low Cost Airlines (LCCs). One key characteristic of LCCs has been their point-to-point service, moving away from a hub-and-spoke model to save costs. But a new trend, in a totally opposite direction, has recently emerged, as first pointed out by the ITA Travel blog.
LCCs have started serving multiple P2P sections, effectively like a hub and spoke model. Tiger Airways customers can book two flights in one booking using their Flight Combo feature, effectively being able to travel from Chennai to Perth via Singapore, or from Darwin to Hanoi via Singapore. Air Berlin in Europe allows similar flexibility to passengers, flying via Düsseldorf in Germany.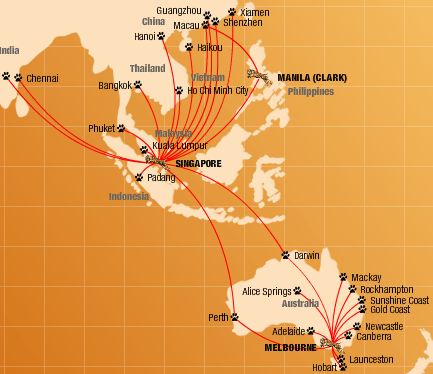 Tiger Airways route map
The latest kid on the block is Air Arabia, the extremely popular Sharjah, UAE based airline. As mentioned on Popagandhi, they have formed a joint-venture with Nepal's Yeti Airlines to launch a new budget carrier flyyeti.com, offering destinations in Southeast Asia and even Hong Kong based out of Kathmandu. So you can fly from Yerevan, Armenia to Hong Kong via Sharjah and Kathmandu (I've been to Armenia, and trust me, it's not easy to get to that place, and you don't want to fly Aeroflot). So why does this make sense for LCCs?
According to the ITA travel blog, "This is a great idea as it saves you having to work out if both flights you need are available and you save an extra booking fee." Not only that, you can travel from places that were previously very poorly connected – like flights from Jaipur, India to Bangkok, Thailand (the layover in Nepal can't be that bad). For the airline, this often means greater passenger loads for under-performing routes. Also, they can capture the attention of the passenger for much longer, and impress them so much that they come back for more. Can't ask for more!
Though this sounds rosy, there are two concerns most passengers are likely have:
1) How long can I stay without food, water and entertainment?
2) Am I willing to pick up your baggage from the belt and re-check it in to the next flight?
Nevertheless, this is a step in the right direction. It shows that the brains in these airlines are well greased. It's these innovative ideas that will keep them ahead in the industry.
Ponder that!
If you enjoyed this article, click here to get free updates by email or RSS.
This is the first article in the Low Cost Carrier series. The next one comes out on Monday, 19 June and it will be about how LCCs are beating the competition in their own unique ways. Keep a lookout for it!