Singapore Airlines, still a great way to fly? A brand analysis
When compared with other airlines in the region and around the world, Singapore Airlines (SIA) is by far one of the best in terms of product and service. The multitude of travel industry awards over the years is proof of this fact. But things can get contentious when SIA is compared against itself, over time and across products. Let me share a personal experience, and you be the judge.
Impeccable service, differing products
Since Singapore Airlines has converted their non-stop flight from Newark to Singapore to an all business-class configuration, I instead took their other flight from JFK to Singapore, via Frankfurt earlier this month. Upon boarding SQ26 from JFK, I wanted to charge my laptop, but realized that there were no power points in Economy on board the 747 aircraft, as was the case in my previous flights on the A340 aircraft. Moreover, the in-flight entertainment (IFE) system did not work for my whole row throughout the flight from JFK-SIN. Having only flown the Executive Economy from EWR-SIN on all my prior flights from New York to Singapore, this came as a surprise.
A week later, on my flight from Brisbane, Australia to Singapore, the IFE was not even on-demand, with no personal movie controls. Ironically, the Krisworld magazine page demonstrating the IFE functions showed the passenger how to pause and play the movies (see picture below). This caused much confusion among the passengers near me, as they kept requesting the stewardesses for help. Being SIA Girls, they helped as much as they could. The in-flight service was impeccable as usual.
The important question here is what, if any, efforts were made to set the right expectations among the passengers prior to the flight, to minimize confusion or even disappointment? Furthermore, how was the feedback gathered and acted upon?
Setting the right expectations
To find out more, and to get a balanced picture for this article, I got in touch with SIA's Corporate Communications folks. I shared with them my experience and had a reply within days, both from the US and Australia offices. I was pleased to see that my concerns were genuinely addressed in the response.
Regarding managing expectations on the New York to Singapore flight, here's what I was told:
"A critical means of managing consumer expectations…lies simply in the branding of the product itself. Singapore Airlines developed the term "Executive Economy" to communicate the enhanced, special, upgraded nature of the cabin, over and above what is directly implied by the standard "Economy Class" branding that applies to the balance of our fleet."
In addition to realizing that different expectations were set for the passengers by the way of differently naming the product, I felt the pain of the airline industry with regards to fleet renewal. The Boeing 747 I traveled on should have ideally been replaced by the Airbus A380, if not for the delivery delays. The Boeing 777-200 I traveled on from Brisbane will soon be replaced by the Airbus A330 aircraft. I personally can't wait to experience the new SIA products on these planes. Here's what the SIA folks had to say:
"A protracted delivery delay of two years leaves us no other option than to extend leases on aircraft that would have been otherwise slated for retirement, and causes a concurrent delay in installing new cabin interiors and seating products."
Taking feedback seriously and acting swiftly
It is one thing to respond to customer feedback promptly, but acting upon that feedback is just as important. This is an area SIA aced in as well.
Here's the response I received regarding the Brisbane flight, demonstrating how swift action was taken:

"I was concerned to read your experience with the incorrect Inflight Entertainment instructions in your KrisWorld magazine onboard the B772. I have conveyed your comments to our State Manager in Queensland and he has subsequently asked his employees to make doubly sure the KrisWorld magazines onboard are relevant to this particular aircraft."
When I probed further regarding feedback mechanisms, I was also told that SIA is…
"…very happy to respond to customer inquiries and feedback, both prior to departure or after travel. We welcome comments and have established numerous feedback / inquiry mechanisms including telephone, mail and internet. In order to ensure customers are well informed, Singapore Airlines also works extensively with travel agents to inform them about the different products and aircraft in the Singapore Airlines fleet."
I was impressed by the response, but didn't want to take it on a face value. Hence, I scoured various aviation forums, blogs and websites trying to find some evidence that SIA indeed responds to customers whole heartedly, and I found a gem of an example. In Nov 2006, an aviation enthusiast had asked SIA the reasons for changes in their livery, and received very concise responses. Now, that is truly remarkable – to be able to dedicate resources to handle customer (or soon-to-be-customer) inquiries in the earnest.
So, is Singapore Airlines still a great way to fly?
Even though there were product differences in some of the planes, the feedback responses I've received as well as the best-in-class service certainly makes me want to go back to fly with SIA again. But let's do a quick brand evaluation on SIA based on these incidences, using relevant levers from the 6X branding model.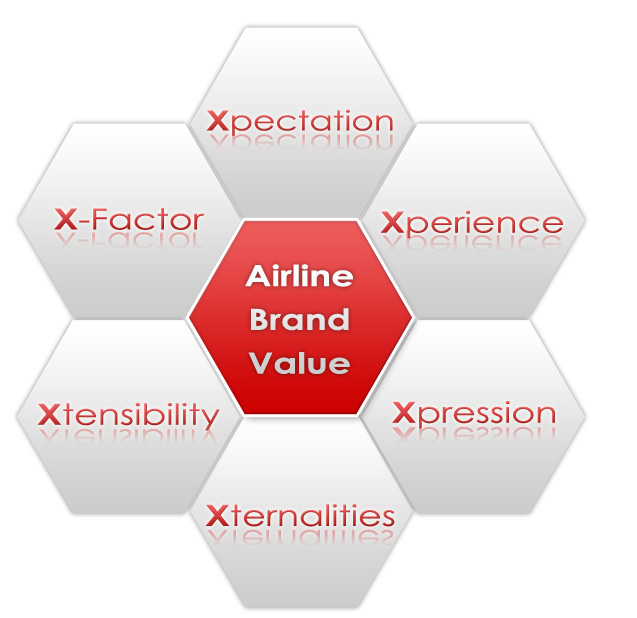 Brand eXpectation: There was certainly an effort to set differing expectations for different products, but a slightly better job could have been done of informing passengers about the differences (after all, I probably wasn't the only passenger surprised on that flight). Score: 8/10
Brand eXperience: SIA would get full marks for service, but the fact that the IFE system failed to work as expected would pull down the product experience points.  Score: 7/10
Brand eXpression: This relates to how well the company interacts with the customers pre and post-flight. This, as evidenced above, certainly deserves top rating. SIA has hired good Corp. Comms people, and set high standards for them to achieve. Score: 10/10
Brand eXternalities: As I realized, SIA and other airlines have to deal with externalities like the delay of new aircraft deliveries. This requires them to prepare in advance for such events, be resilient in case things go wrong, and manage customer expectations well. Here, from what I've learnt from the above interaction, SIA doesn't do too badly as well. Score: 8/10
A total score of 33/40 is still very respectable, especially since we haven't taken into account Brand eXecution and Brand X-factor – both of which SIA is likely to ace. SIA is indeed, still a great way to fly.
I've given my verdict. What do you think? Where is the room for improvement? What can others learn from SIA? Let's discuss…
Related articles