Ancillary revenue: A boon or a bane for the airline brand?
Continuing with the ancillary revenues special this March, I'd like to explore the issue whether ancillary revenues are good for the airline brand, or detrimental. We all know they're good for the balance sheet, but what about the brand? To answer this question, let me segment ancillary revenues in two bands – charging for value addition, and un-bundling current product and services.
Charging the passenger for value-addition
A comment on the hotly debated article I wrote on RyanAir's competition for charging passengers got me thinking. Here's what Shyrose had to say:
"RyanAir should link up with the local taxi companies of the detination airports and agree a deal with them, whereby flyers can book their taxi on the plane so it's ready and waiting for them the other side. Taxi companies give Ryannair a referral fee, and Ryanair will be positioned as offering greater value service for customers."
And I think Shyrose is bang-on-target. Customers don't mind paying for additional services they value. And this is especially true when the offer is in-sync with the brand expectation. There are ample examples of such value addition. Travel insurance and car rental are popular ones. The intelligent seating system I talked about in an earlier article is another. Singapore Airlines has "boarding pass privelages" for its flyers, where they get discounts at restaurants in major cities by presenting their boarding pass. And the airline probably gets a commission from the restaurant for this.
Such tactics are great for the legacy airline, since they're anyway charging a higher fare for value-added service on-board, and the target customer would be the right one for such an offering.
Un-bundling the product and service
People mention RyanAir and easyJet as champions when it comes to earning ancillary revenues by charging the customer for everything other than the seat – 16% of easyJet's revenues are from ancillary sources. But another airline that has done a good job with un-bundling the product is Air Canada. You can choose the fare based on your preference of the level of in-flight amenities.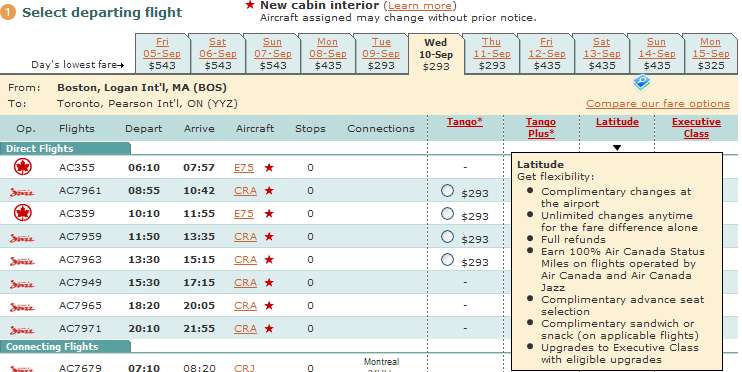 Where this approach gets ugly is when airlines start charging for everything from a cup of water (US Airways) to even the loo (RyanAir?)! And this is where the whole resonance with the brand becomes important.
How far can the brand be stretched?
Everyone knows that RyanAir is a low-cost airline and you're only paying for the seat. You can look at a simple chart of all additional fees on their website. RyanAir is very, very transparent about what you have to pay for, and what's included in the fare. And this transparency only strenghtens the brand promise further – that of the cheapest seat.
Unfortunately, this is a something even legacy airlines are doing, but without the transparency. For example, information on additional charges is spread all over the American Airlines website, and you're bound to learn of an additional charge at the counter. This creates a lot of confusion in the travelers mind and erodes brand loyalty.
Here's a simple model I feel airlines should follow: legacy carriers should largely go for providing value-added services and then charging for them, and budget carriers should mostly un-bundle their offerings so that passengers can get some additional comforts, other than the seat. Of course, they should learn from each other. But at the same time, should avoid doing something absolutely detrimental to the brand. Need an example? Singapore Airlines charging $100 for a round-trip flight for choosing an emergency-exit row seat! I know for a fact that this move has annoyed even the most loyal customers!
What do you think? How can airlines earn ancillary revenues without resulting in a conflict with the brand? Does the solution I proposed make sense? Any examples of airlines doing this well?
Related articles by Zemanta