Cathay Pacific reveals the faces behind the brand, in an interactive way
Think about this. You're being helped by a very courteous flight attendant on your flight from New York to Mumbai, via Hong Kong. But there's no way that you're ever going to meet her again. You want to know her better, but there's just no way. Or how about that Customer Service Rep who was so helpful over the phone in helping you change your flights? Again, he was no more than just a voice.
That's partly because airlines have acted like faceless organizations all this while. You seldom get to interact with the people behind the brand. And that's exactly what Cathay Pacific has tried to overcome, with their micro-site showcasing its people.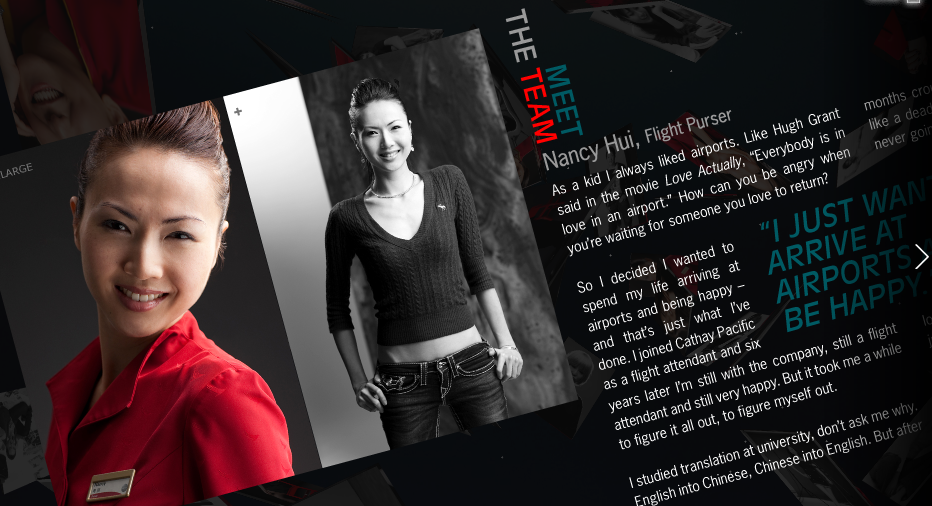 Meet the people – in a different light
On the people site, you can get to know better not only Cathay's customer-facing staff like the Pursers or the Customer Service officer at the airport, you can learn just as much about the cargo handlers and the aircraft dispatchers. The flash-based interactive website literally has people "flying around" and once you click on them, you encounter two photos and a bio. The photos include one taken in black-and-white, in non-Cathay attire, and the bio is written in 1st person. All this adds a personal touch to the site.
The bios written in a way most people can relate to those featured. Anecdotes like "I was a Primary school tutor before I joined Cathay Pacific – may be that's where I learnt to be patient," only help to strengthen the connection.
The effort has become very popular internally as well, since an insider told me that now there's a long list of staff with diverse backgrounds who want to be featured on it.
How un-legacy of Cathay…
Legacy airlines are generally not agile and like to play it safe. Especially with new media and technologies that are unproven. For example, Singapore Airlines till date doesn't have an iPhone app, and is not on Twitter, Facebook or any other social media platform. But Cathay has chosen a different path.
About exactly one year ago, Cathay gave us the virtual cabin tour where you could experience their planes without even stepping on-board the aircraft. And now, they have come up with this brilliant initiative around its own people.
The aim of this initiative is to showcase the diversity of its staff, and give a glimpse into the lives of the people who serve the Cathay customers every day. And I think Cathay has achieved this aim elegantly. Although it's difficult to tie such efforts directly to revenue, I'm sure Cathay has won the hearts of many with the site.
What's next?
Cathay is certainly heading in the right direction. For next steps, instead of speculating, I'll bring to you, SimpliFliers, an exclusive video interview with one of the key people behind this initiative in a couple of days, right here. And I'll let you be the judge yourself.
For now, I'd love to hear what you think about this initiative and how it can be improved further. Why aren't other airlines doing something like this? Let's discuss in the comments or over on Twitter (@simpliflying)