Does the latest social media application by Lufthansa have wings? 10 things I would do to ensure MySkyStatus flies
Let me begin by clarifying that this article is not about whether Lufthansa's MySkyStatus will take off or not. It has already taken off. Because the amount of discussion I've had about it with my friends from around the world, online and offline, is phenomenal. Just today, my status updates on Facebook by this app generated over 30 comments by friends from Dubai to Chicago (check out the screenshot below for a sample set). It's thanks to these friends that I've been inspired to write this article.
MySkyStatus – what's the fuss about?
For the unaware, MySkyStatus is a tool that posts your flight info (altitude, location and arrival updates) automatically to Facebook and/or Twitter while you fly. And you guessed it, it's the real-time nature of this app that's making it go viral. And as you can see below, the updates can generate quite a discussion.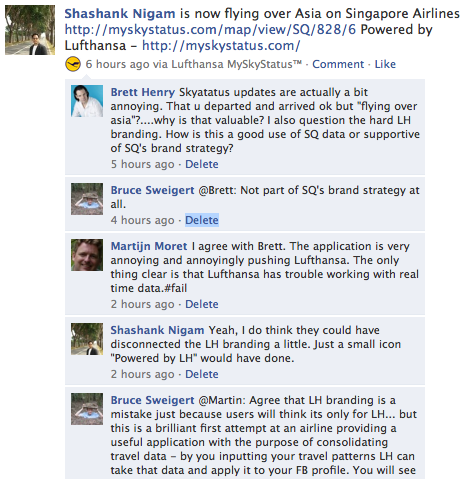 At first glance,  MySkyStatus is true value add for the customer. But the application is not perfect – and it need not be perfect in its first release anyway. However, there are some small tweaks that can be made, as well as some enhancements, which will make MySkyStatus a win-win proposition for both Lufthansa and the customer. And if I was the Product Manager, here are the ten things I'd do to ensure that the application flies.
Four things Lufthansa should tweak on MySkyStatus 1.0
Cut down on the Lufthansa branding:

The most confusing aspect of this application seems to be the overdose of Lufthansa (LH) branding. The website is in LH colors, along with the logo and each update ends with "Powered by Lufthansa". I think it's confuses the user if this service is exclusively for LH flights. This is accentuated by the fact that other than the three "Add a flight", "Confirm", "Preview" links, everything leads to the LH website. It'd be much better if there was just a small link to the LH website, and just a small "Powered by Lufthansa" button on the website. I think a link in the update is more than enough.

State clearly that the updates are not real-time. It's just predicted path

: Although it appears that the application is tracking a flight in real-time, it actually isn't the case – something I realized when a friend's flight was delayed and the updates were being sent out while he sat at the airport. In social media, a lack of information is often construed as mis-information. And LH can avoid this by putting in a disclaimer that updates are not based on dynamic data. Transparency is king on the social web.

Be a bit more specific about the locations

. "Flying over Asia" isn't really insightful. If LH can tweak the system a little to give more specific locations, the updates might be more interesting.

Connect users with the people behind the app

. One big advantage social media applications have is the ability to facilitate 1-1 communications. And I personally would love to meet the people behind the app. But that's not an option right now. Just digging around, I could only find out that @kateobriennyc was somehow involved in the development process. It'll be great to "meet" the others too.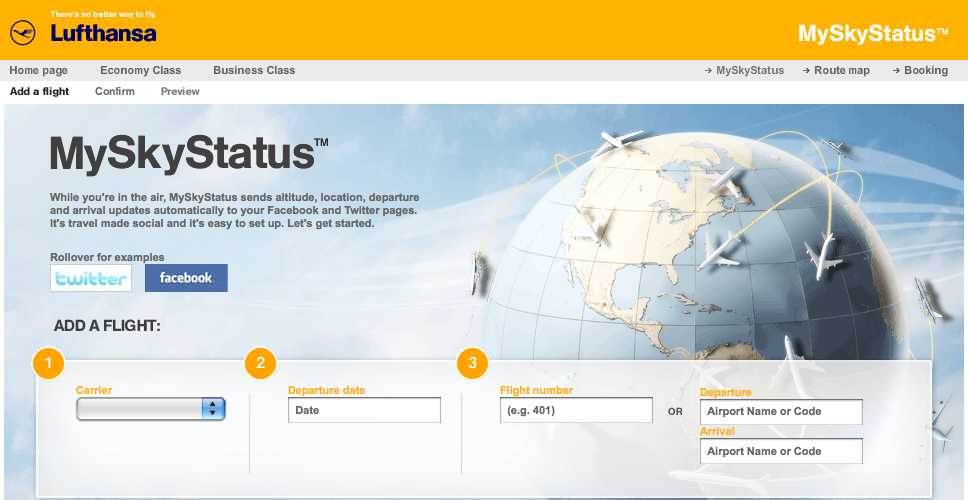 Six things Lufthansa should add to MySkyStatus 2.0
Track the users.

LH is probably already doing this, but keeping track of all the Twitter users and Facebook users who sign up for the application can be beneficial for mining in the future. If not for flying habits, then just as an independent source of data for LH to analyze when planning its own routes and capacity.
Apply basic analytics.  How about applying basic analytics to determine the most popular route? Seeing what segment of travelers visit certain destinations during certain months? The options are endless.

Ask for LH FFP numbers

. How about putting in a field where travelers can input their LH frequent flier number? This would allow LH insight into when its own FFP members are not flying LH on certain routes – and generally airlines do not have any insight into this data.

Allow people to earn LH FFP miles when they fly on any partner airline

. It may be just 10 miles per flight, but at lease something. If I'm in an adventurous mood, I'd even open it up to passengers on any airline! And give them half of what I'd give them for flying an LH partner airline. Ultimately, I'm getting them enticed into the LH FFP cycle. Unless they earn, they won't redeem. And everyone likes miles, no matter how little.
Destination specific data-mining. I'd have the Revenue Management team cross-check with their highest yielding destinations or lowest yielding and give those who use MySkyStatus an incentive to fly LH the next time round? Good way to acquire new customers, isn't it?
Partner with the likes of TripIt, AirValid and FlightMemory. These are websites where travelers already track their mileage and review airlines. How about partnering with these sites to provide additional value to travelers?
So, what do you think? Is this a good initiative by Lufthansa? Will it fly? Let's discuss in the comments or over on Twitter (@simpliflying)
Special thanks to @singabai , @smarketer , @frittatun , @bretthenry and @martinmorjet for providing fodder for this article.