Everyflight.com brand campaign for AirTran's wifi launch – exclusive interview
AirTran, the American low-cost carrier, announced a couple of days back that it's launching wifi on every single one of its 136 planes by mid-July. It wasn't just the scale or speed of the implementation that startled many, but also how the announcement was preceded by a very innovative social media brand campaign.
And I took this opportunity to bring SimpliFlying's readers up, close and personal with the brain behind this campaign – the Creative Director for the Everyflight.com project, Pat Hanna.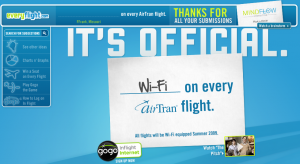 What was Everyflight.com about?
Over the last three weeks, AirTran has been running a teaser promotion asking their customers what they would want to see on every flight. The integrated teaser and launch campaign was developed in partnership with Cramer-Krasselt, Chicago, and was supported by TV spots, radio, Internet banners, out-of-home and airport signage.
At the heart of the effort was www.everyflight.com where people could make their own suggestions, vote "boo!" or "yah!" on previous submissions, view charts and graphs including a leader board and poll map, and sign up for a chance to win a seat on every flight. Upwards of 230,000 votes have been cast and 30,000+ suggestions made ranging from "mimes" to "bunk beds" to "Clint Eastwood movies." I personally tried it and found it to be very engaging.
Why a social media approach to launch AirTran's wifi?
Pat explains in his interview that there was already a lot of talk about wi-fi,  and AirTran needed to break through the clutter. So there needed to be a different approach in making this a competitive advantage for the airline. And how did they do this? Firstly, by announcing a fleet-wide rollout, which no other large airline had done. And more importantly, launching it through social media, where people could go to a website to vote what they wanted to see on every AirTran plane! And this personal involvement is what made the campaign go viral in just three weeks. Now, that's what I call leveraging social media well.
Pat further goes on to discuss the how the campaign was conceptualized, what were the success metrics and risks at the beginning and what happens with the other top suggestions on the website, which was developed by FirstBorn. I invite you to watch the exclusive interview with him right below.
Special thanks for Erin Olson from CKPR who tirelessly worked to make this interview happen!
So, what do you think about this campaign? Do you think AirTran could have done a better job than this? What lessons do you think other airlines can learn from this campaign? Let's discuss in the comments.