Have you flown the NEW Air India yet? I have. Here is my brand experience from Toronto to London Heathrow.
Why I had never flown Air India before…
I had never flown Air India till yesterday – intentionally. And I had my good reasons.
Last year, I booked my mom on a Singapore-Delhi Air India flight and the A310 was delayed by over 3 hrs, ensuring that she missed her onward connections. Moreover, a lot of friends who tried to save money had horror stories to tell. One of them once asked for water and the stewardess replied in Hindi, "This is not my lane. Ask the other woman". That ensured that I never tried the Indian national carrier even though I had the opportunity to, multiple times. So I had really lowered my expectations.
Why I finally flew Air India – the new plane and the new partnership
This time I had the choice of flying from Toronto to Greece either on LOT Polish's ageing B767 via Warsaw, or Air India to London and then Aegean to Athens. I went for the latter option, because I could fly the B777-300ER of Air India and then the brand new A321 of Aegean. Moreover, I could earn Singapore Airlines Krisflyer miles on Air India due to their recent partnership. May be if CrankyFlier had tweeted me his recommendation to try LOT earlier, I'd have probably given that a shot.
Getting on-board the plane is part of the experience
Air India had the most stringent security process I've been through – separate security personnel just for the airline, in addition to the airport security officials. All of whom spoke English, Hindi, Punjabi and probably French! Every single electronic device had to be turned on in front of them. Old ladies had to take out achaar (Indian pickels) and laddoos (milk-flour sweet round dumplings) from their handbags, regretfully. But trust me, I felt REALLY safe. So did others.
The most intriguing take-off ever!
I was in a plane full of Indians. And it was very fascinating. Ladies praying, some closing their eyes (in fear!), children clapping and adults joining in. All just as the plane took off. I had fun watching all this. And it was an on-time departure.
As soon as the seat belt sign was turned off, people started congregating in different sections of the plane, mostly near the toilets (I was glad I didn't choose the bulkhead seats!). Soon, dads were standing up in the aisle and feeding the kids. Literally a quarter of the flight was kids less than 5 years old. And a third of the passengers were elderly – over 55. The lady next to me spoke to me only in Punjabi. Luckily, in my recent trip to India, I was able to brush up mine while in Chandigarh, and could carry on a conversation with her. Made up for an interesting mix!
[photomosaic]
Air India's new 777s rock!
The product was world-class. The economy seats second to only Singapore Airlines' A380 product. They had a good pitch, felt very wide (I even squeezed my Macbook next to me!). They even had USB ports, newly-designed remotes and a dual IFE which had a touch-screen operation too. If you're an Indian, I think you'd love the IFE. There were tons of Bollywood movies, both Classic and the latest hits. I just passed my time with some bollywood music videos – wasn't ready for a 3hr melodrama at 2am! So, the hardware was well beyond my expectations.
But bad habits are hard to change…
Let me clarify. The service wasn't bad. But it was very basic and functional. Like that of a United. Children were served first, and I could see urgency. And that's where the good stuff ended. The rest of the service was lethargic. Some of the male flight attendants looked like they had run out of razors a month back. Doesn't Gillette still produce them?
The food was not bad. But out of the 10-12 flight attendants, only one managed a smile. That too, occassionally. When I intentionally beamed at the one serving me, she avoided eye contact. As if they'd be fined for smiling at passengers! Later, when I went to the galley, I saw them having a ball of a time among themselves, talking about the latest Bollywood movies. Their policy seemed to be to get out of sight as soon as possible. With an Indian crowd of 377, I think that's understandable.
By the time we landed in London, the toilets were filthy and wash-basins flooded. I wonder what would happen on the next London-Delhi leg of the flight. The software just met my (already lowered) expectations.
Even disembarking was not normal
One word to describe it. Chaos! It's not the clapping that I was disturbed by. But the moment the plane pulled to the gate (not stopped), stow bins were pulled down and some men even climbed on seats to get their stuff out! It was as if they were going to jump out of the windows! Just see the photo for yourself.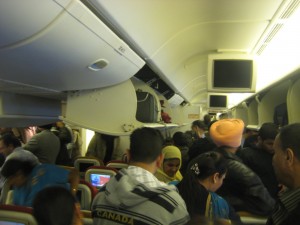 In conclusion, Air India has a brand new product worth experiencing – but in isolation. Go check out the plane at an air show or something. It's nice. Unless it's an overnight flight (like mine was) and you can sleep over what's going on around you, I'd suggest you fly others like Jet Airways, Continental or one of the Middle-East carriers from North America to India.
How's your experience with Air India been? Yes, they've got new planes on international routes, but has anything else really improved? Can it be improved? I'd love to hear your stories in the comments, or over on Twitter (@simpliflying)