Reality Check: Three reasons why legacy airline brands are dead (and who to look out for)
At the Aviation Outlook Summit in Sydney early this month, where I delivered a keynote on airlines + social media branding, the first day was mostly doom and gloom whereas the second day was much more up-beat. Not surprisingly, executives from legacy carriers like Qantas, Air New Zealand and the European Commission spoke on the first day, and up-beat executives from rising stars like AirAsia X, Oman Air and Gold Coast Airport spoke on the second day. That got me thinking…are legacy airlines dead? I now believe they are. Here's why.
1. Legacy airline brands come with legacy baggage
Unions, legacy systems, government bureaucracy, old planes, old workforce, high costs, bankruptcy… these are all words that can be easily associated with Air India, Alitalia, Japan Airlines, Air Canada and many more legacy airlines. And these are all aspects that do not allow these airlines to function efficiently in the current climate.
The airline industry has evolved drastically in the past decade. With each new shock (9/11, SARS, H1N1…) we see new stars emerging, which have streamlined costs, efficient operations and specifically targeted markets they go after. And they beat the hell out of monolithic airlines that legacy carriers have become. Just read CAPA's report on Japan Airlines vs Air Arabia to get a glimpse into what I'm talking about.
2. Legacy airline brands are not agile enough
Like an elephant trying to shake off bees attacking it, legacy airlines look clumsy trying to shake off what they call threats – low cost carriers, low premium demand, fluctuating oil prices, consumers' reactions on social media etc. In fact, these should be looked upon as opportunties. Let's look at airlines' approach to social media, for example.
United Airlines is still struggling with responding to "new media" sensations like Dave Carroll's "United Breaks Guitars", as Southwest Airlines interacts with its fans on Facebook and JetBlue helps over a million of its customers on Twitter.
Singapore Airlines is still not on social media, just as AirAsia is making merry in its backyard. And there's no point arguing about different market segments. I've flown AirAsia this summer with folks in a suit with a laptop, mostly heading to Kuala Lumpur in the morning and returning to Singapore in the evening. No wonder the 777s Singapore Airlines fly on this route are flying half-full.
A lack of agility among legacy airlines results in lost opportunities. And this is proving deadly.
3. Legacy airline brands are "stuck on stupid"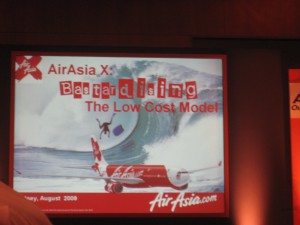 At the aviation summit in Sydney, the CEO of AirAsia X caused a bit of murmur in the audience with his opening slide entitled, "Bastardising the Low Cost Model". You want to know why? Because most airline executives are "stuck on stupid" (a term coined by Seth Godin in Tribes). They want to carry on the practices of yester-years in today's changed environment. And that makes them look stupid. Nothing against them personally, but why can't airlines have multiple business models? In fact, it's the airlines which are questioning the traditional legacy model, or even the traditional LCC model, who stand to succeed. The rest will perish.
Who to look out for?
Who's doing it right? In my opinion, airline brands to look out for are Lufthansa (and family), Qantas & JetStar, LAN Airlines (kings of Latin America), Southwest (which continues to innovate) and AirAsiaX. Airlines that have great potential, but need to wake up and smell the coffee to lead in the future too – Singapore Airlines, Cathay Pacific, Thai Airways and Delta Airlines.
So, what do you think? Is there a future for legacy airlines? What do airlines need to do to serve the customers better, and turn a profit consistently? Let's discuss in the comments or over on Twitter (@simpliflying)