Social media mogul Chris Brogan joins SimpliFlying's Board of Advisors
Dear SimpliFliers,
It gives me tremendous honor to announce that one of the biggest names in the social media world – Chris Brogan – is  the latest stalwart to join SimpliFlying's star-studded Board of Advisors. He joins Patrick Murphy, the former Chairman of RyanAir and Donald Schenk, Managing Director of Airline Capital Associates, Inc who've already been offering tremendous mentorship to the SimpliFlying team.
As we partner in the social media and branding success of airlines, airports, and even hotels globally, the stellar team of advisors asks us the tough questions, helps keep our feet on the ground and constantly inspire us to keep going. It is our good fortune to have them by our side.
Who is Chris Brogan?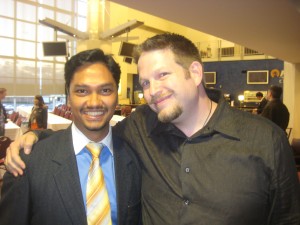 In my humble opinion, Chris Brogan has done to the social media world what Steve Jobs did to the music industry in the last decade. Having met him personally a few times, I can attest to the fact that he's constantly pushing the boundaries of the latest technology trends. I risk sounding cryptic, but Chris is at the cutting edge of cutting edge social media technologies. But some of you may be wondering why SimpliFlying…
What's Chris Brogan got to do with airlines?
If you've watched his interview when Chris posed as an airline CEO, or his blog article where he advises the travel industry on social media, you'll realize that his ideas make a lot of sense. And if only airlines and others in the travel industry can adopt them, they'll thank him for it. Since SimpliFlying is now becoming an established player in this vertical, we thought we'd run our ideas by Chris and help implement them at airlines we love, or sometimes love to hate.
Most importantly, the few times I've met Chris, I've only sensed humility and a willingness to help. I can hardly wait to work much more closely with him.
Thank you Chris!
Successfully yours,
Shashank
For those keen to learn more, here's Chris' official bio
Chris Brogan is a ten year veteran of using social media and both web and mobile technologies to build digital relationships for businesses, organizations, and individuals. Chris speaks, blogs, writes articles, and makes media of all kinds at [chrisbrogan.com], a blog in the top 10 of the Advertising Age Power150, and in the top 100 on Technorati. He is co-author of the book Trust Agents.