5 Ways to Incorporate Social Media Into the Flying Experience, and leverage on your "followers"
So you and your team have been driving social media strategy at your airline or airport for over six months. You've managed to get over 5,000 fans on Facebook, you Tweet regularly, may be even have an iPhone app and have a ton of proposals already in mind to implement. Awesome! Now, what?
You do realize that it's the in-flight experience that makes or breaks a customer relationship, right? How do you make their in-flight experience an unforgettable one using social media? And then how do you get them to talk about it? Well, here are 5 ways to do that:
1. Use a unique Hashtag for the flight
Aim: Improve customer experience
Why not include a hashtag for each flight number with the booking confirmation? It can be something simple, such as #0311JB1263 (March 11th, Jet Blue flight #1263). That way, when people send a tweet saying they just booked a flight, or are heading to the airport, they use that hashtag, and then can search for others using the same hashtag. Passengers can make their own arrangements to meet up at the gate, share a cab to the airport, or chat during the flight. They will feel much more connected to fellow travelers, if they would like to be.
2. Give freebies to those to "talk" about you

Objective: Increase word of mouth, improve customer experience
In order to encourage passengers to talk about your airline, you can run a small promotion before take-off. If they tweet or update their Facebook status and include your airline name, they will win one of 5 drinks being awarded, or pillows, or blankets – whatever you'd otherwise charge for. In order to be eligible, they must use your Twitter handle or "tag" you in their Facebook update. Winners will be selected at random before the flight takes off, so that electronics are still in use, and the drink can be awarded during flight.
3. Seating Charts with Twitter IDs
Objective: Increase word of mouth, improve customer experience
Why not give passengers the ability to see fellow passengers' Twitter IDs when selecting their seats when booking or during checkin?  They may choose to sit near (or avoid!) someone based on their profile or tweets.  For those who like to network, this will increase their opportunity to do so.  And, most assuredly, they will tweet about the experience, giving you more word of mouth.
Note: Obviously this would need to be an opt-in service, which could be accomplished easily using Twitter's OAuth system. Or if you want to avoid the trouble, just add in a field in the booking path, asking the passenger for his Twitter id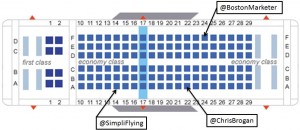 4. In-flight chat rooms if you have wi-fi on-board
Objective: Improve customer experience
Why not set up a chat room for Twitter users using TweetChat so they can chat during flight.  Not only will this give them something to do, and interact with other passengers, but you will undoubtedly get some marketing research at the same time.  They'll talk about the food, the seats, the flight attendants, etc.  You can also set up a private chat room through Facebook, but that will take more technical expertise.
5. "Check-in" on FourSquare, not just onto the flight
Objective: Increase word of mouth, improve customer experience

Location based services, such as FourSquare, Gowalla and MyTown are the latest craze in social media.  Users "check-in" at stores, buildings, offices when they arrive.  Why not offer a bonus for checking in at your airline with one of these services?  Maybe advanced seating, a free drink free headphones or wireless access.
What other ideas do you have to improve customer experience using social media? Let's hear them out