Chris Brogan tweets, JetBlue replies. Kevin Smith is upset. Southwest VP calls him. The common man speaks. The airline brand listens.
It's the long weekend in many countries. Canada, US, most of Asia-Pacific are on a holiday. Yet, it's very nice to see that airlines are listening. Chris Brogan tweeted today that he'd pay JetBlue $7,200 for one year of unlimited flying "pass". And @JetBlue immediately replied that they're "listening".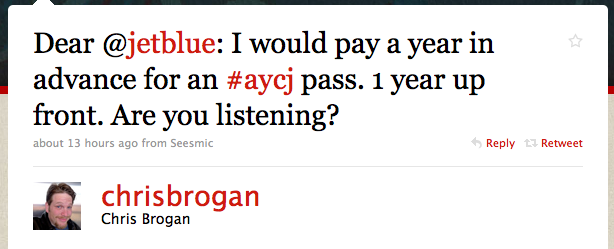 Somewhere else on Twitterland, Christi Day of Southwest Airlines was dealing with an outburst from @TheKevinSmith, on Valentine's Day eve, which finally involved Southwest's VP calling Smith personally.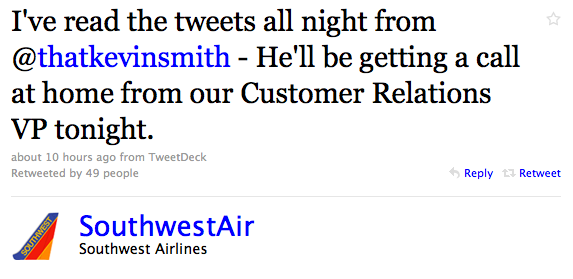 Though these may seem like normal twitter conversations, to me they reflect a paradigm shift in the way airlines have started to deal with their customers. It wasn't too long ago, where I had to print out and post a letter to an airline for a missed-connection claim, because their email inbox was full! And the matter took over 5mths to get resolved (in the end, I didn't get my $$).
JetBlue and Southwest have both been beacons of change in the industry, and they've shown a more human side of airlines – generally considered faceless corporations. Kudos to their efforts to connect with the customer directly, and truly listen. I think it shows where the future of customer service is heading.
What do you think? Has your favorite airline been listening to you lately?