Creating the best food in Economy Class: Turkish Airlines Do&Co take us behind the scenes
There's a famous saying that the way to a man's heart is through its stomach. I guess the same applies to an airline passenger's heart too.
Turkish Airlines has taken this quite seriously – a partnership with Austrian gourmet entertainment company Do&Co has not only resulted in the 'Best Economy Class Catering' at the 2010 World Airline Awards and some delectable premium class meals, it has also given birth to the Flying Chef And we at SimpliFlying got an exclusive behind the scenes tour at Turkish Do&Co's Istanbul facilities.
Culinary branding at its best
When you enter Turkish Do&Co's facilities, you can be forgiven if you think you're in the Ritz-Carlton. Right at the entrance, you're greeted with a huge banner announcing the Best Economy Class food award, and the facilities are nothing like an office. In fact, from what I hear, there's a screen showing Fashion TV in the ladies' restroom!
Getting back to the food – when I asked the GM why the focus on food, he told me that at Turkish Airlines, it's the key differentiation in the in-flight product. It's something that creates a lasting impression on the passenger, and is a competitive advantage as not all airlines pay much attention to it.
And having experienced food on board Turkish Airlines on both Economy and Business Class, I thought this was culinary branding at its best.
The Flying Chefs
One of the more impressive initiatives introduced by Turkish Airlines in July 2010 is a Flying Chef on-board all of their long haul flights for First and Business Class passengers. One might think that it's a small galley in the aircraft and the role for the chef might be limited, but in reality, it seems to make a significant impact on the passengers' dining experience.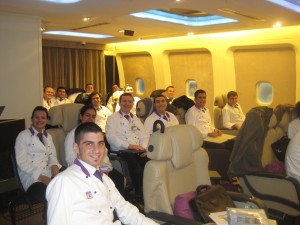 I had the chance to meet with a graduating class of Flying Chefs. Most of them were in their early twenties, with anywhere from two to four years of experience in top Turkish restaurants. In-flight, they will not only ensure that every meal is served right, but also be involved in overseeing the cooking process. Rice, not too hard, not too soggy. Kebab well done. I guess you know what I mean. Innovative initiative, and I'm looking forward to my first flight with a Flying Chef next week.
Large scale personalized cooking
I was also lucky to be given an extensive tour of the catering facilities, where over 90,000 individual meals are prepared each day. The significant point to note is that much of this cooking is done by hand – Turkish Airlines Do&Co intentionally keep the use of machines to a minimum, to ensure the authentic food quality.
I'm sure you'll be as impressed by the scale and skill of the people who work there, from the photos and videos below, as I was.
[nggallery id=1]


Isn't it impressive? We've previously covered airlines with the best food – what's been your experience with Turkish Airlines? Let's here it in the Comments or over on Twitter!