Dedicated LCC Terminals
I've just returned from the Asia-Pacific region, where the use of dedicated budget airline terminals is becoming the dominant format of new air terminals in the region. They have been put in place to support low cost carrier (LCC) growth. This format is certainly not new, as LCC air terminals are in such places as London Luton, Berlin Tegel and Frankfurt-Hahn. These European cities are intent on attracting the new wave of budget conscious travelers. The key point of this airport transformation is that airports are adjusting to the new economic realities and building dedicated 'budget' terminals to support new air services.
Singapore's Changi Airport 'budget' terminal is an example. Changi has adapted in response to the needs of the LCC airlines for lower operating costs, and converted the two separate warehouse buildings. In speaking with the staff, they said that the airport was definitely aware of the trend and felt that the budget terminal was the way to participate in the growth of this sector of the market.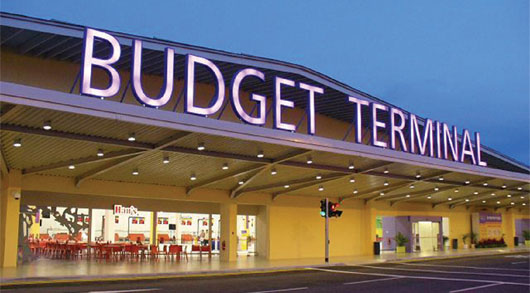 The budget terminal is reached through a free bus shuttle that connects the Changi's Terminal 2 with the Budget Terminal. The bus pick-up point is adjacent to the rail link to the city. The check-in hall, although spartan, is large and well suited to handle large volumes of travelers. There is a limited selection of airside services, but includes food & beverage outlets. It's interesting to note that before immigration, there is a bag weight- station, where any over-weight bags (7kg limit) can be assessed the required fee (SGD$18).
Once through immigration, there is a good selection of duty free goods and many food and beverage services. The product selection is clearly geared to the specific budget conscious traveler. There is limited seating capacity and the walk to the gate area resulted in little if any seating. Of course, no covered walkways to the planes either. But if you're budget focused, this gets you to your destination, in my case Kuala Lumpur's low-cost terminal.
In a mirror image of the operation of Changi's budget terminal, Kuala Lumpur operates their dedicated low-cost terminal (LCCT), separate from KLIA's main terminal. The LCCT terminal is very busy and is seems to have a buzz of its own, with AirAsia travelers queued almost everywhere. The terminal is the headquarters for Asia-Pacific's fastest growing airline, AirAsia. KLIA is currently in the process of building a new LCCT, named KLIA2, that will upgrade capacity for even more budget travelers.
What strikes me, and of course thousands of other travelers, is this airport transformation reflects the new economic realities and the increasing demand for low cost travel. Airlines have responded to this need. And to be fair, airports are adapting their business models to accommodate both airlines and budget travelers. Airports are transforming themselves by building dedicated 'budget' terminals to support the growth of new air services.
Future growth trends will be driven by the low cost airlines that have opened up many regional airports, leading to competition between airports and the need for airports to be competitive in their fees. Airports recognize that they must adopt new approaches in order to actively support this growth of air travel and be competitive.