Five lessons from the most innovative loyalty programs in the world – Inspired from Loyalty 2010
Last week, I spent three days in Kuala Lumpur, Malaysia, hanging out with Loyalty marketing professionals from around the world at the Loyalty 2010 conference. I met a number of very talented and interesting people, from airlines, hotels and even retails chain that are trying to drive loyalty.
Also part of the event was the Loyalty 2010 Awards for the Most Innovative Loyalty program. The judges had shortlisted the Top 3, and the audience voted for the best. Air Berlin came out tops, though I think each program was very unique. And I share with you here, what makes them so good!
1. Air Berlin's MyRoute customers earn double miles on their frequently flown routes
Try to solve this problem. You need to get price sensitive customers to fly you on their most-flown routes, which are also the most competitive due to many airlines offering an undifferentiated product on those routes. You know you got to think out of the box when solving this one. And Air Berlin's Johannes Ganser and Sophie Wennekers, along with their Loyalty Marketing team, did just that.
In April 2009, the airline launched MyRoute where members select their favorite or most frequently traveled route within Europe. On this route, they earn double miles. Simple. And gets the job done.

Not only did this offering help Air Berlin clearly differentiate itself in the market place, which has other credible carriers like Lufthansa, it also increased loyalty for business travellers and commuters – traditionally a Lufthansa stronghold. Not to say, it minimized churn rate too. The side effects have been that Air Berlin can now forecast high-density routes better and there are more return journeys performed. Very innovative indeed.
2. SAS Scandinavian – visualizing rewards to boost redemption
How many times have you logged in to your Frequent Flier Program (FFP) and didn't know what to do with your points? Frankly, I've had that situation many times. SAS solved this for their loyal customers by visualizing the rewards they can get. And it was all personalized too, with each roll-over showing you how many points you needed to redeem an award.
The results? As Thomas Bruhn, EuroBonus Manager shared, 18,000 redemptions were generated from 80,000 visits – that's a much higher conversion rate than the industry standard. Personalization matters indeed.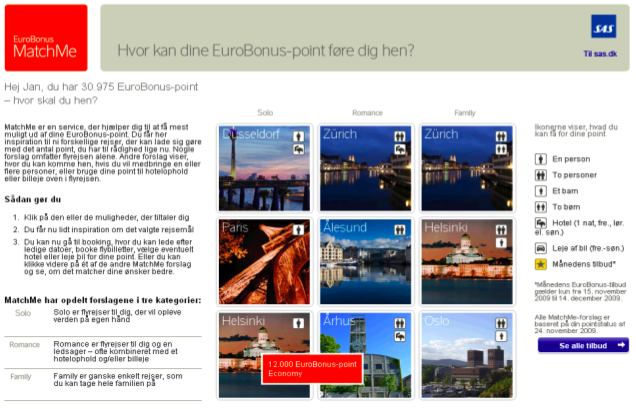 3. Swedish Rail – loyalty program from scratch, for a train service
Imagine you're a senior executive at a government-owned monopoly that runs trains and this is your situation:
The industry is deregulated and new competition grabs your customers
Even though you're the incumbent, you have no customer date, because no efforts were ever required
There's no concept of loyalty in the industry, which was more of a public utility previously
How do you deal with this? Frankly, I was very impressed with what Claes Lindholtz of Swedish Rail shared with me, on how he and his team built a loyalty program from the ground up in a very short period of time. It included totally revamping the customer experience, with on-board wifi and iPhone apps that you can point to a landmark outside the train to retrieve its info from Wikipedia (!!). Swedish Rail is now also the top corporate Twitter account in Sweden!
4. Milan Airport – building loyalty at an airport city
Milan Airport's Vittorino Capobianco opened my eyes to a new category of loyalty programs – those at an airport! At Italy's largest airport, you earn points for parking, for eating at restaurants, for buying from Duty Free shops and even by using the speed-check-in service!
And you can redeem these for lounges, phone check-in and even free wireless internet. The best part is that you can earn and burn points at both the airports run by SEA in Italy. Certainly something I'd sign up for when I start shuttling to Lake Como once a month =p
5. Payback – the most personalized loyalty program in the world?
Everyone at the conference was stunned by the presentation made by the folks from Payback – the European retail loyalty program. Yes, the basics are earn and burn, but it was the personalization that everyone was impressed by. Not only offers that were sent out highly customized to each individual's purchase history, the trending data for each individual is also used for market research and developing more products.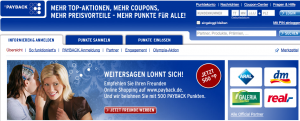 Though airlines are still far from such in-depth business intelligence and personlization, I think it's important to see what's being done at the cutting edge and how they can adapt that to drive loyalty for their brands as well.
Air Berlin and SAS are setting the standards for airline loyalty program. I must say that I really liked Etihad Airways' as well, in which I can redeem even my first 3000 miles, for items like USB drives and iPods! Swedish Rail offers lessons to any government owned legacy airline on how to beat the competition. Airports around the world can learn from Milan Airport's efforts. An Payback seems a decade ahead of its equivalents in airlines. Maybe Aeroplan or The Mileage Company can acquire Payback and we'll all have a happy life 🙂
What do you think about this programs? Is there an airline FFP that you're very impressed by? Share your thoughts with us here in comments, or over on Twitter (@simpliFlying)