Five steps to Customer Service Excellence for United Airlines (with real-life case study)
Over on Twitter, I was alerted to a letter published in Business Traveller Magazine where a customer had sent in a legitimate complaint letter to United Airlines, sharing his experience of poor service in Business Class and suggested that more investments be made into customer service training.
It was great that United Airlines actually responded to the letter in the magazine itself. And that's where the positives ended. Of the five key points raised by the customer, only one was directly addressed. In fact, the response went on to totally digress from the topic and talked more about the airline's new premium cabins, and not customer service. That got me thinking, it's probably not just the cabin crew at United who needs lessons in customer service, but even folks from Corp. Comms.
This is very ironic, because just a couple of weeks ago, at the Loyalty 2010 event, while having lunch with Robert Sahadevan, United's VP of Loyalty, I was very impressed by the focus they have on their frequent fliers and premium passengers. Hence, this response was disappointing, to say the least.
I thought I'd do my bit here for United (and help other airlines too, who need to get their basics right – you know who you are)
Step 1: Listen to the customer
The key word here is LISTEN. Not look. Not hear. But listen. The difference is stark. If you look or just hear, then you hardly absorb any of the content, let alone understand. It's very important to seek get an idea of why the customer is saying what he's saying.
Step 2: Identify the key issues mentioned by the customer
Once you've listened to him, identify the key issues the customer has expressed – both positive and negative. In this case, there are five key issues, as I've highlighted below (click on the image for larger font). They include the Business Class passenger's request for water not being answered, to the responses he received from the flight attendants.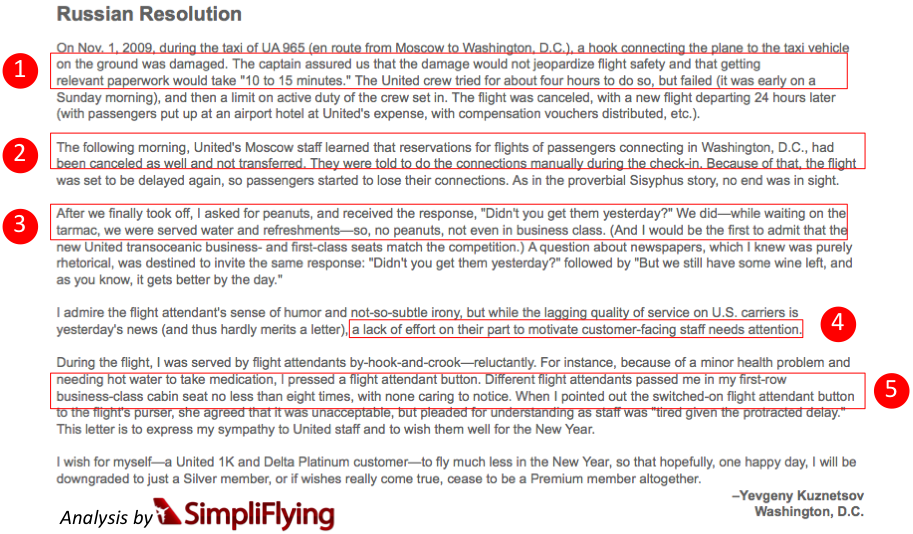 Step 3: Address the issues
Needless to say, after the issues have been identified, they need to be addressed. Even if you intend to dodge the bullets, do it subtly. Not the way United's response totally ignores the issues raised and goes off on a tangent. It almost seems to me as if a United Airlines Corporate Sales person has written this reply!
Not only are hardly any issues been addressed, Rahsaan appears almost proud of the fact that he's doged every bullet in his response. From his LinkedIn profile, Rahsaan seems too experienced to get this wrong. This gives me the feeling that this may have more to do with United's policy governing Corporate Communications, than a personnel's overlooking the issues. Which is a scary thought!

Step 4: Apologise, if you're wrong
Nowhere does the response from United Airlines make any mention of what they're going to do to change the situation. In fact, they don't even accept that they've done anything wrong. Let alone apologize for it. Frankly, the letter seems as if it's been written by a computer, not a person. A personal reply needs to be just that – personal.
There's nothing wrong in apologizing if you're in the wrong. The least United can do is to learn from the likes of Southwest Airlines and JetBlue – remember the famous video apology by then CEO David Neeleman?
Step 5: Thank the customer for his feedback
Nowhere does the United response thank the customer for taking his time to send the (very valuable) feedback. Not at the beginning. Not at the end. That's the least they couldn't have done, isn't it?
—-
If you're from United Airlines and reading this, I'd love to hear your take on this situation. Was it a one-off? May be Customer Service should be responding to such letters, not Corporate Communications.
What do you think? What are some of the best practices of airlines that do customer service right? Let's share our suggestions with United Airlines so that they can make flying better for all of us!