Karlis Smiltens – the man behind airBaltic's rise in social media is the SimpliFlying Hero for August 2010
Last month, we received a record number of nominations for the SimpliFlying Heroes, and more than one for Karlis Smiltens. And rightly so, since airBaltic [Disclosure: SimpliFlying client] is described to "probably have a larger presence in social media than in the real world". And for helping achieve this, Karlis is the SimpliFlying Hero for August 2010!
Social media strategies that deliver results
A majority of SimpliFlying's readers first became familiar with airBaltic after the video interview with its CCO, Tero Taskila. One of the points Tero made in that interview was that airBaltic had achieved a 450% increase in sales in Finland, mostly through social media. And the man leading the execution then was Karlis.
Karlis is the Web Marketing Manager at airBaltic, and led by example in engaging customers outside native Latvia, mostly due to outstanding social media. Karlis and airBaltic chose to channel their social media into a facet which can often be difficult: Facebook.
The truth is, because Facebook was not developed for corporate marketing purposes (but for social), many organizations struggle finding a niche in which advertising can thrive. Karlis and AirBaltic, despite being rather new to the game, rose to this challenge with interesting contests and apps on their Facebook page.
The Facebook fanpage today is complemented with a strong Twitter following and the WingTips blog, developed in partnership with SimpliFlying. Karlis also guides a team of online marketers who lead the day-to-day engagement with the followers.
When the rubber hits the road…
When the going gets tough, the tough gets going. And for airBaltic, one of the most difficult periods was during the volcanic eruption in Iceland. When call centers were overloaded with stranded customers trying to get on the the next flight, Twitter and Facebook came to rescue.
Karlis, along with his dedicated team took shifts to continuously answer queries online – using medium that could be used to spread the word faster than a Press Release, yet keep the solution customized to the individual's needs.
One very good example is in the screenshots below, where a customer is assured over Twitter that his hotel extension would be covered – hence calming others' concerns too. airBaltic and the whole team came out stronger from the crises and that's testimony to the team's good work.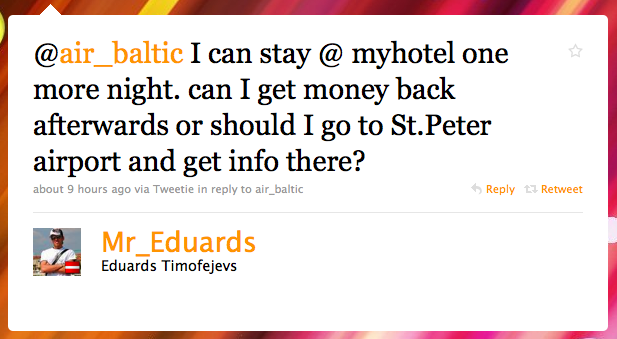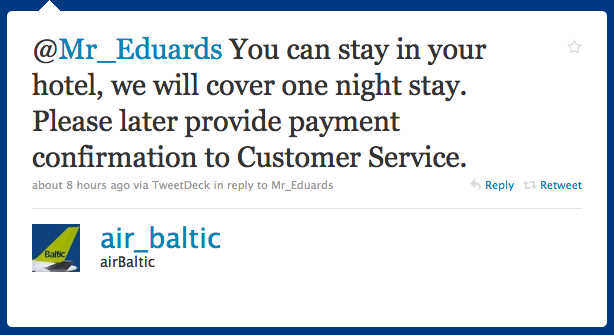 The man behind airBaltic's rise on social media
Karlis is both a well-recognized leader in airline social media as well as an inspiring colleague among his co-workers (as we found out from multiple nominations!)
Co-worker Merita Jauce told SimpliFlying in an interview:
"Karlis has a profound knowledge in the aviation as well as web marketing fields. He eagerly follows up on all the latest developments and news and happenings and is really enthusiastic about the whole thing. I really like the way he informs and inspires his team by showing a great example both in terms of his knowledge and understanding of things, but also because of his accountability and hard work".
Along with being a well-regarded member of the airBaltic team, Karlis' passion for social media supports the sometimes tedious work required of airlines in experimenting with new marketing strategies. airBaltic and Karlis are working toward a conversational relationship among customers and are certainly on the right track.
Congratulations Karlis, your work at airBaltic has not gone unnoticed among your co-workers and the aerospace world. For this you deserve the title SimpliFlying Hero!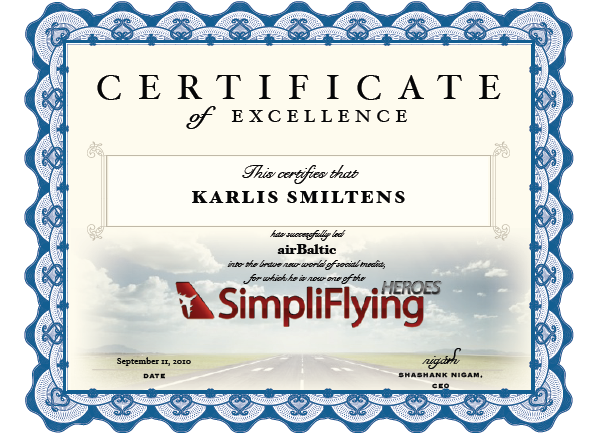 Know someone who's worthy of being a SimpliFlying Hero?
Simpliflying Heroesare individuals recognized for outstanding social media use in the aerospace world. Do you know of somebody who uses social media effectively in their organization to achieve specific business results? Or do you think you fit the bill?
Then go ahead and fill up the SimpliFlying Heroes nomination form. By filling out the nomination form, you bring them a step closer to being recognized by Simpliflying for their efforts.