Location, Loyalty and Anti-Marketing: PEI foundations
Our colleague David Orton's recent post on the topic of Location Based Marketing raised some good points on the challenges facing Airports and Airlines.
The basic cause and effect is that current web properties and services are structured in operational silos, which do not consider the passenger as the primary focus. In our current program to create the Passenger Experience Index as the "Passenger First" starting point to create a services framework, we are considering the complex services touch points, data collection and flow and related stakeholders as David had presented.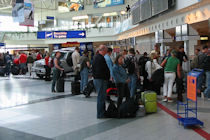 In support of developing a phased approach to create a sustainable passenger driven model for new revenue streams, we suggest the following process may be the most appropriate:
Phase One:
Introduce new social models of "Passenger as a Cluster" thereby creating a standard approach for all stakeholders in airlines and airports. Time Frame: Available now.
Utilize the new PEI framework to understand the business model to begin adoption process.Time Frame: under discussion with several airports to derive the components and metrics which put the customer/passenger in control. Includes external elements.
Provide open data pathways via API's into non-proprietary systems, which then create an LBS abstraction layer. Time Frame: Quite doable now, individual stakeholder uptake is the issue due to existing systems, potential contract problems, etc.
Create "Opt-in" opportunities via a branded airport community offering, which is funded through revenue sharing and sponsorship (retail) upsides. This includes retail campaigns dashboard. Time Frame: Available now in Beta.
Phase Two:
Build on airport communities to include both originating and destination locations. This allows  destination strategies such as peer engagement, ratings and offers that span both services and retail, BUT keeping the "Opt-in" preferences front and centre. Time Frame: Now in Beta.
Start using Useful GPS cluster data, which provide predictive movements for retail partners in the development of a Social Loyalty program for more effective and successful programs over time. Time Frame: Available in North America now, Europe and Asia – in 2011.