Mexicana must understand that traditional rules of airline branding do not work any longer
I saw this advertisement on four different websites today. So, Mexicana and OneWorld are doing a great job with banner advertising. But I'm not really sure whether it gets any points across the viewer. Why do I say that? Because an airline brand is no longer what you [the airline] say it is, it's what they [the customers] say it is.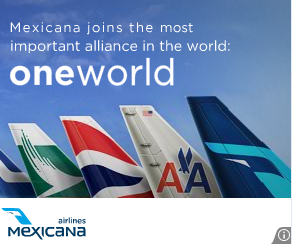 First impressions matter
When I first saw this advertisement, these questions would come to the travelers' minds:
Why is Oneworld the "most important" alliance in the world?
And whose claim is that? The alliance itself? Or an independent third party?
Who is Mexicana? A new airline from Mexico? Or an old one?
Are they any good?
Do they fly anywhere other than Mexico?
Oh..and which of those logos is Mexicana? The first or the last… they both look similar!
None of those questions were answered. And from a marketing standpoint, what's the "call to action"? Being the curious type, I clicked on the advertisement anyway, and I came to a "Promotions" landing page, which didn't quite make sense.
Repetition doesn't work anymore
The page I was led to repeated the same message, THREE more times! I was getting impatient at this time, so I click on the advertisement on the right bar, hoping to find out more. Where does that lead me? The SAME page. Yes, I'm not joking. The same page re-loads and I'm back to square one. In about 10 mins, I've still not found out any of the answers to my above questions! And that's being about 20 times more patient than the average web user.

Enlightenment at last… or is it?
As I dug around, I finally found another graphic, which seemed to go just a little more into the details of Mexicana joining OneWorld. And I thought now my curiosity would be doused. The details certainly shed more light onto what the new alliance meant, but I still failed to understand why OneWorld is the most important alliance in the world, and what's the significance of Mexicana joining them. Most importantly, I'm still clueless how it would benefit me if I fly to Mexico once in a couple of years, and only to Cancun!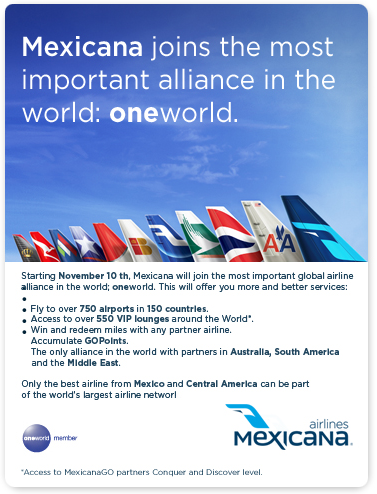 How could this have been done?
Instead of just proclaiming that Mexicana has joined the "world's most important alliance" and leaving me to figure out what that might mean for me, the airline and the alliance could have tried one of more of these things:
Get Mexicans who fly Mexicana to upload videos on YouTube on why this alliance will benefit them
Get Mexicans who don't fly Mexicana to upload videos on YouTube on why this alliance will benefit them
Get Frequent Flier members who fly Mexicana to share their side of the story
Get a family to share their story, and get a few businessmen too
Have employees share publicly how this would change their work, and may be even improve it
Then compile all these videos and stories on a landing page on the website, or a blog, where the clicks from the ads would come. In fact, the ads themselves should just feature a person and a story. Why? Because it makes the story authentic.
Authenticity matters
Through these suggested efforts, even if at the end of the day I don't understand why Oneworld is the "most important" alliance in the world, I might find someone I can relate to – the businessman, or the Mexican – and connect with the story to see how the alliance benefits me. Listening to other people tell their story moves more people to action, than blatantly claiming something in an advertisement.

So if you're working with Mexicana, may I recommend you stop spending $50,000 (or more!) in getting me to watch the same advertisement four times in a day. Instead, spend $10,000 to hire a social media agency to put together the campaign suggested above. If nothing else, you'll save $40,000. Oh, and if you need a reference, just go over to Volaris – which already does a fantastic job with authentic branding. What do you think?